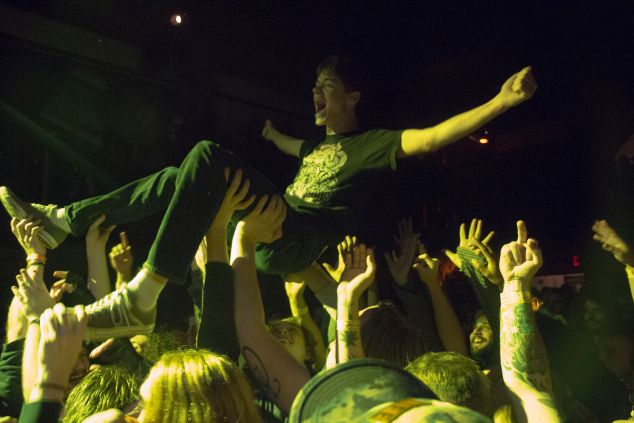 The photographer standing next to me studied his fancy telephoto lens before he prophesied, "Maybe the crowd will be chill because it's a Sunday night." Little did this mere mortal know that days of the week were immaterial to fans of longhaired proto-metal rippers Fuzz. The poor fool!
Though Fuzz's three members aren't part of any official collective, there's a lineage to their collaborations. The glam/garage wunderkind Ty Segall inevitably features prominently, pounding away at the drums on a kit that's pushed to the front and center of the stage. Mr. Segall's output is unfathomable—he released three albums in 2012, two in 2013 (including the first Fuzz LP) and another solo in 2014. He's a producer, too, and a part of five other bands, not counting Fuzz or his solo band. Point is, dude's got friends.
And those friends make Fuzz a collaborative effort, no matter how close Mr. Segall's drum kit is to the crowd. As the lone guitarist, Charles Mootheart must effortlessly switch between rhythms and riffs, and he makes it look easy. A curly mane covers his face as he leans into his solos, simultaneously neatly shaped and everywhere at once. Fuzz was Mr. Mootheart's baby, even before he linked up with Mr. Segall's live band. Adding bassist Chad Ubovich to the mix just sealed the deal. Mr. Ubovich plays bass like a true guitarist—loud, thick and all over the place. It's a departure from his other band Meatbodies, both sonically and collaboratively. How do these dudes play such pummeling music every night, and still keep putting out records? How can such heaviness sound so righteous and unholy at the same time?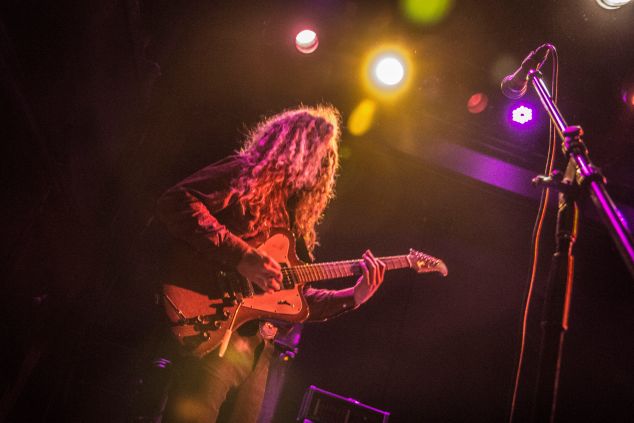 "It's in our blood," Mr. Mootheart tells the Observer. "We enjoy playing music, so we don't ever think about stopping. The tour has been a pretty fluid thing."
Such perceived effortlessness is no secret, but how Fuzz operates so fluidly is still a mystery. Are they controlled by some dark force? Some malevolent omnipresence? Some charlatan bringer of light?
"It all just works to be a momentary thing that's fun, an expression and a release," says Mr. Mootheart. "The whole point is just to keep things fresh for ourselves, we don't want to burn ourselves out on anything. It's an essential cycle where it's like, 'O.K., let's start working on the Fuzz record, and we'll work it out, set up some tours,' now it's time to focus on that. Everyone's working on different music and their own stuff, but it's a natural progression."
A big part of the Fuzz dude lifestyle means partying, too, because rock'n'roll is but a vacuous endeavor without it. "If it's a night with a bunch of good friends and it's time to let loose, you let loose. Every night is different that way," Mr. Mootheart says. He gets antsy sitting in the tour van all day; releasing that energy on stage is important. But pace is the trick. "This tour we've been more on the wham-bam tip, not really stopping," said Chad Ubovich. "But we've been doing a lot of breakfast."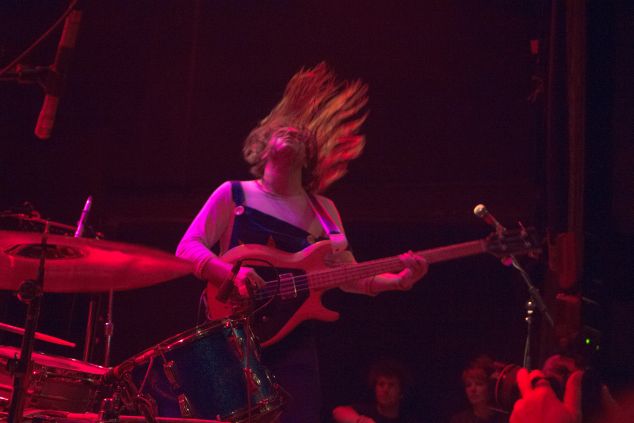 Because it's such a quick shift from the stage to the party to the road, Fuzz dudes rotate on who the designated driver is for any given night. "Every four nights you're gonna have a night where you're just taking it easy," says Mr. Mootheart.
My photographer friend's concerns were valid. A pit kicks up during "Rat Race," the lead single off Fuzz's aptly titled sophomore LP, II, that stays manic throughout the set. Before Fuzz's set, stage divers compared best practices for climbing up and jumping off, and once Mr. Segall eggs them on to go for it all bets are off. Stage diving gives way to crowd surfing—the pit is live.
The crowd MVP is a fresh-faced drunkard in a leather jacket, with a thick Long Island accent and a curly Bob Dylan mop. While Mr. Segall set up his drum kit before the set, the kid bragged loudly about how many shows he'd been to and described an alleged interaction he had with Mr. Segall in a bar when the two shared shots. Mr. Segall could hear every word, looking up from screwing in his drums and smiling. Another adoringly obnoxious fan asked for a handshake, so Mr. Segall got off his stool and obliged him. Later on, when another fan asked for one in the middle of the set, Mr. Segall extended his arm for the kid to shake his drum stick.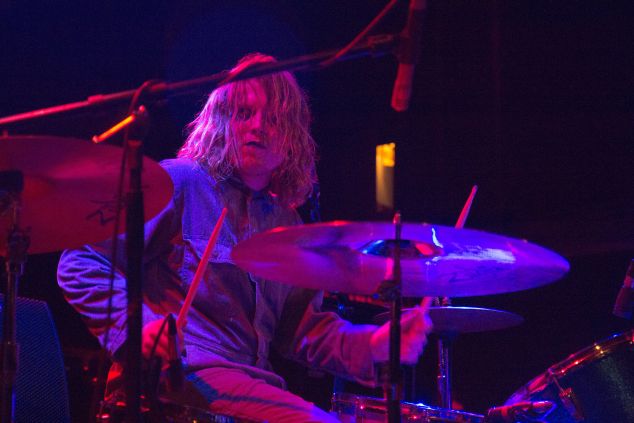 Such adoration is both palpable and understandable. Fuzz is something of a missing link between hard rock and psych—it's not that psychedelic music has never been heavy, or heavy music has never been trippy, but the bands that did it first are lost on this generation. (The true proto-metal ancestors are a band called Blue Cheer. Check out their 1968 debut, it fucking rules.)
Fuzz knows there's a musical history there, just as they know much of their younger audience is discovering these sounds for the first time with their help. But there's no sense of piety or self-righteousness to Fuzz's ripping and riffing, either—dudes will be dudes, and that's about all they're concerned with.
"I know a lot of different musicians [who] have been heavily influenced by older music choose it as their duty, trying to show youngsters [something] they're not used to, but personally for me that's never really been my tip," Mr. Ubovich said. "I don't think I'm trying to spread a message that this is what's good. It never was a goal for me to try to find as weird music as possible, I just listened to what I thought was rad and got really into it."
[youtube https://www.youtube.com/watch?v=YrOIafj2r-4]
Maybe that's why Fuzz, Meatbodies and all of Mr. Segall's projects continue to have such a dedicated throng. There's no obsessive calculation or clinical over-analysis of the heavy dark riffs that live inside of the Fuzz's heads, and as such it's perfect catharsis, perfect release—perfect rock'n'roll.
Fuzz's main set closes with a cover of the classic "21st Century Schizoid Man" by King Crimson, Robert Fripp's seminal prog-rock band. Mr. Segall takes the vocals with his trademark faux-deadpan, mock-British enunciations. The original tune saw Mr. Fripp amassing an ever-expanding roster of jazz musicians and studio fellows to flesh out the song's intricate arrangements and tempo shifts, but Fuzz pulls off a workmanlike, truncated cover with just the three of them. The adoringly obnoxious young man in the leather jacket, meanwhile, must have cheated and looked at a set-list from earlier on in the tour—for he knew what was coming. He sang every word.