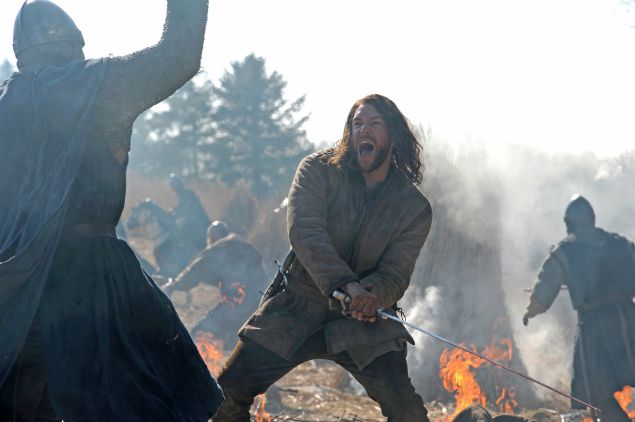 FX decided to axe The Bastard Executioner, its medieval period piece from Sons of Anarchy creator Kurt Sutter, after just one season. Mr. Sutter, usually better known for offering to take a shit on the Emmy red carpet and calling critics "cunts," was actually pretty cool about the whole thing.
Following last night's final episode of Bastard, Mr. Sutter will run an ad in several publications to calmly, and gracefully, salute the show and every person that helped make it a reality. From the ad:
"I thank my partners for their trust, support, and tireless effort as I slashed my way through 50 years of Catholic angst. FX Networks, Fox21, Paris Barclay, Brian Grazer, Francie Calfo, Dana Walden, Gary Newman, Bert Salke, Michael Gendler, WME, and the guy who, for over a dozen years now, inspires, guides, wrangles and for some reason, doesn't fire me, John Landgraf.

The audience has spoken and unfortunately the word is, "meh." So with due respect, we bring our mythology to an epic and fiery close."
Audiences were lukewarm toward The Bastard Executioner from the start, with ratings steadily declining throughout the season (the premiere garnered 4.02 million viewers, compared to 1.9 million for episode six). Lord knows we could sit here all day and nitpick what drives away TV viewers and what doesn't these days, but that doesn't mean Bastard's flaws aren't apparent; a dense mythology explained mostly in mumbles, super-sized episodes that often ballooned over an hour, a main character named Wilkin, etc etc. Perhaps most stigmatizing was Mr. Sutter's name itself. It's an unfortunate side-effect of this TV boom period mixed with social media, that the names of showrunners have become such a heavy part of the watch-or-not-watch decision. No matter the project, showrunners become defined by past tropes; Mr. Sutter just happened to be known as the "cavalier violence and rape" showrunner.
Anyone who made it through Sons of Anarchy's seven seasons knows this wasn't exactly unearned. But you just can't hate a guy for realizing his creation is a dud, and moving on to the next one with humility. For Mr. Sutter, the "next one" just happens to be a few projects — a Sons of Anarchy spin-off is still floating around, after all, and his feature directing debut Delivering Gen is still in development with producer Brian Oliver.