BERLIN — If you thought the United States is polarized over immigration, take a look at how Europe is now paralyzed by the refugees on their doorstep who in Germany alone could number one million by the end of the year. The crisis has given rise to what has become known here as willkommenskultur, a neologism meaning "a culture of being welcoming". It is associated with scenes at German train stations of bewildered Syrians, Iraqis and Afghans arriving to cheers from smiling happy Germans waving welcome signs and multicolored balloons. The term is also used derisively by those who say willkommenskultur is naïve.
Chancellor Angela Merkel became the willkommenskultur queen a couple of months ago when she suspended restrictions on refugees seeking asylum. But branding the country refugee-friendly made some Germans queasy. Even before the Friday the 13th attack on Paris, many wondered whether the newcomers might include members of ISIS's covert operatives. Hostility to her open refugee policy grew, most notably within her own party and last week her interior ministry re-imposed the very restrictions Ms. Merkel had so auspiciously lifted.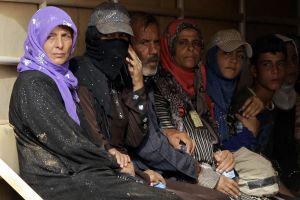 Now, with the prospect of Europe's terrorism metastasizing into urban warfare, street demonstrations taking place each week in German cities are sure to intensify, both for and against refugees. So too are the arson attacks on refugee centers. On Sunday the president of the European Commission, Jean-Claude Juncker, denied that a review of the EU's policy on refugees in response to the Paris attacks is needed. "Those who organized, who perpetrated the attacks are the very same people who the refugees are fleeing and not the opposite," Agence-France Presse quotes him as saying. That means nothing will stem the flow.
How quickly summer has faded. In September, outrage at the image of a drowned refugee boy lying face down on the sand, and newsflashes of 71 decomposing men, women and children in a smuggler's truck stirred Germans everywhere to blow up "welcome refugees" balloons. Merkel jumped on the bandwagon, saying her country could absorb every legitimate refugee who wanted to come. "Many will become new citizens in our country," she gushed. This was her tear-down-this-wall moment, even if her rallying cry, "We can manage", sounded more like Obama's 2008 campaign chant on antidepressants.
Germans need to find other ways of directing their guilt and showing the world that they are better than the sum of their terrible past.
Yet Merkel was and is sincere. Mutti (mummy), as Germans, and now refugees, call her, is the daughter of a Lutheran pastor. Her reputation as humorless and hard-nosed, particularly when it comes to stopping Greece from spending money it does not have, belies her sense of collective guilt for the holocaust and her duty as a German to do good in the world. The multitudes of refugees amassing in Europe's backyard became a crisis of biblical, not macroeconomic, proportions. With EU Balkan states overwhelmed she threw caution to the wind telling them to open their borders and give free passage to all those wanting to come.
That meant breaking EU law. According to its so-called Dublin Regulation, anyone seeking asylum in Europe must do so at the border of the first EU country he or she enters. As it happens, Germany does not have a border anywhere on the EU's outer perimeter, so when refugees entered the EU in the Balkans they were refusing to register there for fear that that would be where they'd have to settle. Instead they snuck across borders, zigzagging through forests and back ways trying to find their way north. Hungary and some of its neighbors erected fences to keep the intruders out while local police hunted down those who had gotten through. Monitoring groups reported that local authorities were mistreating refugees. Merkel called such behavior un-European. "There is no tolerance for those who are not ready to help."
The long march to Germany became a march to freedom. Each time more made it in, Germans blew up more balloons to celebrate. But Hungary and other ex-communist EU states were piqued by what they saw as Merkel's "moral imperialism". And within Germany, people were questioning Merkel's open-door policy, particularly in municipalities where newly arriving refugees had been allotted. ­­One after the other, Merkel's political allies spoke out against her policy, culminating in the interior ministry reinstating the Dublin Regulation on Tuesday. Progressives were gobsmacked. Refugees will likely find themselves in an even more precarious situation than before. "Germany had become a place on the right side of history a few weeks ago," lamented a Germany friend. "Was that so unbearable?"
With reports that one of the terrorists in Friday's attack on Paris had entered the EU as a refugee less than a month ago on the Greek border, its easy to put blame on Merkel for lifting border controls there. Germans on both sides of the issue are calling for her resignation. For liberal Süddeutsche newspaper commentator Heribert Prantl, Merkel has created "chaos" by permitting her government to maintain a pro and anti refugee policy at the same time. Merkel is now self-destructing like "Rumpelstiltskin," he said.
But what exactly did she do wrong? You can't blame the whole crisis on her. The refugees were coming anyway. She just tried to make it easier on them. Was embracing Germany's Willkommenskultur really so wrong? Yes, in as much as it was bad policy: it created what relief experts call a "pull factor", encouraging people to flee who might otherwise have stayed. At the same time, she provoked a "push factor" — or what Germans might call an Un-willkommenskultur — making it harder for those fleeing to find refuge. And so she has inadvertently made the situation for refugees more untenable than before. it's also harder for them to show their hosts their 'thank you culture' when so many are showing anger at them.
Merkel might have done more for the refugees had her support come with less fanfare. So enough now with the balloons. Germans need to find other ways of directing their guilt and showing the world that they are better than the sum of their terrible past. Perhaps it is fortuitous that the day the government announced it had re-imposed the Dublin Regulation on asylum seekers was also the day storied former chancellor Helmut Schmidt passed away. The first lieutenant in Hitler's Wehrmacht with a Jewish grandfather was a social democrat who held more xenophobic views than the current conservative chancellor. He said that allowing ever more Muslims into Germany was "a danger for democracy." Yet he was a consummate player of realpolitik when Germany was carved into east and west and a reminder that, when times are tough, grand principles and objectives often fall by the wayside. Juggling competing interests may be the best a leader can do.
David Hecht was a news correspondent mostly covering Africa then an official at the UN and two international criminal courts. He is now based in Berlin where he produces radio documentaries in English and German and works as a risk consultant.