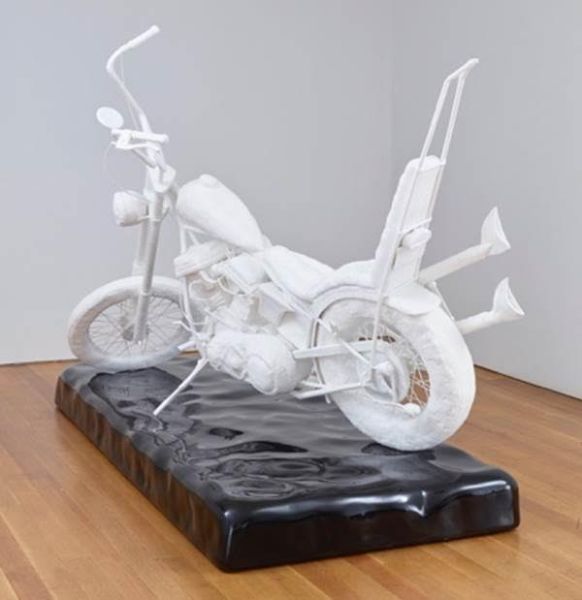 "Don't squeeze the Harley!" is something you might hear if you're in Miami during the first week of December.
Will Ryman, a former playwright and one of the artist-sons of the Minimalist painter Robert Ryman, is following his recent installation "The Situation Room" at Paul Kasmin gallery with a life-sized sculpture of an iconic Harley Davidson that he's made entirely of… you guessed it (or maybe you didn't): Bounty paper towels.
The angelic object can be viewed at the very lovely Shelborne Wyndham Grand hotel on South Beach, giving art lovers yet another stop on their art viewing maps during Art Basel Miami 2015.
The juxtaposition of material and subject matter in this artwork brings up so many thoughts, don't you agree? Like "Who would ride this vehicle? A Care Bear?" or "if you fell off this thing going 90 mph, would it actually cushion your fall?"
The piece is titled "Freedom" and was commissioned for the hotel by the Shelborne owners—who also happen to be prominent art collectors—Dayssi Olarte de Kanavos and Paul Kanavos. The artwork will be displayed in the hotel's lavish lobby, hopefully with some kind of protection as the work is surely delicate.
Mr. Ryman has also made a Cadillac out of paper towels, which he described at the time as a "symbol of American power from the industrial revolution" made from a "disposable, mass-produced" product. Now the Harley gets it's day in the (Miami) sun.