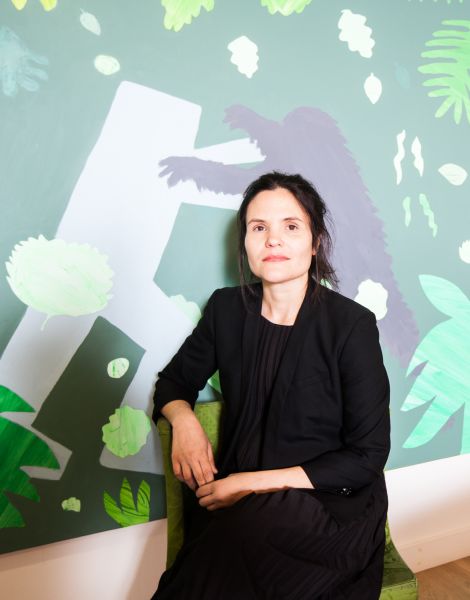 The New Art Dealers Alliance art fair, a scrappy, independent and hugely popular event where collectors shop for emerging art, used to be at the far-flung edge of Miami Beach. But for the fair's 13th edition, overseen by director Heather Hubbs, it will be setting itself up at a potentially game-changing location inside Miami Beach's Fontainebleau hotel, just north of 43rd Street and next door to rival fair Pulse Miami Beach.
With the move comes a slightly smaller exhibitor list—104 exhibitors, down from last year's 109, 21 of which are first-timers—and a new outlook. This "puts us right in the middle of the action," director Heather Hubbs told the Observer.
NADA has always offered a mini-mall for artist-designed products. This year, look for apparel by artists Mira Dancy and Amanda Ross-Ho; books from art publisher Phaidon; "jackets made out of moving blankets" by Art Handler Magazine; and perhaps the hottest art world tech of the moment, the EO1 by Electric Objects, a display screen made just for showing digital artworks on your walls at home.
On the fair floor, Ms. Hubbs picked out these highlights: "I'm looking forward to seeing what Oslo's 1857 will bring, as this is their first year with us. (The artist-run gallery space is located inside a former lumberyard in the city's downtown.) Chapter has graduated from a project space to a booth and will show Sam Anderson, Cara Benedetto, Rob Halverson and Willa Nasatir." The Lower East Side gallery is run by former Mitchell-Innes & Nash director Nicole Russo.
She cherry-picks artist-run spaces like Chicago's Night Club, New York's Queer Thoughts and Brooklyn's emerging artist space SIGNAL. Ms. Hubbs also gave a special shout out to Alden Projects, helmed by Todd Alden, who has made a name for himself on the fair circuit and now in his new LES gallery space on Orchard Street with significant historical exhibitions—most recently work by Ed Ruscha and Mason Williams. The latter will have a solo booth at this year's fair.
4441 Collins Avenue
Invitation only:
December 3, 10 a.m.-2 p.m.
Open to the public:
December 3, 2 p.m.-7 p.m.
December 4, 10 a.m. -7 p.m.
December 5, 10 a.m.-6 p.m.
$20