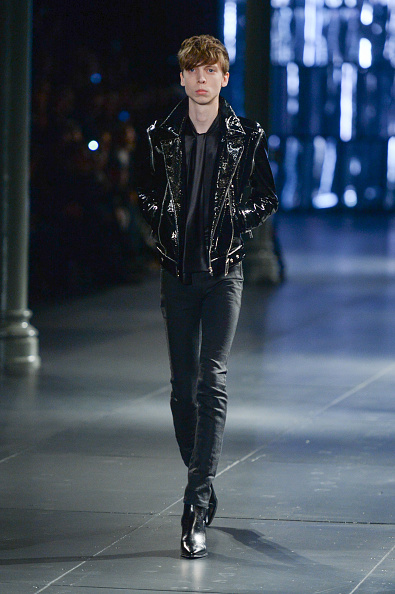 Like a surly indie kid with his finger on a TV remote control, men's fashion has flicked the color button and turned the whole world black and gray. This season men's fashion is saying it loud and clear: color sucks.
Inky shades dominated collections across the menswear spectrum, from Alexander Wang to Miuccia Prada and Hedi Slimane at Saint Laurent. If it's a color-fix you're after this season: you'll need to head south. Far south.
Winter is, of course, the time of year to wear darker, richer shades—an acid-yellow T-shirt looks fine on a beach in August, but it does none of us any favors in mid-November. But it's unusual for all the lights be turned out from high-end to discount at precisely the same time. Men's fashion across the board is having a dark night of the soul.
What exactly is going on?
"I can't remember a menswear season when black has dominated to this degree," Ryan Thompson, co-founder of Conversational Style, told the Observer. "It's as if the designers from every level of the industry have all looked at the worrying news from around the world right now and taken it to heart with their color choice. It's an unprecedented fashion blackout!"
We should not be so surprised that Hedi Slimane has taken this turn to the dark side. After all, his hometown of Los Angeles and further north on the West Coast has been regularly pimping the black-is-cool line since the early '90s, when Marc Jacobs' legendary grunge collection for Perry Ellis put a new spin on designer menswear. In fact, Slimane's collection takes its inspiration from a bunch of young, achingly cool, black-clad musicians he has been taking pictures of in Paris. Slimane is also a respected black and white portrait photographer, by the way. You can almost smell the whiff of Gauloises cigarettes from his dark-hued, skinny clothes this season.
It was somber too, at Riccardo Tisci's Givenchy fall offering. The program notes at his fashion show referred to the designer's "darkest obsessions" without explicitly stating what they were. The phrase implied something unwholesome and even Satanic underlined by the presentation's glittery red catwalk, offset by the unrelentingly dark tailoring. The audience might well have been at a funeral, albeit a very chic one, with buff young men in attendance.
'Black implies invisibility. What, in fact, are you hiding from? What are you not willing to express? What are you too scared to broach through wearing this color? What does wearing head-to-toe black say about your personality?'
There was a logic to the cropped trousered charcoal, black and midnight tailoring at Alexander McQueen. The anniversary of the First World War was inspiration for the label's creative director Sarah Burton. It is hardly a theme that wouldn't inspire thoughts of loss, regret and clothes of the darkest hues, predominantly black. That color again.
"Black is a safety net," says Sam Clarke, a style consultant who helps businesspeople with their image and fashion. "It's a color, or rather a non-color, through which we can hide who we really are." According to Clarke, black is a color that's worth analyzing rather than just taking at face value. "Black implies invisibility," she says. "What, in fact, are you hiding from? What are you not willing to express? What are you too scared to broach through wearing this color? What does wearing head-to-toe black say about your personality?" These questions may imply that anyone wearing all black may need therapy. On the other hand, men may just be discovering, in this basic, something women have known all along. Black clothes tend to make us look slimmer. The none-shade is also universally flattering for all skintones. The color neatens up a casual look. Jeans, sweaters and sports jackets look smarter in black than any other shade, as proved by the collection from newcomers Engineered Garments this fall. And, of course, black clothes hide the dirt, which in grimy cities from New York to New Delhi, is a huge benefit.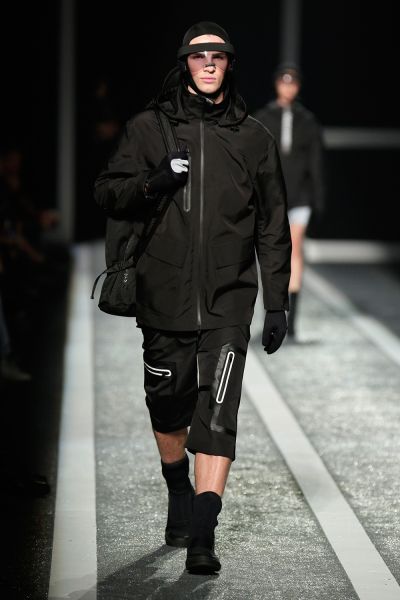 "If you choose to wear black you can make your somber look much more interesting with the accessories you choose," said Ms. Clarke, keen to throw a life-line to those in league with the dark side. "There's a way to elevate black to another level, to make it more energetic," she suggested. "You must energize it with color in the socks you wear, your scarf or hat. In fact, one of the best assets of black is just how well it sets other colors off brilliantly. Be bold!"
Which is probably why Alexander Wang's latest offering of sports-luxe menswear used just such splashes of color to great effect. Against a mostly black backdrop of parkas, nylon hoodies and tailoring, the designer added electric bolts of color like sunlight breaking through clouds. So perhaps that acid-bright T-shirt doesn't need to be kept for summer after all. If worn, though, do ensure the jacket and pants teamed with it are black. Very black.