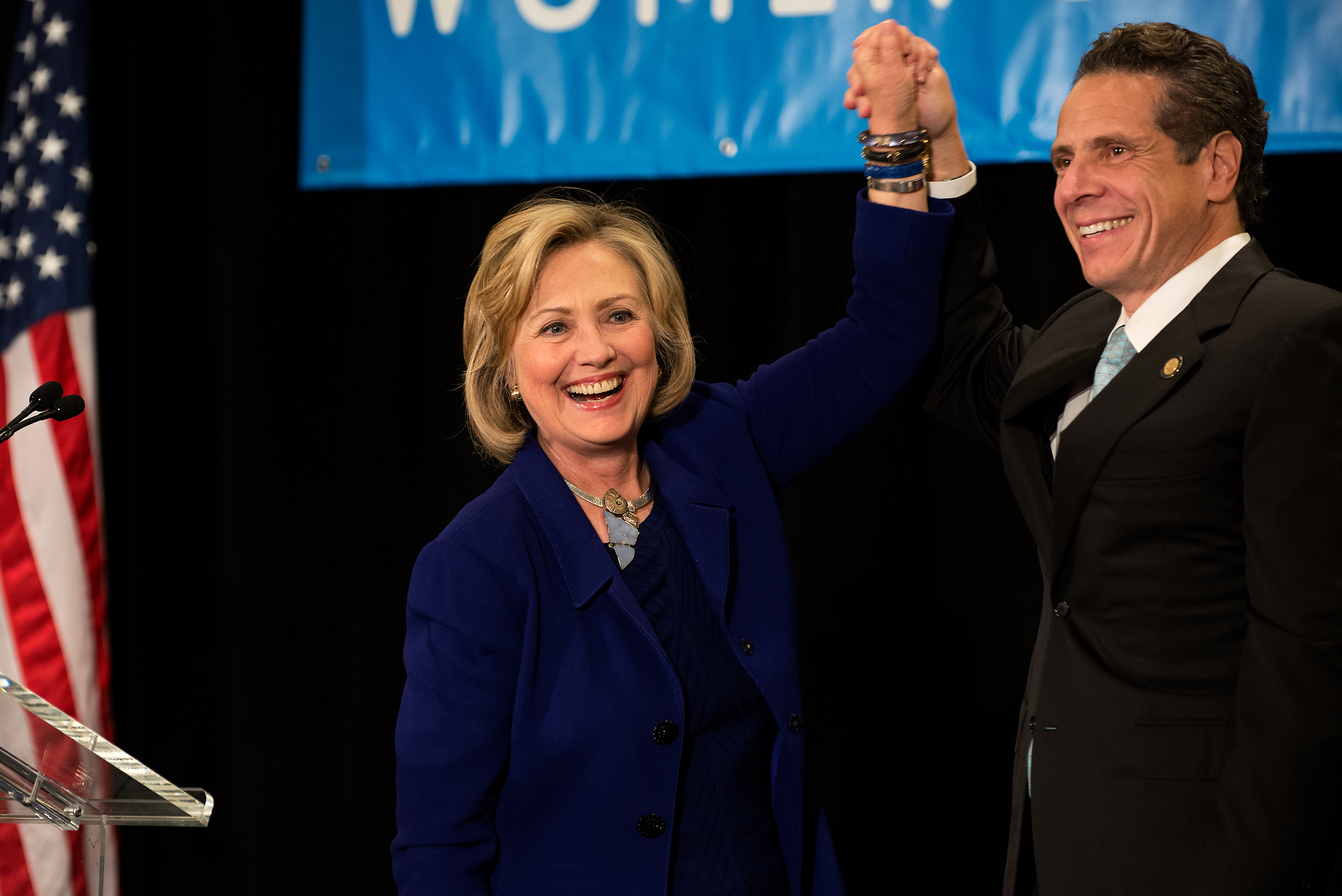 Hillary Clinton reiterated calls for stricter gun control laws and praised a New York law enacted by Gov. Andrew Cuomo tonight at a Brady Campaign to Prevent Gun Violence gala, where she received an award named after Mr. Cuomo's late father.
Ms. Clinton, the former secretary of state and current front-runner for the Democratic presidential nomination, and Mr. Cuomo praised one another for taking what they described as important stands on gun control: Ms. Clinton's vote, as a U.S. senator representing New York, against legislation that immunized gun manufacturers from civil suits, and Mr. Cuomo's passage of the Safe Act after the Sandy Hook shootings.
"When Congress failed to take action, despite a lot of effort in the Congress and the White House, Andrew led the fight here to expand background checks," Ms. Clinton said. "Congress may have let us down, but Andrew Cuomo did not."
Mr. Cuomo, meanwhile, spoke of the namesake of the inaugural Mario M. Cuomo Visionary Award, and cited his father's belief that "the test of an elected official is determined by the question of their character."
"Do they have the courage of conviction? Do they stand for change? Will they fight for what they believe? Will they wilt under pressure? The gun issue is the best proxy of our time to judge the essence of an elected official," Mr. Cuomo said, "and Hillary Clinton has shown again and again—and I've worked with her for over 20 years—all her life, whether it be the radical right, or the forces against a woman's right to choose, or big oil and gas, or the NRA, or the gun companies, Hillary Clinton will stand strong by her word her convictions and her principles."
As Mr. Cuomo noted, his relationship with Ms. Clinton dates back to Mr. Cuomo's time working in and eventually leading the Department of Housing and Urban Development under President Bill Clinton.
In her remarks, Ms. Clinton called gun violence a "national emergency" and touched an issue that has been getting considerable attention since terrorists in Paris shot dozens of people at a theater and in restaurants—the fact that people on terror watch lists can still purchase firearms in the United States.
"Leaders in the House and Senate will not even allow a vote on whether we should prevent people on the no-fly list from getting guns," Ms. Clinton said. "It's just something that makes no sense."
Ms. Clinton listed some of the policies advocated for by the Brady Campaign—named for James Brady, the press secretary to President Ronald Reagan who was shot and paralyzed in an attempt on Reagan's life—including closing loopholes that allow some gun sales to occur without background checks.
"These are all, I believe, utterly sensible policies," Ms. Clinton said. "Yet despite the fact many millions of Americans agree, we can't seem to break the hold that the gun lobby have on our Congress."
The argument that the country needs to build consensus on gun laws is a flawed one, Ms. Clinton said, arguing that the country already had consensus—with the vast majority of Americans including gun owners supporting stricter background check laws.
"The problem is not finding common ground," Ms. Clinton said. "The problem is politicians finding courage."
In addition to politicos, the gala at Cipriani in the Financial District drew a crowd studded with celebrities, including Paul Rudd, Julianna Margulies and Alan Cumming, as well as less conspicuous people who were nonetheless wealthy enough to bid thousands of dollars on set visits to the television show The Good Wife or the prize that seemed to get the most reaction from the crowd: a stay in a Lake Tahoe home once purchased by Liza Minnelli for her mother Judy Garland.
The awards gala, at which Sen. Charles Schumer was also honored, was one of several events Ms. Clinton's had in New York today. She delivered a speech on foreign policy this morning, which was attended by another of the city's political leaders, Mayor Bill de Blasio—who had drawn plenty of attention for dragging his feet on endorsing Ms. Clinton for president. Like Mr. Cuomo, the mayor has a history with Ms. Clinton: he too worked at HUD with Mr. Cuomo, now more of an enemy than a friend, and ran Ms. Clinton's 2000 campaign. Mr. de Blasio only endorsed Ms. Clinton late last month; Mr. Cuomo, once talked about as a potential presidential candidate himself, endorsed her immediately.