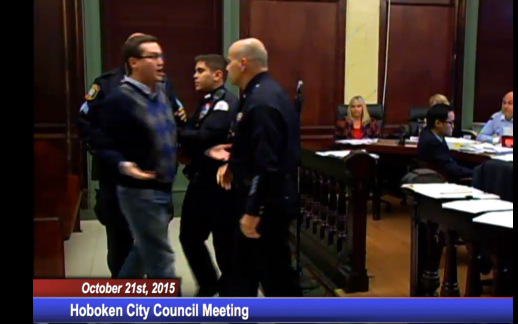 On October 21, Hoboken resident David Liebler was removed from a Hoboken city council meeting after mentioning details in the lawsuit filed by Assemblyman Carmelo Garcia alleging that Hoboken Mayor Dawn Zimmer's husband, Stan Grossbard, may have been inappropriately advising the city council on how to manage Garcia's termination from the Hoboken Housing Authority. Now, Liebler is suing the mayor and council over allegedly hindering his First Amendment rights.
According to a statement, Liebler is "seeking to restrain Council Members from limiting comment about political matters or any topic at Council meetings and compensatory and punitive damages."
A statement from Liebler's attorney, Charles Gormally read as follows: "A news story claiming that Mr. Grossbard – an unelected individual with no formal position within the Hoboken government – had frequently communicated with and provided advice to the Hoboken Housing Authority in connection with the termination of its Executive Director, Carmelo Garcia ("Garcia"), in August 2014 certainly is a germane matter to discuss at a public meeting convened by a political body."
"Mr. Grossbard's wielding authority and influence over Hoboken's governmental affairs has been a component to other issues and refusal by the Council President, Ravinder Bhalla, to permit comment on the matter is a gross manipulation of the Public Comment forum and the First Amendment Right to freedom of speech. Councilman Bhalla immediately and repeatedly interrupted and shouted at Plaintiff to prevent him from speaking and even calling him a 'disgrace.' This behavior, particularly from an elected official flies in the face of democracy itself. Individual council members cannot be allowed to suppress political speech because they disagree with the speakers' viewpoint…even in the Republic of Hoboken."
For more information about Liebler's removal (and the removal of Perry Belfiore for similar comments) from the city council meeting, see the PolitickerNJ article detailing the incident.
Liebler was contacted but declined to comment further.