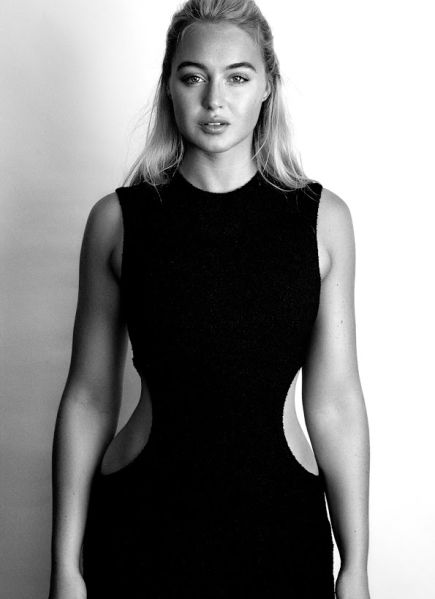 When you meet Iskra Lawrence for an interview you're likely to be taken aback. Less by her beauty (because you've already beheld that on her well-followed Instagram) but more because of her size, or lack thereof. For most, her five foot nine, size 12 frame, is nowhere near the image that comes to mind when one thinks of a "plus-sized model" and yet that's what she is.
"Today I'm filming Man on the Street videos to get the word out," she says settling into our seats at the coffee bar, ready to discuss her soon to be launched fashion site Runway Riot. A guy smiles at her through the window, but it doesn't seem like she notices in the way she give me a knowing look when she gets three double takes as we wait for an Uber on the street corner afterwards. "Basically, when I go up to people and introduce myself, I'm always wary of just saying model because people look at me and they're like 'Girl, I think you're a couple donuts too much for modeling.' But then when I say plus-sized, they are like 'What?!' Curvier women actually get offended and say 'Well if you're plus-sized, I'm obese'
"So today I just want to talk to these people and get their opinions on it," she explained. "The label plus-sized is just so outdated which is why on Runway Riot, there will be no plus-size terminology."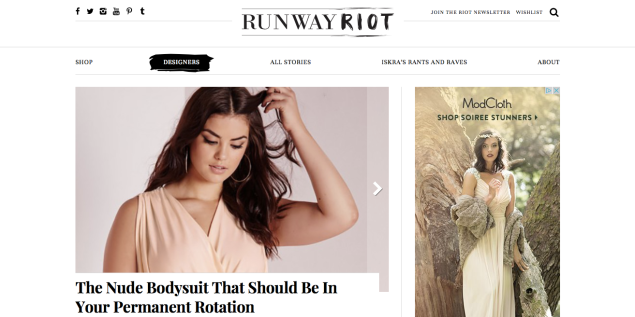 In October news broke that Styleite, the Abrams Media-owned fashion site would be shuttering and in it's place, Runway Riot would be launched. According to owner Dan Abrams, Styleite, founded in 2010, was already slowly shifting to more body-issue focused editorial coverage and the stories were doing well. Both Mr. Abrams and Ms. Lawrence cite the trend as being related to stats which reveal that 64 percent of American women are over a size 14.
Coverage of the relaunch then trumpeted the site as a plus-size project, but that's not the sense Ms. Lawrence conveyed over coffee. Instead the model, and now managing editor, stressed body positivity. In fact, she explicitly stated: "We are not trying to say we're plus-sized or we are a plus site, we're trying to say we're a site that's inclusive and trying to promote healthy body image and self-care."
Ms. Lawrence herself has been modeling for 12 years, since being entered into Elle Girl's Search For A Supermodel. And while she only made it into the finals, a taste for the industry was all the former competitive swimmer needed to get hooked. After signing with Storm, the teenager did projects here and there until age 16 when she was dropped. "I just remember being 14 and looking around at everyone," the England-born blonde said. "I was looking at my shape like 'Hm, I've got these things on my sides and I don't know what to do with them; I can't control them.'" When she was finally dropped from her contract, her hips were already 36 inches in an industry where 34 was the ideal.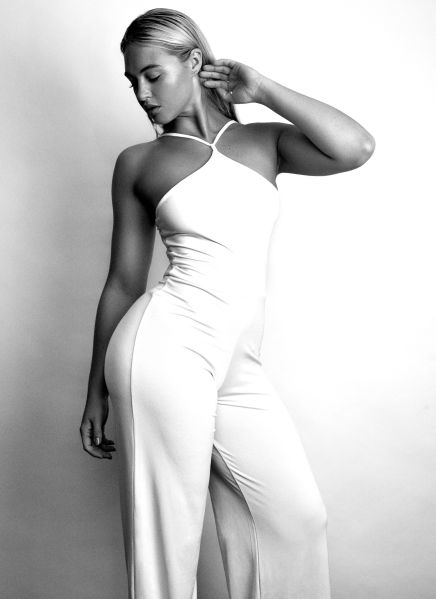 "After that I did some of the most horrendous things because I'd had a taste for it and I wanted to make it work," Lawrence admitted. Including commercial work, it wasn't beneath her to take flyering jobs wearing short skirts for the exposure and money. But before long, she was introduced to plus-sized modeling.
"They said I was too small," she said of her first plus-sized experience. Still to this day, she admits that some clients have added pillows or cushions to the back of her lingerie when she comes on set. "I was a size eight so I found a very small plus-size agency and convinced them to let me do some lingerie work. I told them I wanted to eventually move to New York!" Four years later, despite her agents telling her that she was neither curvy nor tall enough (most plus sized models Stateside are in the six foot range), here she is.
Ms. Lawrence's career trajectory has sharpened skills essential to running a fashion site that will double as an e-commerce venture. While modeling, she not only went out and recruited clients, but used those clients to convince bigger agencies to represent her. It was that move that landed her with her mother agency JAG which eventually led to her getting representation in New York. That sort of self-starting, tenacious attitude has seen the 25-year-old crawling across the web over the past few weeks, finding the largest variety of styles and sizes possible or product to host on an affiliate basis for her start-up. The lineup includes everything from sleepwear to lipstick and dresses and spanning a projected 1,200 products at launch.
In addition to that, the site will host a bevy of editorial content. With two full-time writers, a videographer, and an intern, the platform will post daily including personal stories, features on brands and various women in addition to fashion shoots. A week out from the launch, staff said they plan to have 135 articles ready to start off. It's worth noting that going over screenshots that served as an exclusive preview of the site, the term plus-size did crop up in one of these articles, which was in contrast to Ms. Lawrence's earlier statements. Over email, an Abrams Media staff member clarified the headline, which read "A Creative Director on Interpreting Runway Trends for Sexy Plus-Size Clothes Without Charging More."
"The plan is still not to use the term 'plus-size' but that headline in particular was an article where we interviewed someone who was using the word "plus-size' and most of that article was quoting that individual verbatim," Andrew Eisbrouch, who is the Director of Business Development for Abrams according to his LinkedIn, wrote. "For our original writing, we still plan on not using the term 'plus-size.'"
Of course this won't be the first time Lawrence has organized something; in her modeling days back in London she corralled models and photographers to create an unretouched calendar that was sold for charity. That effort led to her booking a photoshop free campaign for American Eagle's Aerie and aiding in the creation of the National Eating Disorder Association's "Seal of Approval." The seal is meant to be used by brands to certify that their images are not retouched. Skills gleaned from all of these projects will lend themselves to managing the growing Runway Riot project. Ms. Lawrence herself will host video series like her Man on the Street clip, in addition to curating a selection of products on the site for readers to shop. Expect brands to include the likes of J. Crew, Michael Kors, Ralph Lauren, all of whom cater to a large variety of sizes although they don't advertise it.
"I want to give women the option to go to a home where they can see these amazing editorials with women that aren't aren't retouched in all these different sizes and then i want them to get really excited and to enjoy fashion and realize that they can get involved." That home is slated to open on Monday, November 16.