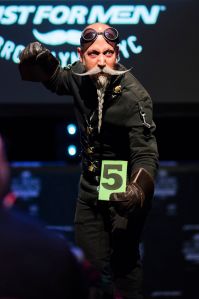 In a borough where man-buns and artfully tended beards are as ubiquitous as craft cocktails and artisanal mayonnaise, the 300 or so competitors at last weekend's National Beard and Moustache Championships boasted follicular sumptuousness exceptionally well suited to the contest's setting, the rococo (and recently restored) Kings Theatre.
Clad in a white top hat and white pants—he forgot his suspenders at home—four-state champ Adam Gazda traveled from Newark, Del., for the event, sponsored by Just for Men beard color and benefiting the Fire Department of the City of New York ($5,000 was donated to New York's bravest). Mr. Gazda's facial hair is impressive: an enormous moustache extends horizontally from his jaw, thick and swirled as the tusks of an Indonesian babirusa. He usually wears his beard "dirty," he told the Observer, which in beard lingo means natural. Hanging down, it's 13 inches long. But for competitions—he recently won Best in Show at contests in South Carolina, North Carolina, Georgia and Pennsylvania, he said—Mr. Gazda spends an hour with a can of hairspray, building it into an ornate appendage.
And the 'do gets him noticed: a woman was nearly struck by a bus as she ran across Flatbush Avenue, outside the theater, to ask him about it. "It's kinda like being a celebrity. If you don't like attention, then this is not for you," Mr. Gazda said.
While Mr. Gazda's look was classified as "freestyle," there was no shortage of very specific styling categories: for 'staches, they included best English (waxed long ends sticking straight out from the face), best Dalí (shorter ends turned up into a U shape), best Imperial (short and bushy with ends turned up) and best Hungarian (big and bushy) moustache. Partial beards included categories like Natural Goatee, Fu Manchu (drooping straight down), Musketeer (similar to English moustache with a long soul patch below the lower lip), Sideburns (a handlebar moustache connected to the hairline and a naked chin) and Amish (fully unshaven beard connecting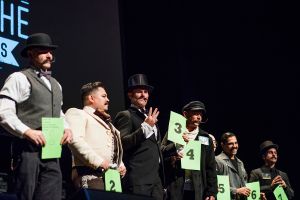 temple to temple around the jaw and over the chin, with a naked upper lip). Full-beard awards were presented in Verdi (short and round, with styled moustache), Garibaldi (broad, full and round with integrated moustache) and Full Beard with Styled Moustache.
The contestants donned costumes as outrageous as their hair (and often paired them with drink cups from the theater's open bar, especially as the afternoon wore on). Richard Smith, who copped top honors in the Fu Manchu category, wore a black-and-red ensemble evoking ancient China, while a number of other gentlemen paid sartorial homage to the Old West. "Look, it's Doc Holliday and Wyatt Earp," quipped one of the five judges.
Also spotted: a guy in a sparkly silver jumpsuit with a matching wreath circling his bald head, two in Lederhosen and one in full mariachi mufti. Still others came looking ready to join a Sgt. Pepper tribute band.
Audience favorite Ramesh Parekh, regal as a raja in saffron turban and creamy shalwar kameez, with thick gray upper lip brush, was victorious in the Imperial Moustache category, accepting his medal with aplomb.
While Mr. Gazda won first place in the Freestyle Beard category, he was out-follicled for the overall National Championship by Scott Metts of Orlando, Fla., the victor in the Full Beard with Styled Moustache segment, whose full reddish bush of a beard is topped by a moustache coaxed into a large, upward-facing W. His prize: a trip to next year's event.
Doubtless disappointed, Mr. Gazda at least had moral support from fiancée Heather Roberts, who traveled with him to the championships. Ms. Roberts met Mr. Gazda five years ago, when he was clean-shaven. They have a 2-year-old son who likes to watch daddy apply oil to his beard, and who imitates the motion on his little naked chin.
Asked whether she prefers her fiancé shaven or in full follicular glory, Ms. Roberts paused for a moment before diplomatically replying, "If it's something he's passionate about, then I am as well."
"It's like having big boobs is for a girl," chimed in Mr. Gazda.
What's it like to kiss him, Ms. Roberts was asked. How do you get to his lips? "He has to spread the hair," she said.