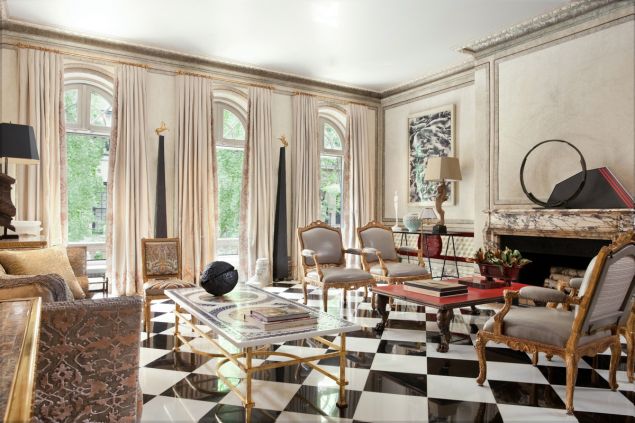 Perhaps third time really is a charm.
Self-described "maximalist" interior designer Juan Pablo Molyneux and his wife, Pilar, first put their opulent Lenox Hill limestone on the market in 2012, asking a staggering $48 million that seems to have been received with more shock than awe, and they subsequently took it off the market. But it returned in January this year,asking a more modest $34 million, before dropping to $29.5 million in August. Now the Molyneuxes have finally found a buyer…but for $22.5 million, city records show.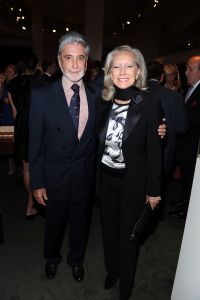 The couple purchased the seven-story Beaux Arts townhome at 29 East 69th Street in 1986, and it has undergone a number of renovations, redesigns, and everything else you would imagine in the hands of a maximalist owner. This is, after all, the man who designed the 40,000-square-foot palace that Sheikh Mohamed Bin Suhaum Al-Thani of Qatar resides in in Doha?
Townhouse maven Paula del Nunzio at Brown Harris Stevens had the listing for the six-bedroom, 8.5-bath home, located between Madison and Fifth Avenue, which sold to the highly descriptive East 69th Street, LLC.
The limestone has five outdoor spaces, including a fully furnished 1,600-square-foot duplex roof terrace complete with a "therapeutic" pool. Per the listing, the home has no less than eight fireplaces, and the top floor includes a spa relaxation room. We're not sure exactly what goes into a spa relaxation room, but we do know that it includes a Jacuzzi!
The foyer has lacquered walls "inspired by a 17th century Chinese screen," and a library has scagoliola walls created from a "composite of marble paste and marble dust in layers that are repeatedly polished in the 16th century Italian method." Did we mention Mr. Molyneux is fan of the maximalist look?
And while there's no word yet on if Mr. Molyneux plans on keeping a residence in the city, at least he, a "citizen of the world," has his château at Pouy-sur-Vannes and a home in Le Marais in Paris.