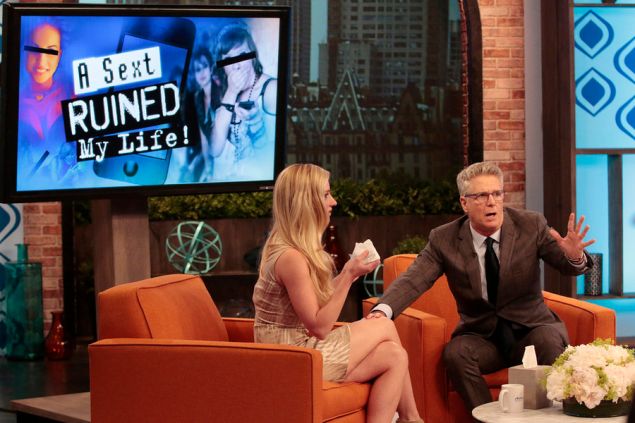 What makes people do the crazy things they do? To answer this question, we need to narrow focus a bit more, right? O.K., so, let's ask pointedly, 'What makes Donny Deutsch, former ad exec and former CNBC talk show host, think that he can star in his own comedy series?'
"I didn't know that I could do it really," admits Deutsch. "I was just restless and this seemed like the next thing for me to do."
What's resulted from Deutsch's agitation is a half-hour comedy, appropriately called donny! (Yes, lowercase "d" and !) that features Deutsch as the host of a Maury-esque gabfest who, in his personal life, is a bit of a buffoon.
For that buffoon part, Deutsch says he's not afraid to show that side of himself to the audience. "Are you kidding? In one episode, I do a whole thing where I make fun of my privates, so clearly I'm not scared to make fun of myself." Deutsch goes on to say that this aspect was part of the DNA of the series from the get-go. "Right off the bat I said, 'if we're going to do this, let's do a real cartoon version of me. I know people will find that funny.' "
What resulted from that idea is a series that's being referred to as a 'soft-scripted,' meaning it's mostly mapped out but with some improv thrown in. Deutsch explains the process saying, "What we did is we'd write a rough script then have a read-through with actors and then we would improvise and then we would write a revised script from that. By the time we got to shooting, we had a pretty solid script but we would still improv a bit as we went along. Doing it this way really worked for us."
Each episode of the show opens as talk show host Donny is in deep discussion about some salacious topic with a guest, and a studio audience, on the set of his fictional talker. "This format makes it possible for us to explore a lot of issues," reveals Deutsch. "I know that sounds a little weird when you're talking about a comedy series, but everyone is dealing with the something, right? So we decided to look at things people are dealing with in a humorous way." To that end, Deutsch says that upcoming storylines will involve race relations, middle-aged men who come out, and tiger parenting, among others. "We're doing a comedy, but there's meat in these episodes," insists Deutsch. "We'll make you laugh, but we make you think about things too."
Part of the humor in the series is that Deutsch is surrounded by women and seems to constantly offend the opposite sex in some way or another. But, in further explaining the premise, Deutsch says, "The truth is, I think women rule and that's the reason you see all of the women in the series, like my three assistants and my Executive Producer.  All of them are strong and efficient and it's clear that they're running things. The irony to me is that I play a womanizer on this show, but in real life I think I'm a feminist."
Another unique factor of the series is that Deutsch brings his Madison Avenue background into the foray as he's found a way to uniquely incorporate product placement into the series—by flat out hawking items directly to the audience. That's right, midstream Deutsch actually turns to the camera and extolls the virtues of a variety of products, which include barbecue sauce, vodka and vacuum cleaners. "We already have a blurring thing going on here with the scripted-reality combo," explains Deutsch. "So we said, 'why don't we put advertising right into it?' It's a nod to my previous life as an ad man so who better than me to do this? And that's a big part of what makes it funny." He goes on to explain the business side of it saying, "We did have a lot of debate about doing it this way—would it take away from the show, would it add to the show, does it fit in? But what we came down to is that this generation really understands branding and there are also some nice economics to doing it this way too. We realized that we had kind of the perfect storm for this so we took a leap and I think it really works—as something funny and something practical as well."
Deutsch's background in the ad world may have prepped him for this gig, but in a way he really hadn't anticipated. "I was really surprised at how easy this is creatively," he revealed, "In advertising you have 30 seconds and you have to hit certain selling points and be funny or make people cry. With this show, in these 22 minutes, the only thing I have to do is make you laugh. There's a lot of freedom in doing this and I love it."
Comparing his series to other television fare, Deutsch says, "Most of the acclaimed shows are dark and it doesn't seem like there's a lot of high-minded comedy out there right now so it feels like people are ready for this. I love that this is a happy show. I don't make fun of other people, only myself, and I really think this is different from other stuff because it's daring, fresh, topical, and light all at the same time." He laughs a little as he says, "It's like candy!"
Summing up his thoughts on the series and his role within it, Deutsch gets a little philosophical as he discloses, "I know people are thinking and I'm thinking it too, 'Who am I to do this?' Truth is, I just wanted to try it something new and different and I'm doing it! It might sound a little corny, but hopefully my doing this inspires people to do the next thing in their lives. Just try something so out of the box that it scares you.  You might stumble as you go, but it's cool to do something out of your comfort zone. You never know what you might find out about yourself, but if you don't try new things, you'll never find out anything new at all about yourself."
Deutsch chuckles, then offers this amusing thought, "Now I need to get back to stumbling along in my life. But hey, if that makes you laugh, it's all worth it."
Donny! airs Tuesdays at 10:30 p.m. EST on USA.