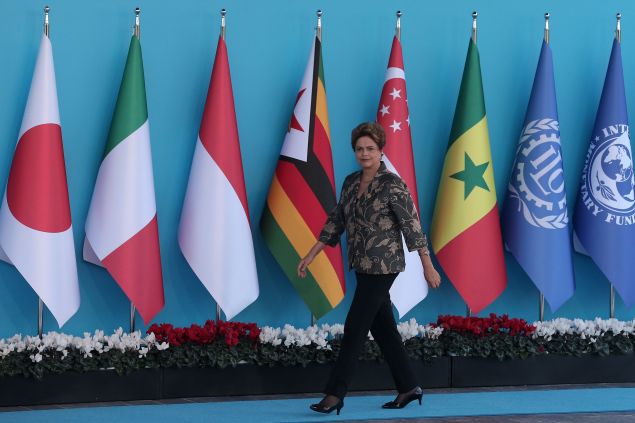 In the 1970s, a young Dilma Rousseff wanted to change Brazil through revolution. But something went wrong during a meeting with fellow Trotskyists and Brazil's military dictatorship arrested the young guerrilla fighter whose main nom de guerre was Estela. She managed to survive three years in jail as well as torture, including electric shocks to her hands and feet. Fast forward to 2010: a leftist technocrat turned into a novice politician, she was anointed by then-president Lula as the Labor's Party (PT) presidential candidate. She won election by pledging to leverage the social and economic achievements brought both by the Lula and the Fernando Henrique Cardoso administrations through a "new economic matrix." Packaged in a posh marketing strategy in the 2010 and 2014 campaigns, Ms. Rousseff's popular platform called for credit expansion, tax cuts and investment in infrastructure.
But as she finishes the first year of her second term (2015-2018), her country struggles with a recession and she faces a political crisis that could lead to her impeachment.
To survive long-term, Ms. Rousseff must move fast to reverse a gloomy outlook that could worsen in 2016.
Ms. Rousseff is the most unpopular president since re-democratization came thirty years ago. According to an Ibope poll, 69% of Brazilians disapprove of her performance. "I hope the situation will improve", she said in a recent interview. "But I can't guarantee the situation in 2016 will be marvelous."
Can she survive again? According to Eurasia, a political risk consultancy, the odds that Ms. Rousseff will remain in power stand at 60 percent, a level unchanged since July. "We combine the prospects that she could either be impeached or resign into the single figure of 40%, which is a high probability," says João Augusto de Castro Neves, Eurasia's Latin America director.
However, in the very short term, the embattled president—who insists she will never resign and characterizes impeachment calls by the opposition as a "coup"—can breathe a bit easier.
As both Congress and the Judiciary enter a December recess, the political temperature will likely cool until February. Also, her nemesis, the speaker Eduardo Cunha, a populist evangelical whose Swiss secret bank accounts were recently disclosed, faces charges that he allegedly pocked massive bribes in a scandal related to Petrobras, the national oil company.
Thanks to Mr. Cunha's weakening position and political concessions Ms. Rousseff granted to disgruntled allies, Congress has started to approve minor aspects of the "fiscal adjustment," a unpopular austerity policy she embraced as an effort to rebalance the budget after her dead heat re-election victory against market-friendly senator Aécio Neves. Even the opposition now concedes that her plan could be partially approved.
But to survive long-term, Ms. Rousseff must move fast to reverse a gloomy outlook that could worsen in 2016. According to Bloomberg, Brazil's fiscal deficit has already surpassed 9 percent. Inflation is running at the same level and unemployment could reach 10 percent soon. Most analysts expect GDP to contract 3.15 percent in 2015 and 2.01 percent in 2016.
A worst-case scenario could trigger waves of protests and strikes around April that could potentially last until August, overlapping with the Rio Olympic Games. Moreover, it could also boost popular support and bring institutional legitimacy to the opposition impeachment campaign. "The impeachment window could reopen in the second quarter through late 2016", says Mr. Castro Neves. "But the incentives for the opposition to unseat Dilma will likely fade in 2017, as an impeachment by then would bring an indirect presidential election carried out by Congress."
Her survival also requires a great deal of political shrewdness regarding two frenemies: vice-president Michel Temer and her predecessor Lula. A seasoned former legislator, Mr. Temer is a prominent member of PMDB, a pork-hungry party that has already announced its divorce from the ruling PT for next October's mayoral elections. PT and PMDB share the burden of having leading members involved in corruption investigations. Both parties deny any wrongdoing.
While PMDB has produced a paper defending pro-market reforms, PT has released a letter attacking "sectors" of the Federal Attorney's Office, the Federal Policy, the Judiciary, and the media for its misfortunes. According to press accounts, Mr. Temer plans to dissociate himself from Ms. Rousseff
As for Lula, he has been openly criticizing Ms. Rousseff and grilling her embattled Finance minister Joaquim Levy. Lula's maneuvers to replace Mr. Levy by former Central Bank governor Henrique Meirelles have not worked so far. Meanwhile, Lula and his family are under investigation over a scandal related to the state oil company Petrobras and other allegations of corruption during his tenure in office. The increasing public scrutiny over Lula benefits Ms. Rousseff.
Thus, if Dilma Rousseff is able to endure the year ahead, she could survive again—probably as lame duck—until 2018.
Angela Pimenta is a Brazilian reporter. She is the president of Projor, a media watchdog NGO also focused on journalism training and best practices. She holds a master's degree from Columbia Journalism School and has worked as the Brasília bureau chief of Exame, a business magazine.