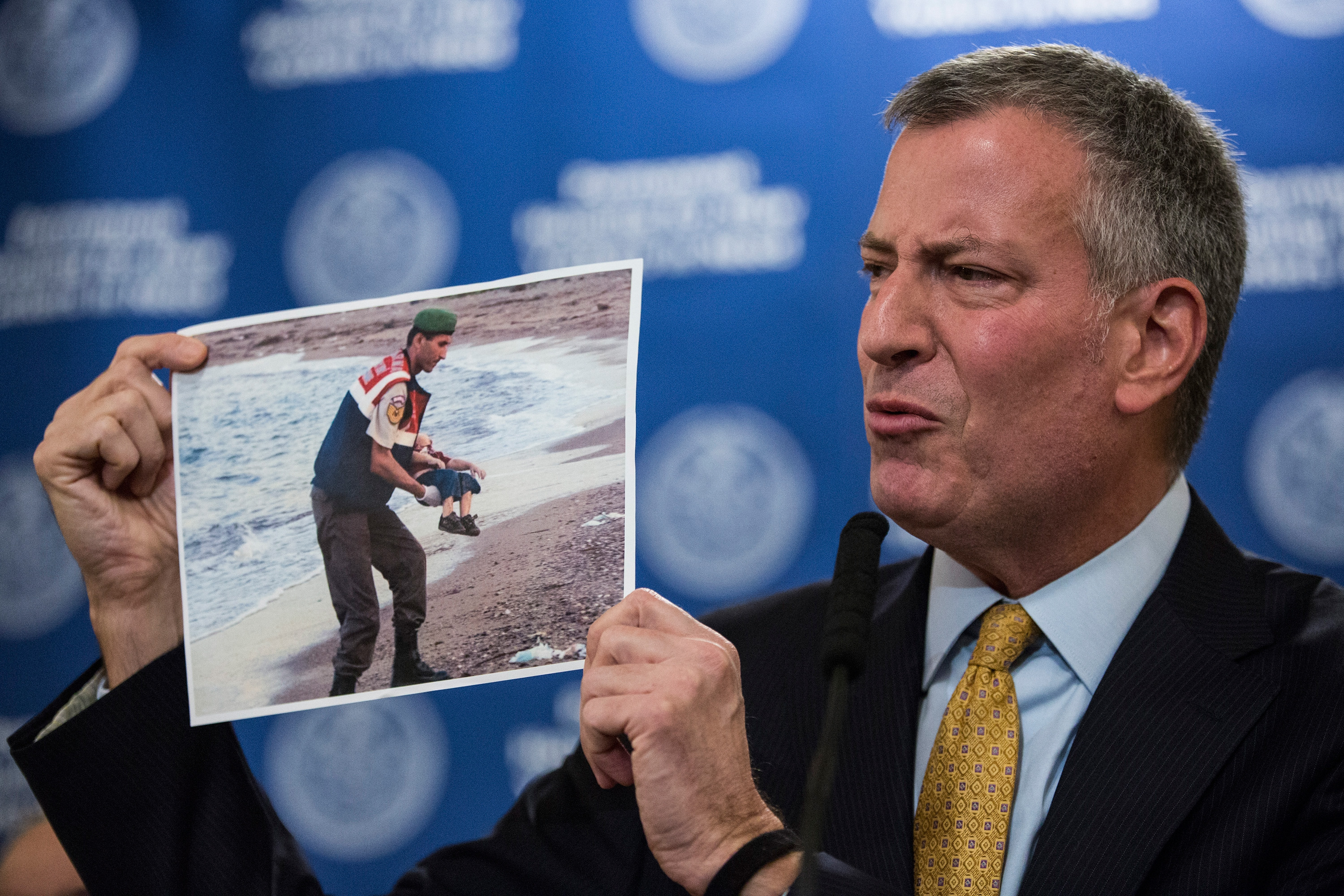 After avoiding the question earlier this week, Mayor Bill de Blasio today offered full-throated support for Syrian refugees coming to New York City—and blasted New Jersey Gov. Chris Christie for saying he did not think orphans under five should be admitted to the United States.
The mayor, who announced his support for refugees yesterday in a written statement, said today at an unrelated press conference that he'd been motivated in part by his "disgust" at comments from Mr. Christie, a Republican presidential candidate. He held up a famous photograph of a dead Syrian boy, who washed up on the shore of a Turkish beach after drowning as he family tried to escape the violence wrought by the Islamic State terrorist group.
"Allow me to be blunt and graphic. I'd like to know what Governor Christie says about this," Mr. de Blasio said, holding up a letter-paper-sized print-out of the photograph. "This is the cost of not bringing in people who are innocent victims of a humanitarian crisis. This child's death was on the front pages of newspapers all over the world. Governor Christie specifically said he did not think it was appropriate for small children to be brought in. Is this what he wants to see happen to people? Is this what he wants to see happen to children? We don't accept that here in New York City."
Mr. de Blasio's comments were part of a long-ranging answer to a question from the Observer during the press conference about why he'd said so little about the refugee situation—despite being asked about it twice—on Monday, before making his position public on Tuesday. He said the admittance of refugees—New York has taken in only eight so far—will only work with "very careful screening, very extensive screening."
"I wanted to make sure before I spoke that we had gotten all of our facts together, we were absolutely certain about how this city wanted to approach it," Mr. de Blasio said. "And I am satisfied that we are ready to support victims of one of the worst humanitarian crises of our generation, that it is the right thing to do morally, that it is consistent with New York City's values."
The mayor went on to compare the plight of Syrian refugees to that of European Jews, fleeing Germany in the late 1930s and finding no nations to welcome them. Mr. de Blasio referred to a survey from 1938, well circulated on social media yesterday, showed the majority of Americans did not think that the United States should accept Jewish refugees. A year later, in 1939, a ship named the St. Louis carrying hundreds of Jewish refugees was famously turned away from Cuba, the United States, and Canada.
"Two-thirds said no, we should not accept people fleeing persecution, and the results were devastating," Mr. de Blasio said of the 1938 survey. "We are not going to make that mistake in our time, and voices of intolerance and voices of division are not going to cause us to do something that is against our values."
Mr. de Blasio emphasized an influx of refugees was nothing new, particularly for New York City.
"This is a nation of immigrants and we are sitting here in the city that has the Statue of Liberty in it. That is the epitome of welcoming immigrants over generations," Mr. de Blasio said. "By the way, those immigrants were in many, many cases fleeing violence and persecution—this is not a new reality in world history. And I'm certain some of those immigrants were Gov. Christie's forbearers."
Perhaps ironically, it's long been a matter of contention whether the Statue of Liberty is technically located in Mr. de Blasio's New York City or Mr. Christie's New Jersey.
Mr. Christie's office pointed to remarks he made earlier today, in which Mr. Christie argued the FBI istself has said they do not have the capacity to vet refugees.
"The American people need to be protected first. The homeland needs to be protected first. And this President had an opportunity to protect these people in Syria and he didn't do it. He broke his word to them," Mr. Christie said. "Now nearly 250,000 of them are dead and there is no safe place for them to go in Syria. That is why there should be a no-fly zone in Syria and a safe haven in Syria."
Mr. Christie also knocked Mr. de Blasio on Twitter yesterday, saying he "wouldn't expect anything less from a liberal politician who is more interested in making headlines than protecting the people."