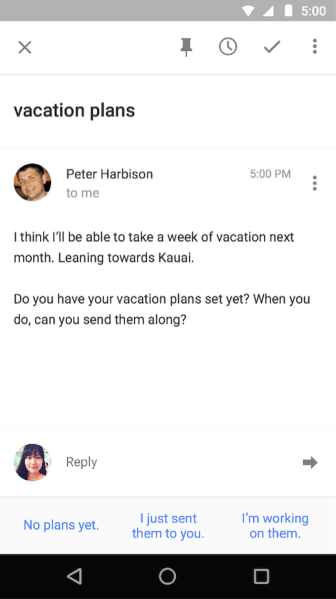 Tech companies are always in competition with each other—but now they're being even more explicit about it, as shown in two announcements today.
First, Google unveiled a new Smart Reply feature for its Inbox app. The bot, which launches on Thursday, uses machine learning to understand the context of a message, and then generates three suggested replies. According to Google, the more emails the user sends using Smart Reply, the better the feature will become at guessing the user's response.
The bot is suspiciously similar to Apple's predictive QuickType feature for iPhones, which launched last year as a replacement for autocorrect in emails and text messages.
This whiff of familiarity could also be smelled in Twitter's announcement that it was replacing favorites with likes (or stars with hearts, symbolically speaking). The microblogging site said in a blog post that it made the change because the star used for favorites "could be confusing, especially to newcomers."
"You might like a lot of things, but not everything can be your favorite," the blog post/virtual self-help book read.
Facebook likes have obviously been around for years—but with the social network's recent announcement that it was adding new reaction emojis, Twitter apparently saw an opening to copy Facebook's signature feature. What's more, Tumblr and Instagram already use hearts on their social media platforms, which makes Twitter's change even less original.
Ironically, most Twitter users hate the change, saying it makes no difference—and many of them are also unfavorably comparing the site to Facebook. Some of the harshest vitriol is coming from Media Twitter:
The more things change, the more they stay the same—except in the tech world, where everyone complains about them.