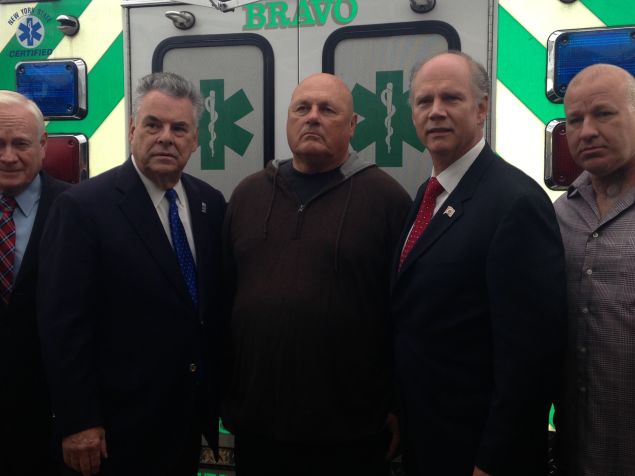 Joseph Zadroga, father of the first NYPD officer to die from conditions attributed to his rescue and recovery work at the World Trade Center site, joined New York Republicans today to call for the renewal and indefinite extension of the medical assistance bill for 9/11 first responders named after his son.
An emotional Mr. Zadroga appeared at the depot of the Bay Ridge Ambulance Volunteer Organization in Brooklyn, alongside a host of politicians, police union brass and retired cops suffering from an array of 9/11-related cancers, as well as orphans and widows. Mr. Zadroga recalled how his son and his wife spent some of his last years living on boxes of spaghetti and struggling to make mortgage payments while medical bills relating to his respiratory condition piled up—bills that came until his death in 2006, four years before Washington passed the James Zadroga 9/11 Health and Compensation Act and created a fund to pay for testing and treatment programs for personnel who worked in the smoking rubble left after the attacks.
"The reason I tell you that is because that's what it's going to revert to if this bill is not extended," he said. "Upon his grave, I made a promise that we would tell his story of what happened."
The original bill had a five year sunset, and expired at the end of September as the House of Representatives and the Senate failed to hold a vote on extension measures. The New York and New Jersey delegations to both houses have proposed a plan that would make the act's outlays permanent, but have failed to get a vote.
Republican Congressman Robert Goodlatte of Virginia, chairman of the powerful House Judiciary Committee, has sponsored an alternative plan that would extend the Zadroga Act another five years—and cut the funding for the 9/11 first responders by approximately 60 percent, which has aroused considerable ire among advocates.
Congressman Peter King, a Republican from Long Island, acknowledged that opposition to the bill's indefinite renewal is mostly from his own party, placing him in an awkward position. He said, however, that newly elected House Speaker Paul Ryan had promised as recently as yesterday passing a "fair and just bill"—and blamed regional dissonance in the GOP for the conflict.
"I don't want to get into it with Goodlatte only because I want to get a bill through. Okay, I'll talk you on December 12," he said, alluding to the anticipated date of a vote on a new bill. "Most of the Republicans come from outside of the northeast, and they don't realize the human impact, they don't see it as being a national issue."
Mr. King argued that none of the concerns about waste and fraud his colleagues had raised about the original Zadroga Act had come to pass, and that the slow and prolonged manifestation of symptoms from the attacks made the indefinite extension necessary.
The original Zadroga Act faced a filibuster from Republicans until a large-scale public pressure campaign led to its eventual passage. Republican Congressman Daniel Donovan, who organized and hosted today's event with Mr. Zadroga in his district, told the Observer he hoped to do the same thing again.
"I think what we're doing today is going to convince people in Washington," he said. "We're putting faces on this. This isn't a piece of paper that says 'the James Zadroga Act,' these are people."