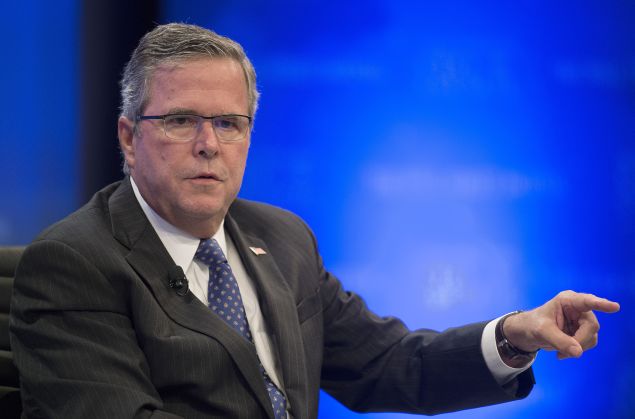 For much of the early months of the presidential campaign, it was almost impossible to discuss politics with a group of more than three Democrats before somebody intimated their "theory" that Hillary Clinton would drop out due to some scandal, poor poll numbers or other mishap to give way to Joe Biden or Elizabeth Warren or, for the particularly adventuresome armchair pundits, a brokered convention. Those theories have now been relegated firmly to the realm of fantasy, but while many Democrats were chattering about that bizarre, and for some, tantalizing, possibility, something even stranger happened. The candidacy of the Republican frontrunner, a seasoned politician from his party's most famous and powerful political family, slowed, stalled and is in a free fall. Mr. Bush, who is now fifth in the polls and twenty points behind the leading candidate, has proven an uninspired campaigner and lackluster debater. Moreover, the unexpected rise of Ben Carson and Donald Trump has left little room for a consummate establishment Republican figure like Jeb Bush.
Ironically, Mr. Bush is doing so poorly that the bar for getting back into the race is much lower than it was a few months ago.
Mr. Bush has cut back on staff and may drop out of the race soon, but it is also possible that he could survive this very rough patch and go on to be a formidable candidate. To turn his campaign around, Mr. Bush needs to do it soon. Without dramatic change, and a few breaks, he will be either be out of the race entirely or very close to that when America sits down for Thanksgiving dinner later this month.
The Republican primary, like most modern presidential campaign has already seemed interminable and not a single vote has yet been cast. As a result, pundits, observers and others are so accustomed to saying it is still early, that the reality that it is no longer so early has snuck up on many. The Iowa Caucus, the first state in the nation where voters express their presidential preferences, is now only two months away. A lot can still happen between now and then, but in a crowded Republican field, it will be tough for a candidate who is as familiar and unexciting as Mr. Bush to leapfrog to the front of a crowded field in only two months.
Ironically, Mr. Bush is doing so poorly that the bar for getting back into the race is much lower than it was a few months ago. If his national poll numbers continue to drop, and Mr. Bush spends a few weeks with three percent or less support, he will have little chance going into 2016. However, all it would take for Mr. Bush to get back into the race would be to bump his poll numbers back into double digits, a difficult but certainly doable task, and finish in the top three in either New Hampshire or Iowa. If he does that, Mr. Bush will go into the rest of the campaign as a relatively strong candidate, particularly if his main opponents are Donald Trump and Ben Carson.
The energy and media around Mr. Trump and Dr. Carson, the strong debating skills, personal story and charisma of Marco Rubio and the oddly persistent support for Ted Cruz has made this race tougher for Mr. Bush than might be expected, but it is easy to overlook some of the breaks he has gotten. Scott Walker, who six months ago seemed like the biggest challenger to Mr. Bush from the electable wing of the party, proved an even worse candidate than Mr. Bush and quickly dropped out of the race. Rand Paul has similarly failed to carve out support from the party's libertarian wing. Additionally, John Kasich who like Mr. Bush, is a genial, middle-aged, establishment conservative with governance experience, got in the race so late that he has been unable to mount much of a campaign.
As of the last campaign finance filing, which included money raised through the end of September, Mr. Bush had just over ten million dollars cash on hand. While this is less than Ted Cruz, Dr. Carson, Mr. Rubio, and Mr. Trump, it is still enough to run a strong campaign. The former Florida governor had built a campaign around the assumption that he needed structure because he was going to be in the race for long haul, but that has to change. Now, Mr. Bush needs to start spending that money on television ads and other direct ways to contact voters because he has been otherwise unable to make a strong impression on voters. If he does not do that in the next few weeks, he will not be able to climb back into the polls. This will mean changing his campaign structure and plans, but if he does not start spending that money and get back in the race in Iowa and New Hampshire soon, he will have no campaign left at all.
Mr. Bush needs to find a way to quickly inject some energy and support into his waning campaign and boost his correspondingly dismal poll numbers. But if he can do that and buy some more time, the scenario where he is the nominee is still not hard to imagine. The next few weeks will be critical and if things do not go well, Jeb will be home in Florida, or maybe Kennebunkport for a very relaxed Thanksgiving weekend.
Lincoln Mitchell is national political correspondent at the Observer. Follow him on Twitter @LincolnMitchell
Disclosure: Mr. Trump's son-in-law, Jared Kushner, is the publisher of Observer Media.