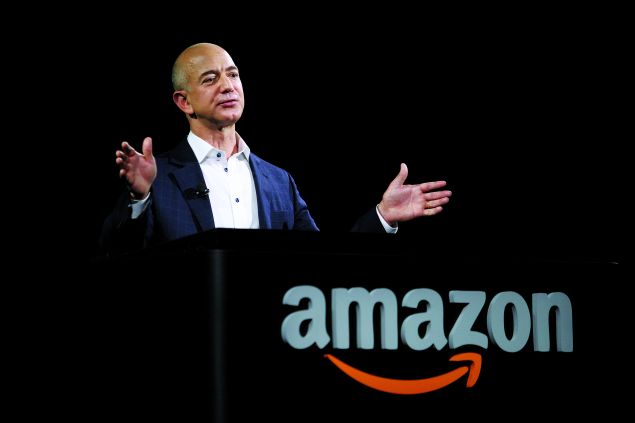 Amazon CEO Jeff Bezos may soon be able to go to space, but for now, he's going to keep going after The New York Times.
Mr. Bezos finally fired up his Twitter account this morning to promote the launch of his sustainable rocket program, Blue Origin. He then appeared via satellite on CBS This Morning, where he invited Charlie Rose to accompany him when he travels to the final frontier in the near future.
Asked about The New York Times's August story about Amazon's unpleasant corporate culture, Mr. Bezos, clad in a Blue Origin branded wind breaker, dismissed the allegations with the logic that Amazon couldn't be as awesome as it is if employees were as unhappy as the Times claimed.
"You know, the thing is, you can't have a corporate culture that's like the one described there and then do the things that Amazon does. The kind of innovation and invention, the things we do, it requires not just people to show up at work, to be deeply engaged in the mission," Mr. Bezos said. "They have to love what they're doing. We're full of inventors and people who like serving customers. I tap dance into work every day and I work with a lot of people like that, too."
Besides, that is not what Mr. Bezos heard from the employees who took the tap dancing chief executive up on the open invitation issued in response to the Times story to email their complaints directly to the top.
"I did, I got some emails," Mr. Bezos said. "And most of them were from people saying 'that's not my experience.'"
Well, that settles that, then. After all, what employee wouldn't want to complain to Mr. Bezos? It isn't like the company has a history of being anything but sensitive and considerate when dealing with disgruntled employees. Oh wait.
The owner of The Washington Post, who sounds not at all like a man holding a grudge against the Times, just wants to become "the new paper of record," a tagline that has long been attached to The New York Times. Oh, yeah, and the Post's traffic is better than that old paper of record, anyway.
"Well, you know, what we're doing with the Post is we're working on becoming the new paper of record, Charlie. We've always been a local paper, and just this month The Washington Post passed The New York Times in terms of number of viewers online," Mr. Bezos told Mr. Rose. "This is a gigantic accomplishment for the Post team. We're just gonna keep after that. The reason that that's working is because we have such a talented team at the Post. It's all about quality journalism. And even here in the Internet age, in the 21st century, people really care about quality journalism."
Well, at least he isn't trying to appropriate the Times's other sobriquet. Then again, in this day and age, when every media brand is targeting millennials, we can't imagine there will be much of a fight over "The Gray Lady."