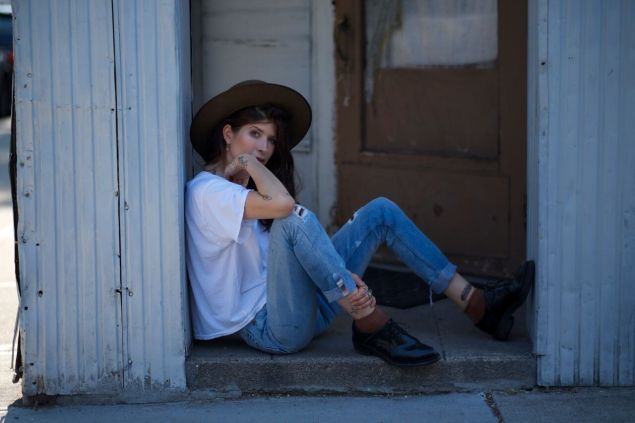 It might be thoroughly uncool to describe a partnership between jeweler Pamela Love and upcycled denim brand RE/DONE as cool, but that's exactly what it is.
Ms. Love's rustic baubles, often inspired by the American Southwest, adorn the knuckles and earlobes of creative types from Bushwick to Silver Lake. And chances are, those same stylish girls also own a pair of distressed Levi's, specifically ones that have been artfully repurposed by denim masters Sean Barron and Jamie Mazur.
When Observer talked to the RE/DONE founders back in September, they made a solid argument that customers want something new, something they haven't seen before. Basically, they backed up our reasoning that women were bored with skinny jeans. At the time, they were also launching a collection in partnership with model Elsa Haske. Mr. Mazur really hit the nail on the head: "At the end of the day, a girl just wants a really cool jean."
Now, with the RE/DONE | Pamela Love collaboration, denim fanatics will find faded denim spruced up with pieces of strategically placed serape fabric. The waistband features the material, and rips in the knees offers a peek-a-boo experience with the stripes as well.
"I admire RE/DONE's concept, and as a designer myself I always strive to incorporate sustainable production methods into my process wherever possible," Ms. Love remarked. For this collection was inspired by the creations of Frida Kahlo along with textiles from Mexico and Guatemala, hence the prevalent serape stripe. The aforementioned influences were also prominently featured in Ms. Love's latest jewelry collection.
As a finishing touch, the blue or black jeans feature a leather patch, tanned to perfection and stamped with the name of the collaboration. The only thing missing is a pair of dangling Pamela Love feather ear jackets. Or a golden collar embossed with the wingspan of a bird. Or both.
The RE/DONE | Pamela Love collaboration will be available at ShopReDone.com, Barneys New York, Colette Paris and Spring, for $380.