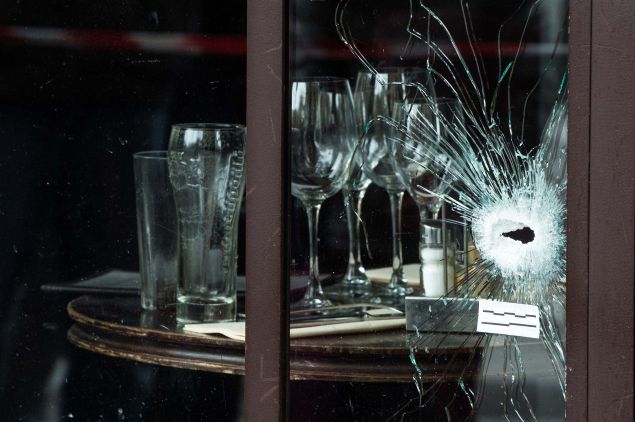 It's happened again. In early January, the world was transfixed when jihadists launched a series of attacks around Paris, killing seventeen innocent people. Three terrorists, who were linked to Al-Qa'ida's especially virulent Yemeni franchise, were on a suicide mission, as is their habit. Eleven of the murdered were from the staff of Charlie Hebdo, the famous Parisian satirical magazine. Several of the other victims were Jews.
The terrorists' motivation was the usual adolescent mishmash of inchoate rage, virulent Islamism, and anti-Semitism. French and world leaders promised vengeance and "never again." The customary public rituals and hashtags followed. Yet effective action is more difficult to sustain than online enthusiasm.
So here we are again, ten months later, in the bloody aftermath of the next jihadist horror inflicted on France. On the evening of Friday, November 13, eight terrorists attacked six public sites across Paris with automatic weapons and bombs. At this hour, the civilian death toll stands at 127 with 180 more injured. Scenes at the downtown Bataclan theater, where a heavy metal concert was commandeered by jihadists, with hostages being methodically executed in cold blood, defy easy description.
All eight of the attackers are dead, seven by their own bomb vests. By any standards, their evil exploit stands as a "spectacular" in the annals of recent jihadism. The closest comparison is with the November 2008 attacks in Mumbai by Pakistani jihadists, an agonizing ordeal that lasted four days and took 164 innocent lives. As in India, the Parisian attacks hit multiple urban targets with the intent of inflicting mass casualties, a bloody one-way mission for the terrorists that horrified the world.
While Al-Qa'ida was calling for Mumbai-style attacks on Europe five years ago, in a break from their usual pattern of preferring "big weddings" like 9/11 when they strike out at the West, no such attacks actually happened (though, to be fair, several complex mass-casualty attacks have been averted, notably in New York in 2009). And now it has happened.
Pinning down who exactly executed this outrage will take time. Early reports that one of the terrorists was carrying a Syrian passport while another has been identified as a French national based on fingerprints are tentative. As any counterterror professional will tell you, initial reports should always be viewed skeptically.
That said, there's no doubt that jihadists were behind this attack, given the modus operandi and reported shouts of "Allahu akbar" (God is great) and similar Islamist taunts by the murderers. The Islamic State in Iraq and Sham (i.e. the Levant), better known as ISIS, the world's most feared terrorist group, has already claimed responsibility. Their choice of language in describing the "miracles" in Paris, the "capital of prostitution and obscenity," is revealing: "Today brothers from all across the world set foot in Gaul and remind the kaffir (unbeliever) that we live beside you."
Whether ISIS is really behind the Paris atrocity, as appears likely, will take time to determine with precision. It's possible the operation was actually the work of one of the Al-Qa'ida franchises (for a good analysis of culpability I recommend this). Regardless, recent comments by President Obama that his highly diffident war against ISIS is going well, and the Islamic State has been "contained," now seem woefully wrong.
Based on recent jihadist attacks in France, it's also likely that the murderers were a mix of self-starters and trained killers. The standard questions that follow every attack—Were the perpetrators Europeans or foreigners? Were they members of any known terrorist group?—are less germane than the issue of whether this operation was under the control of ISIS, or anybody. In an era when thousands of Europeans have travelled to the Middle East to wage jihad, terrorist experience is not in short supply.
In real life, unlike the movies, intelligence is never perfect.
Many terrorist attacks in Europe that were pinned on "lone wolves" turn out to be considerably better organized than initially believed, to say nothing of the fact that previous mass-casualty terrorist attacks in Paris have been blamed on the wrong people by French authorities. Some caution regarding hasty assessment is therefore in order.
President Francois Hollande has responded to the Paris atrocity with appropriately strong language, with "war" being cited by numerous top French officials since Friday. "An act of war committed by a terrorist army," as Mr. Hollande described it, is accurate and his initial actions seem on point. Friday night Paris witnessed its first curfew since the Second World War, some 1,500 troops have been deployed in the streets of the capital, while borders are going up again in France and all across Europe in response to the latest horror in the City of Lights.
The impact of these attacks on the European Union is likely to be deep and long-lasting. What 9/11 was for America in 2001, what Bali was for Australia in 2002, and what 7/7 was for Britain in 2005, the Paris atrocity will likely be for France—and for Europe. The Schengen Agreement, which gave the EU open borders, was already ailing under the impact of vast numbers of refugees surging into Europe from Asia and Africa. The Paris attacks may functionally end Schengen altogether.
Happy notions of Europe replenishing itself with millions of migrants have dwindled suddenly. In response to the Paris attacks, Poland has signaled it plans to reject the migrant quota the EU had given Warsaw, and it would be naïve to expect Poland to be the last to do so, given how unhappy many Eastern European states were with the quota arrangement already.
Stemming the flow of jihadists and their weaponry across Europe is a must-do for the EU now but there is ample reason to be skeptical it can be achieved anytime soon. In the first place, despite strict laws in France regarding guns, terrorists have no trouble getting AK-47s.
The stark reality is that there is no intelligence or law enforcement fix to the threat that Europe now faces from the global jihad.
This is nothing new. Fully twenty years ago, jihadists – the usual mix of radicalized Frenchmen and foreigners—unleashed murderous mayhem in France with small arms and bombs they smuggled in from the Balkans, as seems to have happened in Paris again. The November 5 arrest in Germany of an arms smuggler from Montenegro—his car was chock full of AK-47s and explosives—with apparent links to the Paris attackers would indicate this followed the customary pattern, with Balkan weaponry enabling mass murder in Western Europe.
Even if all such weapons and explosives could be stopped from entering the EU tomorrow, there remains the problem that Europe has so many would-be jihadists already. The number of "watchable" suspects, meaning potential terrorists who need monitoring by the security services, in France alone exceeds 5,000, according to Paris. "We're overwhelmed, and it's getting worse daily," was how a senior French intelligence official explained his situation to me recently.
There now will be much commentary from pundits and politicians arguing it's time to "get tough" with the jihadists in Europe, accompanied by promises of more resources to deter the next outrage. Spies will believe such promises when executed, not before, but the stark reality is that there is no intelligence or law enforcement fix to the threat that Europe now faces from the global jihad.
As I explained back in January, after the last outrage in Paris, although France has very competent security services, among the best in Europe at countering terrorism, the number of potential jihadists is now so vast that no intelligence agency can reliably track and deter them all. Time and again, suspects on watch-lists go missing. In real life, unlike the movies, intelligence is never perfect.
Unless Paris is willing to contemplate harsher measures, such as the internment of potential jihadists, known Islamist radicals, we should expect more attacks. There is democratic precedent for this. In October 1970, Canadian Prime Minister Pierre Trudeau, a liberal icon, declared martial law, deployed the army in the streets, and rounded up nearly 500 extremists, thereby crushing the nascent terror threat in Quebec. Bleeding hearts objected but Trudeau's famous response, "go on and bleed," was telling—and he won.
If Hollande has the gumption to do something similar, France can still turn the tide against the jihadists and save many lives. "We know who they are, we usually know where they are," explained a French counterterrorism official, an old friend, to me in the hours after the Paris attacks: "But will Paris let the gloves come off now? I don't know."
In truth, no experts in European jihadism were surprised by this latest atrocity. Given French and EU realities, it was only a matter of time. No experts will be surprised by the next jihadist attack in Europe either. Whether that happens is now up to the Europeans, with France in the lead. Although President Obama can help by doing something more meaningful than sending James Taylor to Paris to sing. Calling the enemy what it actually is would be a start. The fate of a continent is at stake.