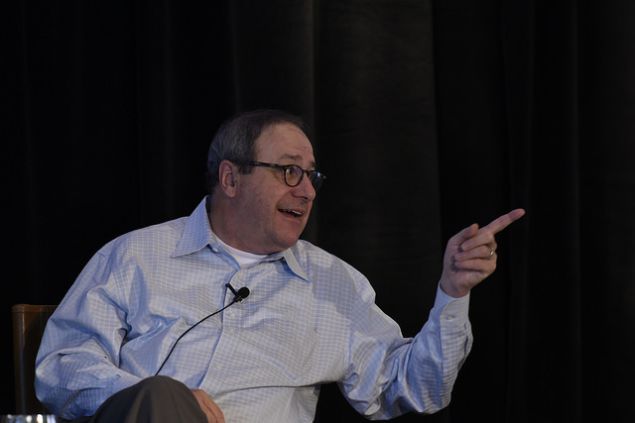 New York Times executive editor Dean Baquet and sports editor Jason Stallman announced in a company memo yesterday that op-ed columnist Joe Nocera is heading to the sports section. Mr. Nocera, who started his Times career as a business columnist, will now be covering the business of sports, and the NCAA in particular.
Mr. Nocera used his final Op-Ed column, which appeared in today's paper, as an occasion to throw out a bunch of ideas before leaving the opinion pages. First, he proposed that gun control advocate Michael Bloomberg buy a company that manufactures smart guns, which only the gun's owner can use. Given that Mr. Bloomberg is a billionaire, the idea wouldn't break the bank—in fact, it "would barely dent Bloomberg's wallet," Mr. Nocera wrote.
Another one of Mr. Nocera's ideas was to enact term limits for Supreme Court justices, reducing their time on the bench from indefinite to 18 years, staggered so that one leaves every other year and each president can pick two justices. Turning to culture, Mr. Nocera made a case for the Metropolitan Opera to perform Porgy and Bess, which hasn't been presented there in 25 years. This performance, he argued, would bring in a diverse audience not normally seen in the Met.
Finally, Mr. Nocera defended e-cigarettes, writing "there is no doubt they could save lives if adult smokers could be encouraged to make the switch. And with that, I've had my last word on the subject."
Mr. Nocera's last word was an emotional experience for many Times readers. Almost all of the comments on his column were positive, a rare occurrence considering many columnists raise readers' hackles.
"Your departure is a TERRIBLE LOSS," wrote Gary Misch of Syria, Virginia.
"How fabulous that you'll be writing on the sports pages. The spirit and substance of Grantland will live on after all— in your new column," wrote an unidentified New York City resident.
"Beware NFL, Joe Nocera is coming," declared Joe Nocera of Ottawa.
The love fest continued on Twitter:
Many commenters used the phrase "Say it ain't so, Joe," which a young boy reportedly said to "Shoeless" Joe Jackson during the Black Sox scandal. Considering that Mr. Nocera will now be covering corruption in sports, the phrase was apt.