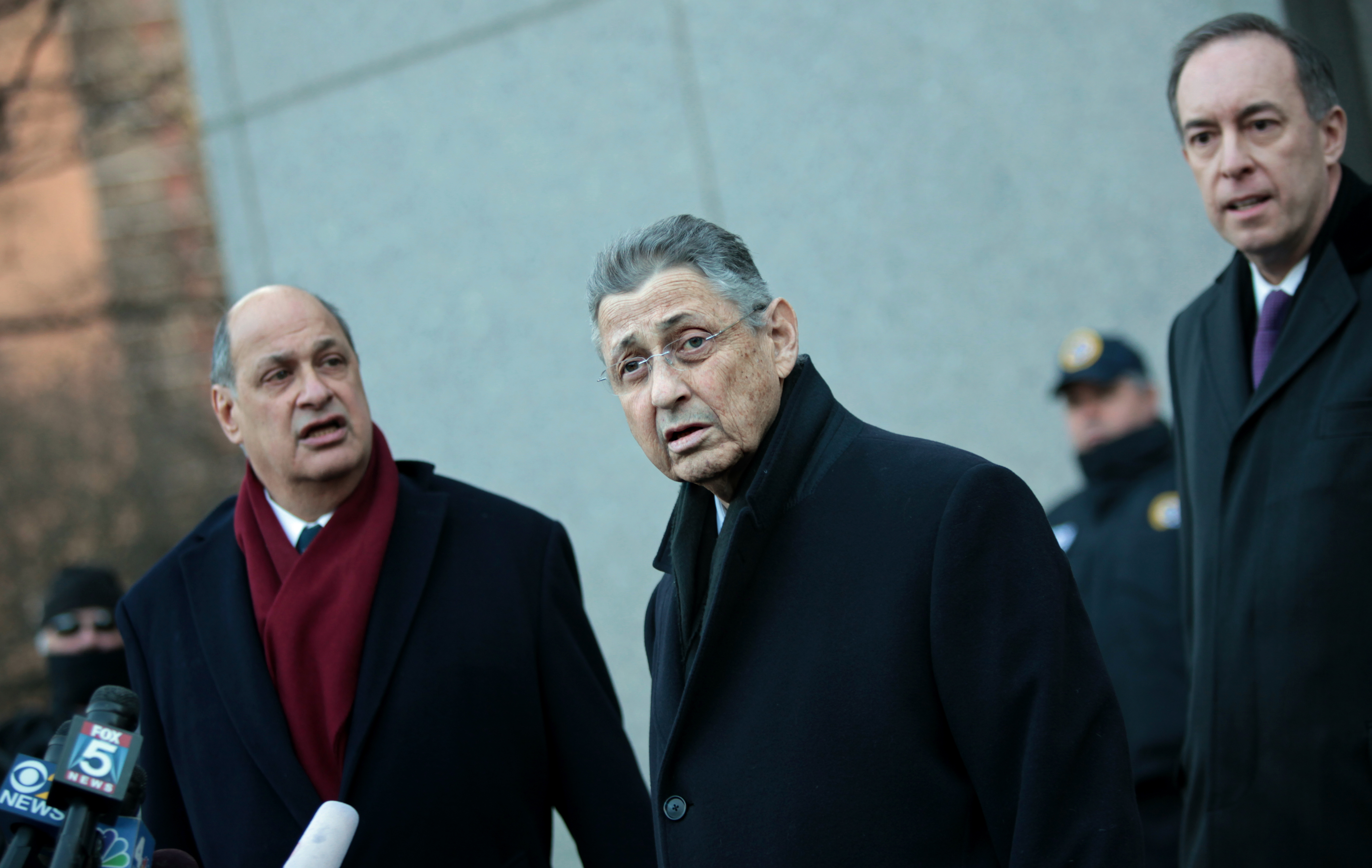 The criminal trial of former Assembly Speaker Sheldon Silver began this morning with the lengthy process of finding an unbiased jury for a high-profile case—and with the judge repeatedly denying requests from both sides to disqualify jurors.
Mr. Silver, who remains an assemblyman representing the Lower East Side, is accused of presenting as legitimate outside income from law firms what U.S. Attorney Preet Bharara alleges was actually millions of dollars of kickbacks and bribes gained through his official position in Albany, earned in two separate schemes: one, using his influence to steer real estate developers to a law firm that paid him for referrals, and another to trade state funds for mesothelioma research in exchange for asbestos patient referrals.
While the list of potential witnesses in the case is a star-studded who's who of the political, real estate and medical worlds, the list of potential jurors was, as Judge Valerie Caproni repeatedly emphasized, a "cross-section of the community"—a young man in publishing from Manhattan, a psychologist from Westchester, a book editor from Manhattan, people looking for work.
Mr. Silver, dressed in a dark suit and a red tie, followed along closely as each potential juror was questioned, whispering to his legal team, sometimes cracking a smile or a laugh and scribbling notes. He is the first of two major Albany political figures going on trial in the Southern District of New York this month: former Senate Leader Dean Skelos and his son are set to go on trial November 16 for corruption charges.
Today's proceedings revealed as much about the jury—what they'd read about Mr. Silver, how they felt about politicians and police and the government—as it did about the judge presiding over Mr. Silver's cases: a straight-to-the-point former prosecutor who repeatedly shot down requests from both the prosecution and the defense to "strike for cause" several potential jurors, meaning to remove them from the jury pool on the grounds they couldn't be fair or it would be too hard for them to serve.
With the trial focusing, in part, on the allegations surrounding mesothelioma, jurors were asked if they'd be comfortable with testimony involving cancer patients and cancer research. One woman, an out-of-work school administrator, said several family members had died of it and "it's hard to separate from that, but I'd do my best."
Assistant U.S. Attorney Carrie Cohen asked to strike the juror for cause, noting she "teared up" twice while speaking about cancer. Steven Molo, a defense attorney, rose—presumably to make the same request—but Judge Caproni cut him off.
"Save your breath, Mr. Molo, I am not striking her for cause," Judge Caproni said. "I am confident she would be a fair juror."
Mr. Molo sought to strike a woman from Rockland County who had said it seemed like it was "not unusual" for politicians to behave in the way that Mr. Silver is alleged to have behaved—but Judge Caproni declined his request. She also shot down Mr. Molo's attempt to remove from the jury pool a man who said he held politicians to a high standard, and had heard of "dirty dealings" by Mr. Silver, after the man said he was certain he could be impartial and decide the case only on the facts presented.
A retired postal service worker who runs an anti-bullying program, meanwhile, testifying he had been arrested in a mistaken identity incident decades ago and then acquitted. The man said it had made him realize that sometimes, "innocent people go to jail." The judge asked whether he thought the criminal justice system had been fair to him.
"The initial arrest wasn't fair, but the outcome was," he said.
Ms. Cohen again asked to strike for cause, noting the man had called his experience "traumatic" twice.
"I can't imagine a more traumatic event," Judge Caproni allowed. "But that doesn't mean a person is forever barred from being fair."
In another instance, when Judge Caproni thought a prospective juror who said he couldn't be fair was just trying to get out of jury duty, she said as much—noting that if he was ever accused of a crime, she hoped jurors would be willing to give him the presumption of innocence he was unwilling to afford Mr. Silver. She was repeatedly not won over by people saying child care or work might get in the way of their service, noting a jury requires all kinds of people, even those with busy careers.
At least nine prospective jurors were struck for cause Monday, including a man who said he had voted for Mr. Silver, a woman who had a very negative experience with police, and several who needed to work or travel during the length of the six-week trial. While Judge Caproni had hoped to fully pick the jury today, by 5 p.m. she had still not reached 36 qualified jurors—the pool from which the final jury will be chosen.
While some jurors weren't disqualified today, prosecutors and the defense team will have the chance to reject a certain number of jurors tomorrow when the final jury is struck. After that happens, opening statements will begin.
The judge's no-nonsense manner wasn't only on display in her quick responses to requests to strike jurors: she also had little patience for a ringing cell phone in the pocket of Mr. Molo, the defense attorney.
"Mr. Molo," the judge chided, eventually beckoning him to bring the phone to the bench. "Guess whose phone it is now?"