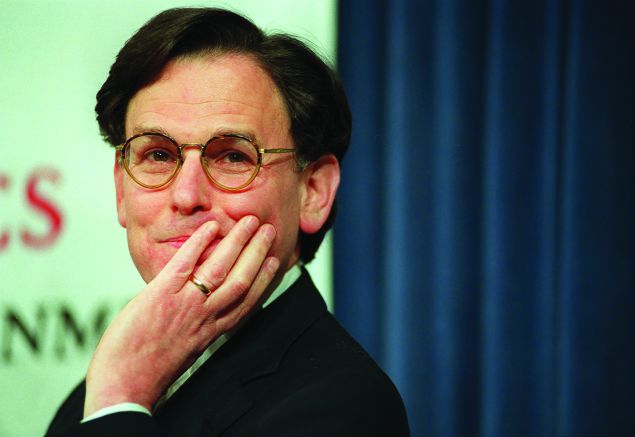 I have a lot of problems with the Benghazi committee, such as the right-wing canard suggesting that former Secretary of State Hillary Clinton and the CIA are somehow responsible for the tragic 2012 death of U.S. Ambassador to Libya J. Christopher Stevens. But I also have problems with people who dismiss the Benghazi hearings in their entirety as nothing more than a partisan witch hunt, which is the standard approach by most big media.
To take one recent example, The Washington Post's Dana Milbank, in a typically insufferable column, whined about how much the committee was focusing on longtime Clinton confidant Sidney Blumenthal (who before becoming a political assassin was a journalist who worked for publications such as the Post, The New Republic and The New Yorker). Fortunately, the heroic Hillary Clinton, whose October 23 testimony before the committee was the focus of Mr. Milbank's column, "refused to get riled."
Faulting the Benghazi committee for scrutinizing Mr. Blumenthal is like saying the Warren Commission was preoccupied with Lee Harvey Oswald.
Faulting the Benghazi committee for scrutinizing Mr. Blumenthal is like saying the Warren Commission was preoccupied with Lee Harvey Oswald.
In fact, Sidney Blumenthal is all over the Benghazi affair. And Ms. Clinton's long, strange, close relationship to this shadowy and increasingly untrusted figure might just keep her from winning the White House.
Last Friday, the State Department released emails showing that Mr. Blumenthal had reached out to Ms. Clinton on behalf of Jonathan Powell, ex-chief of staff to former British Prime Minister Tony Blair. Mr. Powell proposed establishing "below the radar" channels between insurgents and governments and making money off of it through an NGO of Mr. Powell's. Ms. Clinton was receptive to the idea, according to the Daily Caller. When he was at The New Yorker, Mr. Blumenthal wrote an ass-kissing profile of Mr. Blair in which he called his subject, among other things, a man of "impeccable Oxford diction."
Tina Brown, who hired Mr. Blumenthal at The New Yorker because he was close to the Clintons, later allegedly canned him for being too close to the Clintons.
To cite another striking example, Mr. Blumenthal sent then-Secretary of State Ms. Clinton reports on the political situation in Libya written by a former senior CIA officer, the recently deceased Tyler Drumheller. Those reports, which Mr. Blumenthal emailed to her in 2011 and 2012, apparently were intended to influence American policy toward Libya in a way favorable to a business project with which Mr. Blumenthal and Mr. Drumheller were involved.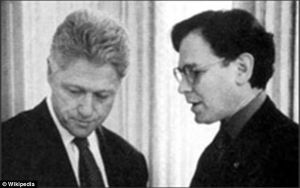 Mr. Drumheller, who retired in 2005, was an incompetent head of the CIA's European division during the cold war and as Al Qaeda rose to prominence. And Europe was his primary area of expertise; he had no useful knowledge about Libya, multiple sources have told me. "Tyler was probably just using information he got from his old retired friends in Italian intelligence, and all of those guys put their business interests ahead of everything else," one former senior CIA officer who knew Mr. Drumheller well said. "Blumenthal's the same way; there's something wrong with him morally."
According to The New York Times, "the memos, written in the style of intelligence cables, make up about a third of the almost 900 pages of emails related to Libya that Ms. Clinton said she kept on the personal email account she used exclusively as secretary of state." (Note here that the Times story claimed Mr. Blumenthal had written the memos in question, when in fact he appears to have merely passed on Mr. Drumheller's work to Ms. Clinton.)
But put aside the whole issue of Benghazi and focus on a few other aspects of Sidney Blumenthal's résumé and consider what it says about Ms. Clinton's judgment that she considers him one of her closest advisors.
Going back to the Bill Clinton impeachment crisis, Mr. Blumenthal, then the president's special adviser, spread false rumors that one of Kenneth Starr's prosecutors abused young boys at a Christian summer camp and that Monica Lewinsky was stalking the president. In 1995, Mr. Blumenthal told reporters that Alma Powell, Colin Powell's wife, suffered from clinical depression and was thus unfit to be a first lady. At the time, there were rumors that Colin Powell would run in the Republican presidential primaries, a prospect that terrified the Clinton re-election campaign. He also provided the Clinton White House with information about upcoming media stories using contacts he had at publications he worked for, one person who was victimized by his treachery told me.
He encouraged the Clinton campaign to exploit Mr. Obama's relationship to Reverend Jeremiah Wright, and tried to push out to the media bogus stories about Mr. Obama's alleged ties to Louis Farrakhan. And the spineless Mr. Obama predictably helped Ms. Clinton out by denouncing Mr. Farrakhan's endorsement of him, instead of merely ignoring it and reaping the benefit of even more solid African-American support for his campaign.When President Obama was running against Ms. Clinton in the 2008 Democratic primaries, Mr. Blumenthal sent dozens of anti-Obama articles from far-right publications to reporters and others, smearing Ms. Clinton's rival. Much of what he sent was sub-conspiracy theory material and had no basis in fact. Mr. Blumenthal was also a proponent of playing the race card against President Obama in the most unsavory way.
Mr. Blumenthal was paid as a consultant at least $120,000 annually by the Clinton Foundation, though no one knows for sure how much he received because the foundation's accounting procedures are shoddy. But whatever the amount, it was quite a tidy haul, and it's not clear at all what work he performed for the foundation, or if the money was simply given to him as payment for past services performed for the Clinton family.
He was paid that money while he was offering Ms. Clinton unsolicited advice about Libya policy—which she passed around even after other administration officials concluded it was rubbish—and when he was, according to the Times, also working "on and off as a paid consultant to Media Matters and American Bridge, organizations that helped lay the groundwork for Ms. Clinton's 2016 campaign." (Media Matters, which was founded by Blumenthal protégé and professional Clinton propagandist David Brock, pays him $200,000 annually, according to The New York Post.)
After President Obama's inauguration, Ms. Clinton attempted to hire Mr. Blumenthal to work at the State Department as a top aide, but the Obama White House refused. "As White House chief of staff, Rahm Emanuel was the one to bring the hammer down on Sidney Blumenthal," the Times, in this case, misreported. The truth is that Mr. Blumenthal didn't get a paid job with the administration, but still retained enormous influence over Ms. Clinton and, through her, the Obama administration.
Part of his power also stemmed from his role at the Clinton Foundation, which in theory shouldn't matter—especially as the foundation and the Obama transition team signed a "Memorandum of Understanding" in November of 2008. The short, vague memorandum was meant to demonstrate that future Secretary of State Hillary Clinton would take no actions that would benefit the family foundation and that foreign governments would not be able to buy access to U.S. policy by donating to the Clinton Foundation.
But the agreement was a joke. It was signed a few days after the election and had no legal meaning after the inauguration, and it also didn't bind Bill Clinton. Nor did it bind Mr. Blumenthal when he later became a foundation consultant, as the Libya episode shows.
Mr. Blumenthal's personal attorney before the Benghazi committee was Jim Cole, a deputy attorney general under President Obama. Recall that AIG's 2008 bankruptcy triggered the 2008 financial collapse (and led to the Obama administration's appalling Wall Street bailout) and that the company had long been suspected of committing massive fraud. The Bush administration inserted a "special master" into the company to monitor its regulatory and general corporate behavior and that role was served by none other than Jim Cole, then in the private sector, who somehow, amazingly, missed billions of dollars' worth of criminal fraud that nearly caused the collapse of the global economy. To repeat, this cretin is Mr. Blumenthal's attorney.
If elected, Ms. Clinton may well select Mr. Blumenthal to serve in her administration in some capacity. Sure, he's politically damaged,     but he's damaged in large part because of his dirty work on Ms. Clinton's behalf, and she's very loyal to him for that.
"There's no conspiracy, this is just the way Washington works," one source who knows Mr. Blumenthal and the city well told me. "He's been an operator for decades and he knows a lot of people and has a long email list. It's a powerful network, and he'll use it."
While Mr. Blumenthal is too toxic to be named to a position that requires Congressional approval, there are about 2,000 jobs that don't, including top positions on the White House staff. And even if she doesn't name Mr. Blumenthal to an official position, he'd clearly be an insider who has her ear and could, if history is any guide, use his relationship with Ms. Clinton to smear her enemies and otherwise wage war on her behalf, all while trying to make money for himself.
"There's no conspiracy; this is just the way Washington works," one source who knows Mr. Blumenthal and the city well told me. "He's been an operator for decades and he knows a lot of people and has a long email list. It's a powerful network, and he'll use it."
Having one of the most dishonest, amoral political hatchet men of modern political times in such a position is more than a little alarming.
Mr. Blumenthal's sleazy tactics once earned him the nickname of "Sid Vicious" and he has boasted that in his native Chicago people brought knives to a fight but it was smarter to bring a gun, but that he personally carried a machine gun. Despite his bravado, Mr. Blumenthal declined to comment for this story. I emailed him, left messages at two phone numbers he uses, and left him yet another message at Media Matters, telling the person who took the call that she should let "Mr. Vicious" know that I planned to kneecap him.
Now let's jump ahead to 2008, when I wrote a story for Harper's about some of the sleazy political black bag artists in South Carolina and followed it up with a piece about Rod Shealy, the state's shrewdest and most lovable consultant.Political dirty tricks are as American as apple pie and date to the early days of the republic, when George Washington's enemies pointed out that his chief bagman—Robert Morris, who financed the American Revolution—was a scoundrel who spent years in debtors' prison. To save time, let's just flash forward here to Richard Nixon's CREEP, which played a key role in the Watergate affair and employed Roger Stone, a Libertarian Blumenthal and a man untethered from ethics or reality.
Shealy, who once worked with Lee Atwater—a native South Carolinian who was responsible for the notoriously racist Willie Horton ad for George Bush Sr.—had a record of riding dark horses to victory. Shealy, who died of cancer in 2010, was little known but gained a bit of national notoriety in 1990, when he was running the campaign of his sister, Sherry Martschink, a candidate for lieutenant governor.
Shealy was looking to increase the turnout of racially conservative low-country voters, a group largely sympathetic to Ms. Martschink, in the overall Republican primary. To do so, he recruited Benjamin Hunt, Jr., an unemployed black fisherman, to run for Congress in the Republican primary against incumbent Arthur Ravenel, Jr., even paying Mr. Hunt Jr.'s filing fee. When the ploy was revealed, Shealy was convicted and fined for violating campaign laws.
Yet Shealy later worked for numerous African-American political candidates, far more than the other top consultants in the state. And in 1954, his father, Ryan Shealy, then a state representative, became one of the first Southern politicians to denounce the Ku Klux Klan. In the early 1970s, his sister served in the statehouse and was the only Republican to join with 11 members of the Black Caucus (and one white Democrat) to oppose capital punishment on the grounds that it was racially discriminatory.
Mr. Blumenthal has never uttered a word of remorse about his dirty work and next to him Atwater looks positively angelic.
While reporting the story, I met Shealy for breakfast in Columbia, the state capital, at a diner called Lizard's Thicket, where he held court every morning. In between a stream of visitors, Shealy told me about his history as a consultant, including the incident with Hunt Jr.—which he described as "a campaign violation for failing to disclose a candidate I dreamed up."
But political dirty tricks are not always this charming, especially when the practitioner has no sense of morality or decency. Lee Atwater, who also died of cancer, apologized for the Willie Horton ad. But Mr. Blumenthal has never uttered a word of remorse about his dirty work and next to him Atwater looks positively angelic.
In addition to the anecdotes mentioned above, consider one particularly nasty and not fully disclosed Blumenthal hit job. The tale begins in pre-Lewinsky 1997 when Matt Drudge wrote—unfairly—that Mr. Blumenthal had beaten his wife. Mr. Blumenthal became obsessed about who the blogger's source was and ultimately, in error, decided that it was former Wall Street Journal editorial page writer John Fund.
The smearing of Mr. Blumenthal as a wife beater was outrageous, and especially sad for his wife. But that doesn't excuse what he did to Mr. Fund years later, when he found what looked like the perfect opportunity to destroy his political foe. In 2002, Mr. Blumenthal had ascertained that Mr. Fund—a prominent conservative writer and political enemy of Mr. Blumenthal's—had slept with a woman named Morgan Pillsbury and her mother, Melinda Pillsbury Foster, a former vice chairman of the Libertarian Party of Southern California and president of the Arthur C. Pillsbury Foundation (who had met Mr. Fund in 1979).
On June 23, 2002, when Morgan Pillsbury was threatening to take Mr. Fund to court—she alleged that he had beaten her—Mr. Blumenthal wrote her an email saying: "My wife, of course, has never been abused. Manny [Klausner, an attorney who frequently represents Matt Drudge] is a worm. If you are going to continue, you must have a lawyer and pay for it. Otherwise, you should drop it. You should say you've made your point, the restraining order stands, and Fund is guilty, which I'm sure he is…[O]ne way you can get justice is to tell me about Fund's role with Drudge, against Clinton, on the right, etc."
During this same period Mr. Blumenthal teamed with fellow lefty and journalist Joe Conason (a former Observer staffer) to push news outlets to write about the Fund/Pillsbury dispute. ("Those two are joined at the hip," one person who knows both Mr. Blumenthal and Mr. Conason told me. "When Joe writes a story, you should assume it came out of Sidney's mouth.") They encouraged Ms. Pillsbury to speak out, and hooked her up with reporters. According to Ms. Pillsbury Foster, Mr. Blumenthal said her daughter told her that Mr. Blumenthal promised he would find her a lawyer to represent her in litigation against Mr. Fund, and that he later reneged on the offer.
Everywhere Mr. Blumenthal and Mr. Conason slithered, media outlets and journalists turned them down, even the reflexively pro-Democratic David Talbot (who declined comment for this story), then the editor of Salon. Eventually, Cynthia Cotts, who had been Mr. Conason's girlfriend, but says they broke up in 1994, published two stories about Mr. Fund in The Village Voice, where she covered the media. (I admire Ms. Cotts' work, but had never met her or spoken to her until reporting this story.)
The first story discussed allegations that Mr. Fund had battered Ms. Pillsbury. Her mother, who expressed decidedly negative feelings toward her daughter, said she believed those allegations were accurate and said she once saw her daughter minutes after Mr. Fund had battered her.
Mr. Conason made his "name," if that's the right word, at the Voice in the late 1970s. I should probably disclose here that I've always despised Mr. Conason, right down to his appalling hairstyle, though I've never met or talked to him until quite recently. However, in the past I received funding from The Nation Institute's investigative fund, where he has the amusing title of "Editor-at-Large." I should also note that I am writing a series of stories about the worst journalists in America for Salon, which will begin publishing the stories next month under the title of "Hack List 2015."
When asked for comment, Mr. Conason said that I displayed no "pretense of fairness," which had "dissuaded" him from responding to the very detailed allegations made in this story. "Don't take that as a confirmation," he added. As a matter of fact, I did, and I told him in reply that I found it sad that he had no comment, because if anyone made such allegations about me I would confirm or deny them. I also told him he was "an irrelevant joke." For reasons unknown, Mr. Conason then began following me on Twitter. I don't follow him because what he thinks is of no interest to me. (Note: The worm-like Mr. Conason, who refused to speak to me for this story, hilariously sent Mr. Blumenthal's 2002 email—which I had never seen—to my editor as part of his "defense.")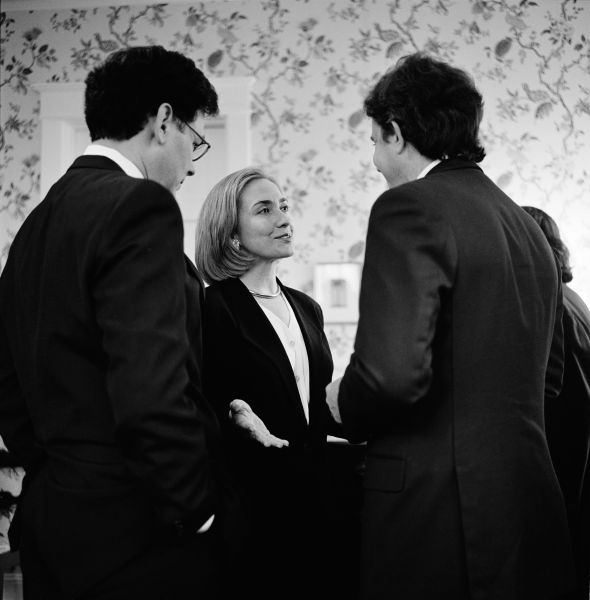 Ms. Cotts told me she had no contact with either Mr. Blumenthal or Mr. Conason about the Fund matter prior to publishing her first story. She said Ms. Pillsbury-Foster contacted her directly about the story and she didn't know how she had found her. "Could someone have directed her to me?" she said. "Sure."
In any event, allegations about Mr. Fund also appeared, prior to Ms. Cotts' original story, in The New York Post's Page Six and in Lloyd Grove's Washington Post gossip column, "The Reliable Source." I should note here that a very reliable source has told me that Mr. Conason constantly leaked to Page Six (which I adore) and Mr. Grove was a personal friend of Mr. Blumenthal's during this time.
There were a few serious problems with the stories written about the Pillsbury-Fund dispute. While some of what was reported was true, Ms. Pillsbury is an admitted liar.
In a letter she wrote to The Wall Street Journal on the topic, she acknowledged that she had "trouble distinguishing between reality and fantasy." In a sworn deposition submitted during litigation with Mr. Fund, she conceded that she had a "borderline personality disorder" and that one of the symptoms of that condition was "an inability to discriminate truth from fiction." In terms of her general reliability, she said that in the past she had told "too many [lies] to name."
Mr. Fund never admitted to any allegations raised by Ms. Pillsbury and refused to settle with her. She dropped the case in 2006 as a jury was being selected.
Mr. Fund—who was a rare Republican to oppose Bill Clinton's impeachment and who never spoke out about "family values"—told me he had had sex on a few occasions with Ms. Pillsbury Foster and, many years later, he had a twisted relationship with her daughter. He said, "Was I stupid? Yes. Did I open myself up to blackmail? Yes…I made mistakes." He categorically denied the assault allegations—he was never charged by the New York City district attorney's office—and noted that they were central to Ms. Pillsbury's abandoned civil suit.
The sad tale of Mr. Blumenthal is especially timely now because this poisonous gasbag could get a job in the Hillary Clinton administration and because he continues to pump out malicious information to his willing accomplices in the media. It's also important because similarly amoral people surround Ms. Clinton and they will do anything and say anything in the name of political victory. There are, to name just four of many, Rahm Emanuel, Jim Messina, Neera Tanden and Ms. Clinton's chief enabler, Barack Obama.
That tells you a lot about Hillary Clinton and what type of president she would be. While she does have a wicked sense of humor and is quite possibly the best prepared of all major candidates now running for the presidency, her election would be great news for Sidney Blumenthal and, ipso facto, terrible news for the world.