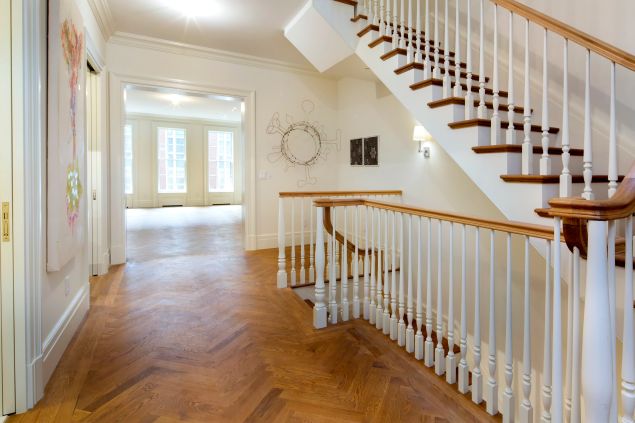 There are very few areas of the city in which you can buy an $8.8 million fixer-upper, but the exceedingly desirable blocks in the Eighties between Park and Fifth are one of them. Here, a perfectly nice but far from pristine 18-foot townhouse with a plastic surgeon's office on the ground floor presents not as a fait accompli but as a development opportunity. One seized, in 2014, by British developer Penny Bradley, who has now put the completely overhauled house at 46 E. 82nd Street on the market for $22.5 million.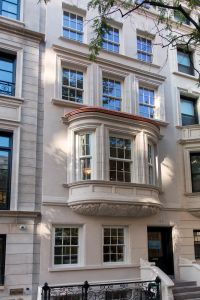 "The proportion in this building is really what makes it so interesting," said listing broker Paula Del Nunzio, of Brown Harris Stevens, when we visited on a recent afternoon. "It feels spacious for an 18-foot building; people who've seen it have guessed 22 or 24."
The doors, Ms. Bradley added, were all eight feet, with four rather than three nickel hinges (three having seemed too insubstantial for doors of that size). Meanwhile, the back windows, thanks to a redone rear facade, have been supersized as well as sound-proofed to keep out the (rather-loud) sound of children playing at the nearby P.S. 6.
Indeed, the 7,000 square-foot home is a study in substantiality, with white oak herringbone floors, Lefroy Brooks bathroom fixtures (including a colossus of a tub in the master bath), marble mantlepieces gracing one wood-burning and two gas, as well as 12 different air conditioning zones. (It was agreed that asking any of the bedrooms to share would be out of the question.)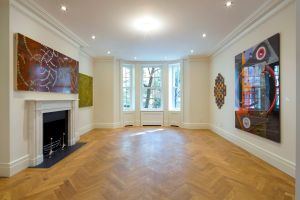 It is also a study in optimizing convenience, with nearly as many kitchens as baths. There is, of course, the main kitchen, a Smallbone of Devizes affair with a bookmatched marble blacksplash (even the outlets have been covered in marble), mirrored kicks and a Le Cornue stove—the $50,000 model. ("In the $20,000 and up market, Wolf really isn't doing it for me anymore," Ms. Bradley reflected.) The second floor, meanwhile, conceals a wetbar (with a dishwasher and wine fridge) behind pocket doors, and a similarly concealed fifth floor kitchen provides easy access for midnight snacks and rooftop entertaining. (There is, as well, yet another kitchen/back-up laundry room in the finished basement.)
The placement of bathrooms has been approached with a similar mood of abundance. Case in point: the master-bedroom level, which features a half-bath in the hall between the bedroom and the master bath because, "it was a little too far to walk at night," explained Ms. Bradley.
And for the convenience of the infirm or the inveterately lazy, there is also an elevator. As has become standard-issue in the pristine, $20 million-plus category.
"People only use them when they break their foot or are going on vacation with their suitcases, but you have to have them," remarked Ms. Bradley. "Just like you have to have a wood-burning fireplace in a house over $20 million. What are you going to do when you light a fire in a properly-heated house with double glazing on the windows? You're going to be taking your clothes off."