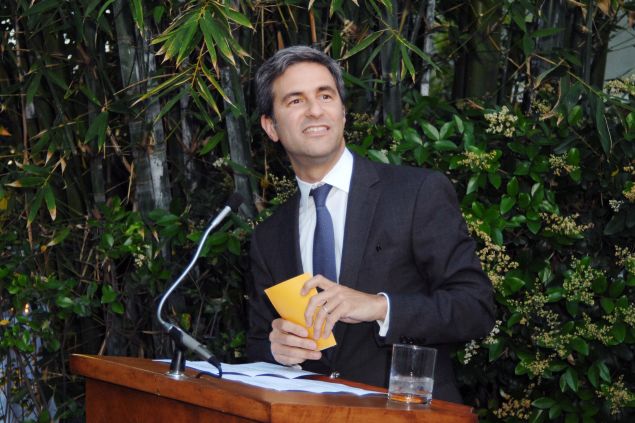 Wednesday evening non-profit Independent Curators International will celebrate its 40th anniversary by honoring LACMA director Michael Govan with the Leo Award.
The organization, which produces exhibitions and acts as a network for curators working all over, has named the award for legendary New York art dealer Leo Castelli, who was responsible for launching the careers of Jasper Johns, Roy Lichtenstein and Frank Stella, among others.
While the award is named for Castelli, whose work from the '50s through the '70s helped shaped the contemporary art world today, just how much has curating changed in the years since? Mr. Govan, who has been in the business for over 20 years, tells us.
The Observer recently spoke with with the director—who has held positions at the Guggenheim, the Dia Foundation and has been director at LACMA since 2006—about the fast-evolving curatorial field. (During the chat, he also shared his thoughts on the proliferation of curatorial studies programs.)
Here's more on the future of museum curating.
Independent curators are the way of the future.
"Curating" is probably the most overused term today. Everyone is a "curator" online. I think therefore it's important to recognize the thinking that goes into real curatorial practice, which is represented by shows that ICI has supported, or museums. And yes, of course it's changing, everything is constantly changing. I would predict there will be more independent curators. I think museums realize they need to keep their infrastructure light so they're open to outside influence. I can see independent curating as a growing field.
On the rise of museum registrars:  
Yes, you're seeing shifts everywhere. Thirty or 40 years ago a curator was not unlike a zookeeper in terms of taking care of objects, and feeding them, researching them, owning them. But now we have—because of insurance and shipping becoming so professionalized—registarial practice, which is huge right now. Some of the biggest departments in museums are registrars because they check things in and out, and do condition reports. They don't even like the curators getting involved in that anymore. We don't even touch our objects anymore, because conservators wouldn't like that.
On curators as fundraisers: 
In exchange for that, curators have become outreach. You communicate with the broader public and become a spokesperson. That's always been true, but now it's demanded of almost everyone. Except curators now have become fundraisers, too. If you're a curator you're in an institution I think one of the biggest differences between inside and outside is there's a presumption that you're working to raise money for the organization. Organizations are expensive to run and you need a bigger team of people. I think that has changed very much, and in the U.S. a lot of the most significant curators are also the leaders of fundraising and acquisitions and boards, for example.
ICI executive director Renaud Proch told the Observer, "These were two decades—when he was working—we've witnessed tremendous changes in the artistic and curatorial fields, [such as] the way institutions are structured, the fundraising landscape that exists around them."
The anniversary festivities at Artbeam in Chelsea will also honor Beatrix Ruf, director of Amsterdam's Stedelijk Museum, with the Agnes Gund curatorial award. An online and live auction through Artsy features works by Christo, William Wegman, Robert Longo, Raymond Pettibon, Laurie Simmons and more. And concluding the night, there will be a live performance by artists Ilona Granet and Martha Wilson and their all-female punk band DISBAND.