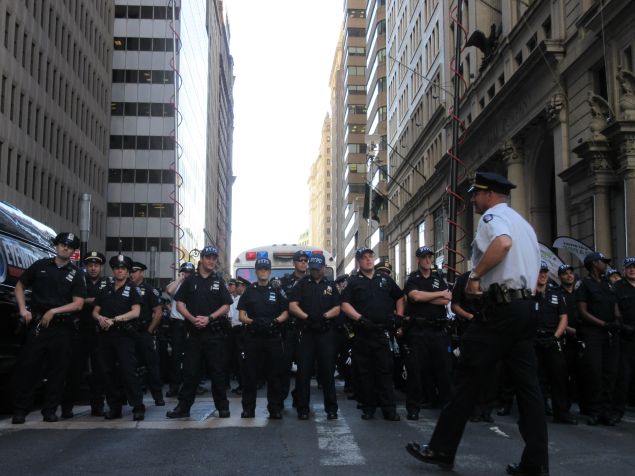 The number of legal claims against the NYPD dropped this year after rising steadily for more than a decade, amid outcry from protest groups over the department's allegedly repressive policies, a report by Comptroller Scott Stringer found.
A review of Mr. Stringer's "ClaimStat" system, used to track damages citizens seek from city agencies, found that the number of financial grievances against the police department—which can range from civil rights violations to bodily harm to crashes involving cop cars—fell by more than 1,100 in the 2015 fiscal year, which began October 1, 2014 and ended on September 30, 2015. The 11.6 percent decrease from 2014 followed 11 years in which the number of tort claims against the NYPD rose by 71 percent, to the point where 37 percent of all applications for indemnification from the city were against the police, the largest proportion of any agency.
In a phone interview with the Observer, Mr. Stringer attributed the decrease to the work of Police Commissioner Bill Bratton, and particularly to his decision to cooperate with the comptroller's office to use ClaimStat to track cases of alleged police misconduct.
"That's bucking decade-old trends," the comptroller said. "I do think when you see that, you give credit where credit is due."
The praise came in spite of Mr. Bratton being an appointee of Mayor Bill de Blasio, with whom Mr. Stringer has had an ongoing rivalry since last year. The commissioner, and his "broken windows" philosophy of going after low-level crimes, has long been a target of left-leaning protesters who claim that the policy unfairly targets minorities.
The bulk of the decline in claims was a result of the number of personal injury torts against officers falling from 5,727 in the 2014 fiscal year to 5,007 in 2015, a decrease of 12.6 percent. Personal injury claims against cops had increased by 173 percent between 2003 and 2014.
ClaimStat is named and modeled after Mr. Bratton's own "Compstat" system, a method of tracking crimes across the city which the commissioner pioneered while serving in the Giuliani administration in the 1990s. Mr. Stringer has long argued that ClaimStat has potential to save the city almost 10 percent of the $710 million it has set aside for the 2016 fiscal year to pay off settlements and judgments.
"Claims are a leading indicator of problems down the line," he said today. "The purpose of Claimstat is to put in place, to analyze claim data as a way to inform policy."