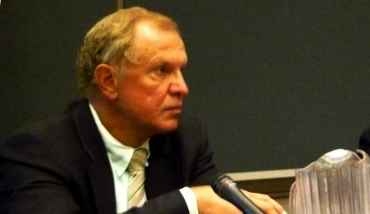 ATLANTIC CITY – On Tuesday night when three Democratic gubernatorial hopefuls were cavorting with would-be voters and supporters, one candidate was notably not in the partying mood. Though state Senator Ray Lesniak has put out feelers in the hopes of nabbing the Democratic nomination for governor in 2017, he did not decide to mingle in the way that Senate President Steve Sweeney, Jersey City Mayor Steve Fulop and former Ambassador Phil Murphy did.
"I plan on running for governor as long as enough people believe I am the right person to put this state back on track," said Lesniak at a networking event hosted by Elizabeth Mayor Chris Bollwage. "I don't believe that throwing parties is the way you win elections. The way you win elections is by doing what I am doing: advancing causes that are important to the state of New Jersey. That's what win's elections, not parties."
According to Lesniak, he decided not to host an event during the League of Municipalities conference because he has been "busy advancing legislative causes." Currently Lesniak is focusing on the ExxonMobil settlement—which he has been fighting tooth-and-nail to stop—, reforming the criminal justice system, fighting against reduced flood protections/water quality and encouraging corporations to pay a "fair share" of taxes.
Though Lesniak has not been a host at the convention, he said he has used the networking time as a means to "get things done."
"What is good about this convention is that everybody is in the same place," Lesniak said. "You can talk to people on a collegial basis, both democrats and republicans."