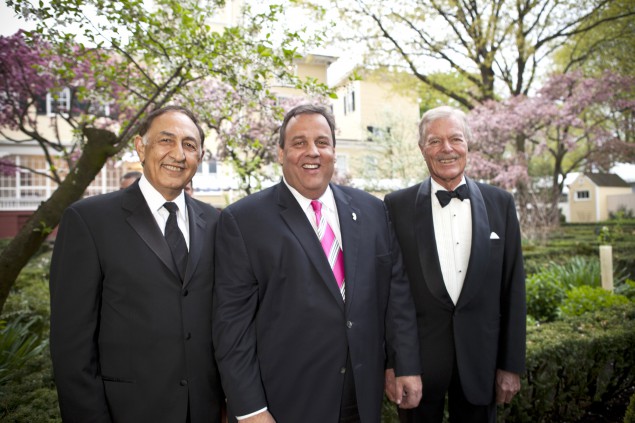 Last week, Kean University students jumped into the fray of nationwide protests calling for an end to racial discrimination on college campuses. As the students held a peaceful protest, an anonymous twitter user posted threats saying things like "I will shoot any black person I see at Kean University." While the University took the threats seriously and involved the police, students and black ministers called upon university president Darwood Farahi to step down amid criticism that the threats made to students came as a result of a "climate of racial intolerance that has been allowed to fester for years."
When Farahi was appointed to his position in 2003, he had the support of state Sen. Ray Lesniak. Now, Lesniak said he still supports Farahi and that the calls for him to step down from his position are unwarranted.
"I don't know what he did wrong on this," Lesniak said of the threatening incident. "He denounced the threat in strongest of terms and I don't know that he could of done anything more than that. It is the most diverse university in the state of New Jersey. He has full support from the board which includes two African American leaders."
Lesniak has said that he fully supports the Black Lives Matter movement. He has long been a vocal supporter of civil rights issues.
"My door is always open, that's for sure, if someone from Kean University would like to speak to me about it," Lesniak told PolitickerNJ.
On Wednesday, Kean released the following statement claiming that the ministers' call for Farahi to step down was baseless: "These are baseless accusations. This group is relying on information from disgruntled employees without checking the facts. Kean University embraces its mission of access and opportunity for students from all backgrounds. We are particularly proud of the level of diversity we achieve in our student body, faculty and staff. We know our campus community reflects the real world. It saddens us that Rev. [Ronald] Slaughter's group is trying to politicize the important issues of social justice and inequality. Our focus remains on the safety of our students and their success."
On a petition created by students on Change.org, a number of other alleged offenses made against Farahi are delineated. Among them are an almost $220,000 conference table purchased for the school in 2014 and supposed false statements on his resume.
This is not the first time Kean has been on the wrong side of claims of discrimination. Last month the school came to a $75,000 settlement with a former employee who claimed she was dismissed due to "her race, and/or age and/or gender."
The police are currently still investigating the threatening incident. No arrests have been made and no suspect names have been released.
The college campus protests started in late September at the University of Missouri and spread nationwide as other students expressed that they had felt similar racial tensions in their schools. In late October, a high-profile incident at Yale broadened the conversation. Now, the protests have reached New Jersey with students at Kean and Princeton voicing their concerns.
According to a report on NJ.com, Darwood, Senate President Sweeney, Lesniak and the coalition of minsters who called for his resignation will meet today at an undisclosed location. No details about what will be discussed at the meeting have been released.