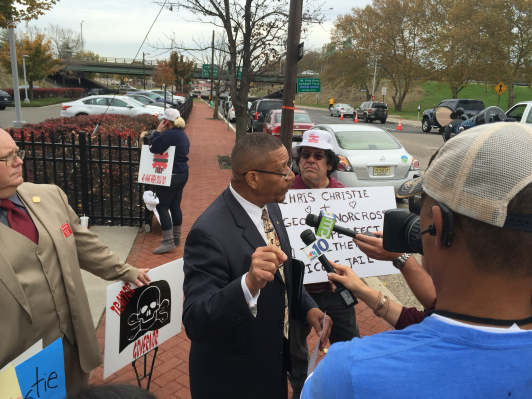 CAMDEN – Local Republican candidates gathered Monday to protest an appearance by Governor Chris Christie outside the Camden County Police Department's headquarters. The protesters claimed that Christie has not done his part to support their candidacies, and was overstating the effectiveness of the city's overhauled police force for political gain.
The protesters said that Christie has been irresponsible in delegating Assembly fundraising to Lieutenant Governor Kim Guadagno, and pointed to what they called Christie's willingness to court South Jersey's powerful Democratic machine at the expense of his own caucus.
Assembly hopeful Keith Walker led the charge, saying that Christie has steered clear of South Jersey Republicans to avoid conflicts with Democrats like Camden Mayor Dana Redd, and with New Jersey's most powerful figure.
"A lot of this is done at the behest of a political boss for Camden County and Southern New Jersey. His name is George Norcross. He's a political boss, he calls the shots," said Walker, adding that he believes when Norcross calls Christie, "He gets in his car and he gets down here."
Christie was in Camden to appear alongside Redd at a round table discussion on the city's purported drop in crime. The county force took over policing in the city in 2013, when the city effectively fired its entire department. Christie's visit took place the same day that President Barack Obama was flying in to make an appearance in Newark alongside Senator Cory Booker (D-NJ).
The protesters carried signs accusing Christie of being a "Republican in name only," and bashing the South Jersey establishment for the sale of the police department to the county and its plans to hand over EMS and paramedic services to Cooper Hospital, a move they described as acquiescence to Norcross.
"He's not coming down here in support of his own Republican candidates, but because somebody summons him to come down," said Claire Gustafson, who is running for Assembly in the sixth district.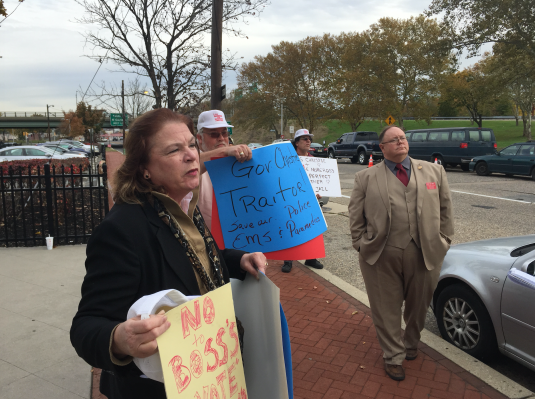 "We put our names out there and he should be supporting each and every one of us," added Gustafson, adding that she has been disappointed at Christie's absence as hopefuls below the Raritan attempt to build a "strong, healthy, vibrant Republican party in South Jersey."
"It's a shame it had to come to this, it really is," said political consultant Steve Kush. "They snuck him in the back to avoid it," he added, pointing to Christie's parked motorcade.
"Our county chairman has called him and requested him multiple times only to be told 'No,'" said Kush, who expressed gratitude for Guadagno's presence at Republican fundraising events this year during Christie's campaign travels.
On the substance of the visit, during which Christie announced an executive order declaring November 5 an official law enforcement appreciation day, the candidates were equally critical.
According to Kush, the numbers suggesting a downturn in crime were based on comparisons between the present and 2010, a year that saw large-scale layoffs and a resulting decline in arrests.
"They're comparing to layoff years, when they got rid of half the cops," said Kush of Christie's claims regarding improvements in the city's murder rate since 2013. "Well of course you're going to have an improvement when you add a hundred cops! Let's compare apples to apples. There is no noticeable improvement."
County freeholder candidate Ian Gill agreed.
"He's utilizing this event here in Camden, with the Camden police department, or the county police department at this point, to move himself into the White House.
"Instead of supporting those who are campaigning along with his party, he's broken party ties. He's working as a Democrat. He's sitting down at the table with the Democrats.
"The crime is still up, murder is still up. They changed the football team but they kept the same coach," Gill said, alluding to Norcross. "How do you accomplish anything?"