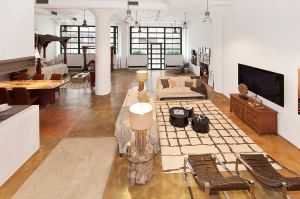 "History flatters the past by forgetting half of it," stated Peter Stamberg, and his husband and business partner, Paul Aferiat, quickly agreed. "That's a good quote," Mr. Aferiat chimed in. They're talking about living in New York in 1974, when Mr. Stamberg followed up on a Village Voice ad to rent half of the seventh floor of a warehouse on Fifth Avenue and 19th Street, near Madison Square Park—back then, known also as "Needle Park." As for the apartment, "No one wanted it," said Mr. Stamberg.
That first winter, there was no heat in his apartment—"I caught the flu and thought I was going to die," Mr. Stamberg said—and they didn't bring home large grocery bags in case the elevator would be down, again. Every Friday, they filled the bathtub with water in case the pump went off during the weekend and no one could fix it, again. "It was very rough living, and people thought we were nuts," said Mr. Stamberg.
But then again, there was the space, and cheap rent ($450 a month) to go with it. Impossibly high ceilings, big windows and enough room for Mr. Stamberg, an architect, to set up a woodshop and build a 10-foot-tall pyramid around his bed. Later, the 14th floor of the building became available and the landlord offered it to Mr. Stamberg under the condition he would find a tenant to fill his old loft. ("At that time, it was really hard to find anyone," he noted.) He and Mr. Aferiat moved upstairs, eventually opening their architecture firm, Stamberg Aferiat + Associates, next door.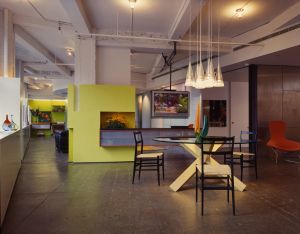 Both the apartment and office still occupy the 14th floor, although their loft is now a reflection of accomplished architects—and art collectors—rather than struggling ones. Mr. Aferiat and Mr. Stamberg know they're living in a very different New York, one where their apartment would be priced into the thousands for rent. (They are protected from such rent hikes under New York's loft law, designed to protect tenants living in commercial buildings by bringing buildings up to residential safety and fire codes, as well as offering rights and rent protection.) "We feel so lucky," Mr. Aferiat said. "And we will never leave."
'Everybody likes the feeling of space and high ceilings,' and today that means the richest New Yorkers.
The downtown lofts inhabited by artists like Mr. Aferiat and Mr. Stamberg in the '60s and '70s set the standard for how artists wanted to live in New York—only now, the artists have moved to the far reaches of the outer boroughs in seek of cheap rent in old buildings. They also seemed to set the standard for how everyone in New York wants to live, including people willing to pay millions.
The story of the New York loft starts in Soho, a neighborhood known as "Hell's Hundred Acres" (because of all the fires) when artists started moving in around the 1960s. "As factories became obsolete, artists were drawn to them because of the space and light," said Yukie Ohta, Soho loft dweller for most of her life and the founder of the Soho Memory Project, a mobile museum, archive and blog that studies the history of the neighborhood. "The artists were the only ones desperate enough to sacrifice the creature comforts for their work…at the very root of it, it was pure loyalty to one's art."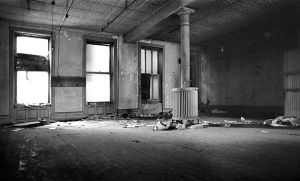 These artists moved into buildings typically zoned for manufacturing, not living, with landlords desperate to rent out spaces and bring money in. Loft dwellers stuck to basic essentials: a toilet, hot plate and mattress on the floor in case building inspectors visited, in which case the mattress could be easily hidden. "It was like camping, it could be broken down at any moment," said Ms. Ohta. Some blacked out their windows, in fear that people would notice residents in the building after-hours, or taped plastic sheets over windows to keep out the cold. There were no walls built mostly because such construction was cost-prohibitive.
'The artists were the only ones desperate enough to sacrifice the creature comforts for their work…at the very root of it, it was pure loyalty to one's art.'
Soho residents started advocating for tenant protections in the '60s and in 1968, with a growing population of artists, the SoHo Artists Association was formed to uphold living conditions, legalize loft dwellings, keep rents down, beef up security and push for city services. (When artists first moved in, garbage trucks didn't service the area.) By 1971, the SoHo Artists Association secured legal rights for certified artists who owned lofts in manufacturing buildings—which set the precedent for how other NYC neighborhoods would legalize lofts.
The influx of artists, with businesses following suit, gradually turned Soho into a very different place. As early as the mid-'70s, artists "upset by all the commercial growth," as Ms. Ohta said, left for the unsettled land: Tribeca. It was the beginning of a gentrification process that New York real estate pros know all too well—"We follow the artist," as Andrew Gerringer, of The Marketing Directors, put it.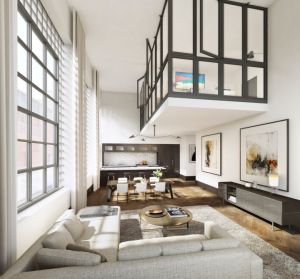 Mr. Gerringer has worked on loft conversions since the 1980s, when the popularity of loft living was attracting a broader audience but the desire for completely raw space was dying down. He recalled the 1996 conversion at 158 Mercer, now the New Museum condo building, in which buyers purchased 4,000 square feet of raw space directly from the building's owner for $300 a square foot. (Now, the space is worth as much as $3,000 a square foot, he estimated.) Mr. Gerringer called the conversion process "a scene. There were tons of contractors because so many people were trying to convert their space, and all the contractors were fighting," he recalled. "People didn't realize their project would take two to five years to finish."
"That was the end of raw space being popular," said Mr. Gerringer. Buyers wanted more finished lofts and would pay for it. The art scene was changing downtown, too. By the '80s and early '90s, many artists who had invested in their dirt-cheap spaces realized they could make a nice profit by selling. Some, like Chuck Close, Philip Glass, Julian Schnabel and Maya Lin gained enough recognition for their work they no longer had to sacrifice creature comforts for it. Donald Judd's Soho home, a five-story cast-iron building he purchased in 1968, opened to the public as a house art museum in 2013 and feels more luxurious than gritty.
"Everybody likes the feeling of space and high ceilings," Mr. Gerringer said, and today that means the richest New Yorkers. He recalled the top-floor apartment of 158 Mercer, 8,000 square feet first occupied by the building owner, who constructed rooms on wheels he could easily roll around the loft. Jon Bon Jovi was a later owner; he sold the apartment for $37.5 million last summer.
"Soho clients today are in finance and fashion," said Corcoran broker Todd Vitolo, now marketing a renovated loft at the co-op 284 Lafayette Street for $4.6 million. He said the artist's desire to "make the space your own" hasn't disappeared—only now, buyers can afford to spend $1 million—"the going rate," according to Mr. Vitolo—in renovations. And the demand for these luxe lofts is high. Compass broker Victoria Shtainer was surprised by all the press after listing a three-bedroom at 195 Hudson, a raw loft-to-condo conversion building in Tribeca that Beyoncé and Jay-Z now call home. After 20 days on the market, she had two offers on the apartment. "The owners wanted to raise the asking price to $3.85 million because they felt the demand was there," she said. "They were right."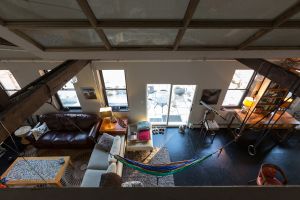 There's also the matter of recreating lofts in today's rampant real estate market. New York-based firm ODA Architecture designed 74 luxury condo lofts at 51 Jay Street, a former coffee warehouse in Dumbo, Brooklyn. "These buildings have deep floor plates that aren't really adequate for residential living," said Eran Chen, founder of ODA. "Initially, artists couldn't afford anything else. But they created these innovative spaces with light, exposure and space."
ODA's luxury lofts "capture the great things about loft living," said Mr. Chen, like exposed building details, large windows and high ceilings. To combat the deep floor plates, ODA constructed an open courtyard in the center of the building and designed "more typical one- and two-bedroom floor plans" around that. "People want to have the feeling of lofts, but they don't really want to shape it themselves," he said.
In a world of open floor plans and new developments touting "loft-like apartments," Mr. Chen feels a true loft is one that comes from an old building. "In a new building, a loft just doesn't work," he said. "There's something about a loft that holds a romantic aspect of the past. It's never as good when you try to imitate it."
Despite the dollars, good old-fashioned artist loft living manages to survive. In 2013, 27-year-old photographer Max Touhey moved into a loft on the second floor of a commercial building in Greenpoint. He got a deal on rent because his family knew the landlord, so he signed a six-year work/live lease. As part of the deal, Mr. Touhey had to clean out the apartment, which had been trashed by the last tenant. "I had to take a month off work," he said. "It was really bad."
Four lofted bedrooms are carved out of the massive space. ("The first tenant lived in it as an open space, but then started building rooms and getting roommates every time the rent went up," Mr. Touhey said.) Although it was common for downtown artists of the '60s to live alone or with perhaps a single partner, Mr. Touhey couldn't imagine the place without roommates: "To use all this space for myself would be straight selfish," he said.
He set up his own office inside the loft, but his three roommates—a coder, digital producer and comedian—use it primarily for living, not creating, art. Mr. Touhey has worked hard to make the space livable and unique, building out a swing from the ceiling, sheetrocking the walls for soundproofing, rebuilding one of the loft staircases. On the patio, with views of the Manhattan skyline, he built out planters and an outdoor shower. (With one bathroom between four occupants, it came in handy.) "This is my home and I want to make it my own," he said. The great space doesn't come without its challenges, however. "I feel like the super sometimes, fixing leaks or broken locks, little things that take up time," he said. Much like the Soho of the 1960s, trash pickup does not come to his apartment.
Mr. Touhey has no desire to leave, but knows the neighborhood is changing. Last year, a 200-unit residential development opened down the block. Although it's a good place for him to drop off his trash, "it definitely brought a younger demographic to the area." From his patio, you can spot construction cranes in either direction. Even the future of his building seems questionable; renderings to replace it with a glassy 12-story development emerged this year.
"It is possible this will be developed someday," he said. "There's uncertainty but there's no concern yet…although maybe I should be concerned."
Or, he later added with a laugh, "Maybe I'll just end up in the Bronx."