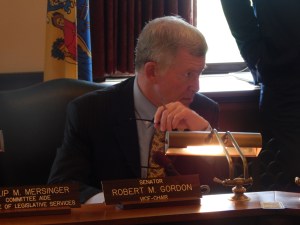 The Senate Legislative Oversight Committee heard testimony Tuesday from representatives of the state lottery and their private partner in marketing and sales, Northstar LLC. Lottery representatives mounted their defense for declining revenues, while labor representatives warned of an emerging pattern of losses due to privatization.
The hearing follows disappointing returns from the state lottery since the partial privatization in 2013, a downturn which state lottery commission and Northstar representatives attribute to declining public interest in Powerball and Mega Millions jackpot games, and to the lingering economic effects of Hurricane Sandy.
Carole Hedinger, Executive Director of the New Jersey State Lottery Commission was quick to point out that despite the decrease in projected state takeaway from $1.06 billion to $1 billion for 2016, the state remains third in the nation for lottery revenue and stands to gain in the long-term from Northstar's deals with Rite-Ade and Wawa stores.
With the committee largely sympathetic to Northstar's explanations on their 2015 shortfall from $1.037 billion to be returned to the state to $930 million, the panel argued that the public-private partnership prevented an even greater loss.
Hedinger denied accusations from labor groups that the 2013 deal with Northstar constitutes a no-bid contract, saying "It has been erroneously referred to as a no-bid contract more than once. There was a public request for proposals for lottery management services."
"In spite of the large interest," said Hedinger, "the state recieved only one response."
On Northstar's abrupt exit from Illinois due to disputed contracts and lackluster performance, Hedinger said that she could not say how New Jersey's situation compares.
"What went on inside Illinois internally, I can't speak to that," she said.
Illinois had fully privatized in 2011, whereas New Jersey has only outsourced marketing and sales to Northstar.
When Committee Chair Senator Bob Gordon (D-38) asked about Northstar's cost to revenue ratio moving forward, Vice President Russ Knapp answered that Northstar believes the current scale of their lottery staff will stay put.
"I believe the current staffing is the proper staffing to run this enterprise," said Knapp. "I don't see it expanding. I think reducing it would affect our ability to service retailers."
Knapp's assurance did little to address the concerns of the CWA and AFL-CIO representatives, who pointed to privatization creep in state agencies and to the lack of an arbitration clause in New Jersey's contract with Northstar.
CWA representative Seth Hahn testified that the same clause allowing the company to revise revenue projections could also come into play to the state's detriment if a 2016 referendum succeed casinos open statewide.
"This adverse action section of the contract specifically states that another adverse action may be the expansion of gambling outside of Atlantic City," said Hahn. "So if there are actions in which gambling is expanded, you can expect Northstar to come back to the state and say 'we need to lower revenue projections even further."
Hahn levied the no-bid accusation again, saying that there are only three companies in the country equipped to handle a lottery the size of New Jersey's and that the state's online request for proposal should raise eyebrows.
"The fact that the New Jersey RFP was nearly identical to that of Illinois should indicate at the very least that Northstar was a preferred vendor to receive the contract," he said.