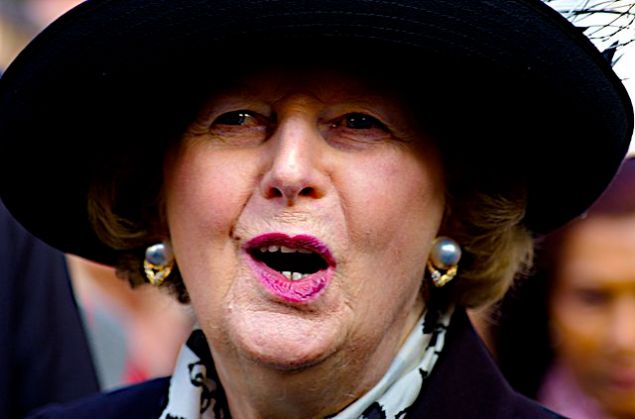 Margaret Thatcher, Milk Snatcher, as the late British prime minister was oft-referred to, wisely cultivated less than outlandish taste in personal wear. Because dismantling the welfare state is a messy job—you're gonna need practical garb.
Among her belongings were a tan trenchcoat by Aquascutum, a houndstooth tweed wrap and, of course, her signature classic black leather purses. All epitomize her style: she dressed as conservatively as her blood ran. Though there was one notable exception: her blue velvet wedding dress, in which she looked ravishing, according to this photo via Forbes.
Now, you can own any of the aforementioned, since 350 personal items belonging to the late Iron Lady are hitting the auction block on December 15 at Christie's.
The sale is expected to fetch around $770,000 total. Other notable items for sale include an emerald and diamond necklace, the low estimate for which is around $277,000, and a bound and signed copy of her last speech in the House of Commons, the low estimate for which is a (bargain) $770, according to The Art Newspaper.
The collection became available after the Victoria and Albert Museum in London declined to snap it up, The Art Newspaper said. However, the V&A has disputed that claim.