LONDON—Mark Gatiss, Renaissance man. In the U.K., for the better part of two decades he has grown from a familiar face on the BBC sketch comedy The League of Gentlemen (a troupe he formed with college friends) in the '90s through numerous memorable appearances in film and television in the Noughties to his revered position today as a producer, writer, director and actor.
These days, Mr. Gatiss is primarily known for his work on the BBC's revival of Sherlock (for which he produces, writes, and even acts as the titular detective's brother Mycroft) and another behemoth, Doctor Who (where he has penned eight stories and starred in two).
The writer has toured worldwide to promote both shows, winning fans wherever he goes. Earlier this month, Mr. Gatiss appeared at a special screening for his most recent Doctor Who episode, "Sleep No More"—a horrific, found footage adventure—at the Museum of the Moving Image in New York.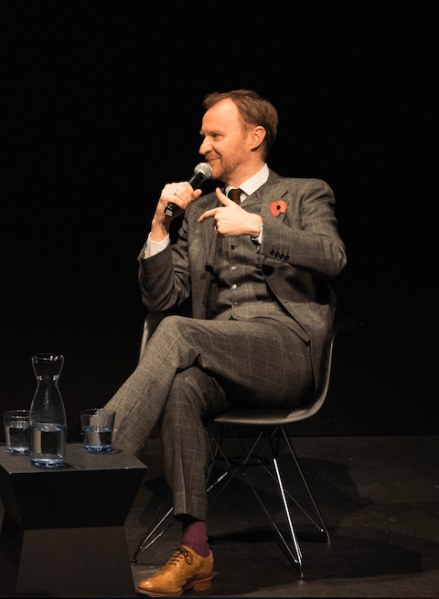 Equally at home behind and in front of the camera, Mr. Gatiss is a man at ease with his huge success. We meet at the Doctor Who Festival in London, where the writer had been entertaining audiences young and old with his work on the long-running science fiction series.
Impeccably attired and beautifully spoken, and always with an apposite quote or hilarious anecdote (complete with impersonation), Mr. Gatiss mentioned that he'd quit caffeine and told me all about his recent trip to New York City before I even set the tape running.
Calling it a "treat," he commented on the "delightful, optimistic and fun" audience he found there, which jibed with my own experience of Doctor Who fans, or Whovians as they are often called, at New York Comic Con last month. To fans of the show like myself (and Mr. Gatiss), starting our journey in the '70s, it's inconceivable to find its stars on the covers of Entertainment Weekly and TV Guide.
SEE ALSO: Steven Moffat Has Next-Leveled 'Doctor Who'
But here we are, surrounded by thousands, millions of Doctor Who fans from around the world. It was his love for the show as a youngster that drove him in to writing and acting.
"There are things that inspire you as a child," and Doctor Who was one of them.
And through Doctor Who, and other shows from the era, the young Mr. Gatiss would spot what he refers to as classic British character actors, becoming very aware of them as if collecting baseball cards. He aspired to be like them.
"That's the kind of career I always wanted. One of those people in those lovely black and white films you can rely on and who you know is having a good time and doing a good job; character acting like that. It's all about pleasing your inner 8 year old."
'I was obsessed with school plays. I played a mad scientist when I was about 7. Genuinely, this is true: I remember someone saying to me, "When you grow up, are you going to be an absent-minded professor?" '
At school, Mark was encouraged in both his writing and acting endeavors, even being placed in an advanced reading group when he was just 5 years old.
"I was obsessed with the school plays. I played a mad scientist when I was about seven. Genuinely this is true, I remember someone saying to me, 'When you grow up are you going to be an absent-minded professor?' "
Leaving Bretton Hall Drama College in 1989, Mr. Gatiss jumped straight into roles in a couple of mainstream U.K. television shows, but despite this audacious start to his acting career, he "didn't work for about two years."
It would be just a few years later that he truly made a splash with The League of Gentlemen, a macabrely hilarious, or hilariously macabre, mix of sketch show and sitcom for the BBC. It proved to be his making.
"I always wanted to make a mark with someone that would open all sorts of doors, which is what The League did completely. The success of the show and the fact that we were perceived as good actors in it led to all kinds of roles, and continues to do so. Really, it's the foundation of everything."
Since then, the writer/director/actor/presenter has made a name for playing real-life characters, such as a masterful turn as Stephen Gardiner in Wolf Hall (the way he delivers the line "Did you think yourself a special favorite?" is sweet perfection) and political drama Coalition from UK's Channel 4. Mr. Gatiss enjoys "disappearing" into somebody else:
"I loved playing Peter Mandelson [on Coalition]. I would love to do it again. I think it was quite frightening how much I looked like him, when I had the wig and contact lenses in. I loved studying his speech patterns and his way of being—that's a great job for an actor, to study people.
"Weirdly, with Stephen Gardiner in Wolf Hall, lots of people, including my own brother, asked me if I was wearing a false nose! I'm afraid it's the same fucking nose I've always had!
"One of the great joys is when people say, 'I didn't know that was you!' It's a great compliment." Laughing with a huge smile, he added, "Also a bit annoying!"
Turning our attention to the current televisual landscape (particularly in the U.K.), we discuss the predictable trends that sweep the small screen, especially given The League of Gentlemen and the "long shadow" of dark comedy it cast on TV.
'That's what Doctor Who is, character and dialogue and proper interaction—not just spectacle. It's the DNA of the show.'
"The constant problem really is it's all or nothing: silly comedy is in, dark comedy is out; dark'comedy is in, pratfalls are out. Why? Because, actually, as an audience you want to have variety during the week so I think that's the same with drama, there are so many different styles that it would nice to feel that there's a variety."
The problem isn't peculiar to comedy; drama also suffers from the paste-and-copy nature of execs.
"Scandi [Scandinavian crime drama] is incredibly popular so everything becomes like Scandi. We're now living in the age of Game of Thrones ripples, and there are some lovely things—I love [BBC America's] Last Kingdom, really enjoy it. But around it there are so many Game of Thrones [ripoffs] and really people like Game of Thrones because it's Game of Thrones. What we actually need to do is say, 'Look at that, the reason why that's a success is there is a vision behind it.' It's been successful because it's been particularly its own thing but what you don't need to do is some copies. What you need to do is allow that vision for an entirely different project which then that might be the new Game of Thrones."
Of course, Mr. Gatiss himself is a cast member of the popular HBO series, playing Tycho Nestoris, but is a move to Hollywood in order for the Sherlock star? Given his recent comments at the Doctor Who Festival regarding blockbusters, it would appear not.
"Movies that cost $250 million are completely emptying; you'd give anything to have any of them have a dollop of Doctor Who's heart to make them enjoyable and fun. That's what Doctor Who is, character and dialogue and proper interaction—not just spectacle. It's the DNA of the show."
It also appears to be the DNA of the man himself. Even just a cursory glance demonstrates the incredible selection of roles he's played on television and film (not to mention his Laurence Olivier nomination for his supporting role onstage in Coriolanus).
As the interview closes,"variety" is the word Mr. Gatiss uses to describes what he loves most about acting. With 2016 but weeks away, it's another year of variety, with more Doctor Who stories to tell, more Sherlock to feature in (he's just completed his script for an upcoming episode) and undoubtedly more theater work.
"This is the life!" he beams, adding with his trademark twinkle in the eye, "It's a wonderful privilege."