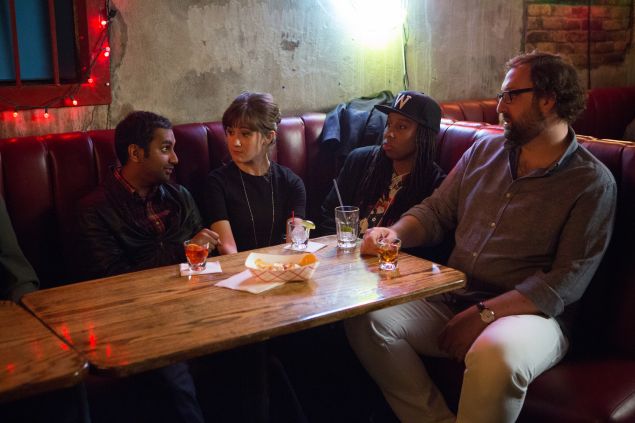 Every episode of Master of None was made available to stream on November 6. This is an overall review, but with spoilers few, light, and far between. 
There have been many attempts on television and film to encompass realistically the struggles of mid-to-late twenty-somethings—modern dating, friends settling down, thinking you're an actor after three auditions and a commercial spot—but I don't think anyone has quite nailed it down. That is, until Aziz Ansari's Netflix series Master of None. If you are between the ages of 25 and 35 and you're parents just got their first smart phone, you have for a fact received a text just like this.
Co-created by Mr. Ansari and Parks and Recreation executive-producer Alan Yang, Master of None centers on Dev (Mr. Ansari), a struggling "actor" living in New York City whose greatest claims to fame are a Go-Gurt commercial and the time he "crashed Zachary Quinto's Halloween party." And its funny to discuss series where little moments like auditions and that text message up there are the stakes of the show, as if that's a reason to tune in. But series in the past have been unable to take those little unsure moments, those tiny stakes, and combine them into a realistic portrayal of what its like to have endless privileges in front of you, and the terrifying notion that you'll waste every single one of them.
If Mr. Ansari's Parks and Rec role Tom Haverford played almost like a cartoon character, Dev is that cartoon character drawn in real life. He's not a mean person, but he's not particularly nice, either. He's sweet, and sad, and funny, and rude, and kind all in the course of an episode. He's not overly privileged, but the dude is going to spend an entire day searching for the best taco cart in the city (Dev's reaction at finding the cart closed is probably my favorite of the series: "What am I supposed to do now? Go eat the second best taco?")
The obvious tonal comparison is Louie, but it isn't quite the same. Unlike Louie's funhouse of sadness, which works for where Louis CK is comedically and in general, Master of None creates a tone you'd actually want to hang out in for a while, with people you want to hang out with, because Master of None is a hilarious a riff on little problems made large. The closest the show dips toward cliche is in its pilot, 'Plan B,' in which Dev babysits a friend's kids and struggles with the decision to settle down. But through some clever stylistic choices, and a poignant, hilarious ending, that decision that faces all men and women who find their friends married with children painted in a satisfying, and achingly realistic light.
It can't be said enough how much the enjoyment of this show is raised by the fact it looks and feels like/ That is down to more than directorial decisions. The cast is diverse, the subject matter even more so. Episode Two, "Parents," is a look at living in America with immigrant parents (and also introduces Mr. Ansari's real parents, playing themselves. I can imagine Netflix is currently over-run with interview requests for Mr. Ansari's parents) Episode 8, "Indians on TV," skewers TV's minority casting problem.
When CBS announced it picked up Squad Goals from Ryan Seacrest, I stood on my front lawn in a bathrobe and screamed "get off my lawn" to any and all shows about young millennials trying to figure life out. But Master of None changed my mind. Because its not a story of someone realizing its time to grow up, or get straight, or figure it all out. It's just a story of someone living in this age that only seems impossibly hard to navigate  young men and women, and only sometimes actually is. And if that character does grow up a little by accident, well…it happens.