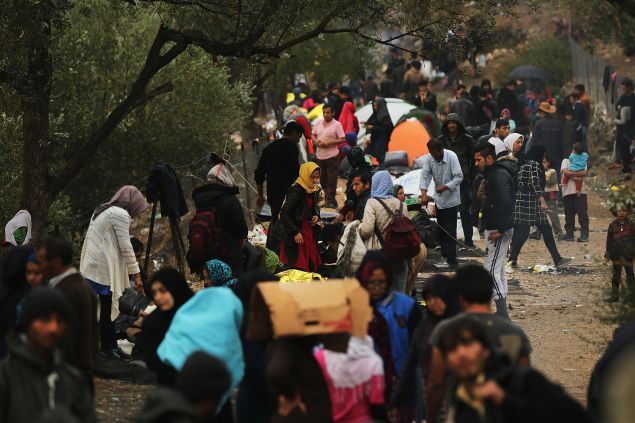 A day after punting on questions about whether he'd support closing American borders to Syrian refugees following the Paris terrorist attacks, Mayor Bill de Blasio said that "we should not close our borders to any group of people fleeing the atrocities and horrors of terrorism."
"To do so is to hand terrorists a victory over our democracy, strengthened over the years by Americans who died or risked their lives for it. We are a strong country," Mr. de Blasio said in a statement today. "We can protect our country with the appropriate and intensive screening and accept refugees seeking our protection at the same time. New York City is a proud immigrant city, and we will not turn our back on that history or the people being persecuted and fleeing war."
Mr. de Blasio's comments come as House Speaker Paul Ryan, Republican presidential candidates and governors are calling on President Barack Obama to not accept any Syrian refugees, warning that some may be terrorists trying to infilitrate the United States. A Syrian passport was found near the site of one of the attacks in Paris last week, which killed more than 100 people. The Islamic State, a terrorist organization based out of Syria, the site of an ongoing civil war, took credit for the attacks.
Several countries in Europe have already tried to closed their borders or promised to following the attacks. For the European Union, the flight of millions of refugees represents the worst migrant crisis since the end of World War II.
Council Speaker Melissa Mark-Viverito, a Democrat like Mr. de Blasio, said she was seeing a "very ugly discourse" from Republicans on the Syrian refugees.
"It's a moment for us to really think about and demonstrate our collective decency as a country. It is really counterproductive, what we're hearing," she said. "I really commend the President Pbama for standing strong on this issue and I think that what we're seeig on behalf of the governors is apalling and that we are much better than that as a country."