Artist and fashion designer Harif Guzman makes clear that he does not want to be labeled as one specific type of artist, which is fitting given the eccentric body of work he's created in both the art and fashion industries.
"I don't consider myself a 'street artist'—I am just an artist. Molds are for gelatin, and minds only work when they're open like parachutes."
Mr. Guzman began creating street art in 2000 after he moved to New York. He had been an artist long before this transition, but when he moved he found he didn't have a studio or a place to paint. "It wasn't that I felt inspired to become a street artist but that I didn't have a choice," he said. "The street became my canvas by default."
However, Mr. Guzman is now known also for his work in the fashion domain.
His first steps into fashion included a collaboration with Diesel; he did an art show at their 55DSL store. "At that time I was just beginning, and I didn't have much experience. But my passion for fashion has existed since I was a kid." He cited his parents as his first inspiration in this endeavor, saying that they were both stylish individuals. He also said that he's been collecting vintage pieces since a young age.
He now has two of his own lines: the Haculla line and the Delanci line.
He shared that both of his lines are extensions of the expressions of his street art. "I focus on making great designs with quality fabrics, and then, I cover the pieces in my work."
Mr. Guzman's inspiration for the two lines comes from New York City, specifically the downtown Manhattan area. "Both these lines give people that flavor that is completely inspired by the downtown vibe."
While many designers admit to trying to create things that will benefit multiple demographics, few take this vision as far as Mr. Guzman. When talking about the Haculla line, he said, "I focused on creating a line that fits everyone from the surfer to the rapper to the house mom to the skaters and the high fashion models."
The Delanci line is focused on the "street community of New York." Delancey Street one of Mr. Guzman's favorite streets in the entire world, and he thinks that it is one of the few remaining streets in the city that "remains true to New York City street style." He tried to convey this in the Delancey line.
When talking about his personal style, he says that it comes down to his comfort and his mood. "To me, it's most important that you feel good in what you're wearing because when you feel good it affects your whole day and your whole vibe."
Mr. Guzman's closet is composed mostly of black and white pieces. "When I am happy you'll see me in all white. If I'm really feeling good I will throw in a little color." He talks about how black and white permeate his collections, saying, "They are staple colors that remain timeless."
His pursuit of the fashion industry was a result of music, specifically MTV and album covers. "The sexy rocker girls from the '80s were also a huge inspiration for me along with the gothic scene." Partnerships with Diesel, Volcom and Burton led to him take the steps to create his own lines. "I tested it out, had a great response and decided to move forward with it."
Among his favorite designers are Yves Saint Laurent, Marc Jacobs, Rick Owens and Coco Chanel. As far as art, he admires Stanley Kubrick. "He took all the different arts and encompassed them into one thing. That is someone I really look up to, and something I have always aspired to do," he says of Kubrick.
Mr. Guzman recently finished a solo exhibition entitled "In Charge." He says that it was "my portrayal of how technology has affected us and has led us to so many different vices and addictions—whether it be gun violence, drug addiction or pornography." The exhibition featured a sculpture called "The Birth of Us All," which Mr. Guzman says was inspired by a fascination with reproduction and passion.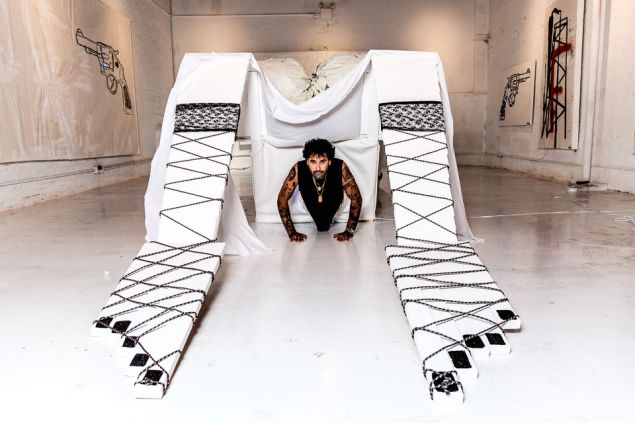 He is now working on projects with Art Basel Miami and Art Basel Hong Kong. He is also working on collaborations with a couple of department stores, namely Lane Crawford in China and Saks Fifth Avenue, which he says he is excited to announce.