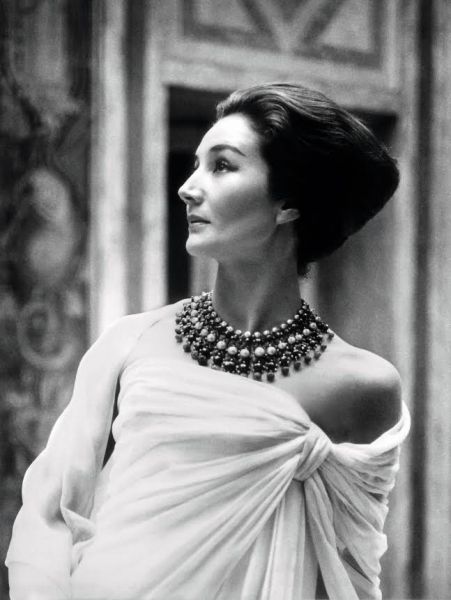 The Met's Costume Institute exhibition, "Jacqueline de Ribes: The Art of Style," which opens tomorrow, is an illuminating look at the wardrobe and designs of Countess Jacqueline de Ribes. She was an aristocrat who defied her privileged, old-fashioned upbringing and became an anomaly of her time: a socialite who designed clothes, both for herself and commercially.
Deftly curated by Harold Koda (he retires in January), the show is theatrical. There are feathered and beaded concoctions worn by Jacqueline at balls and costume parties, alongside placid, elegant daywear. Visitors are greeted by a media wall with a slideshow of photographs of Jacqueline, most depicting her youth. One shows her and her sister with flower crowns adorning their heads while wearing potato sacks Jacqueline shredded into hula skirts, which is an early indicator of her DIY ethos. The show's narrative structure charts her life, from her childhood experience with design, to the designer clothes she altered as a young woman, to secretly assisting designers with their collections, until she finally achieved her dream of producing her own wildly successful clothing line in the 1980s.
Born in France on Bastille Day 1929, the anniversary of the French revolt over the aristocracy, Countess Jacqueline de Ribes grew up with wealth and titles, but felt unloved. Her mother, Paule, a Hemingway translator, was cold and aloof, only kissing Jacqueline once. She often mocked Jacqueline's unique features. Her father, Jean, was a fighter pilot. Her maternal grandfather, the Count Olivier de Rivaud de la Raffinière opened his home to her and provided the love she craved. She lived with him for most of her childhood.
It was there that Jacqueline engaged in her first creative endeavor. In July of 1939, Jacqueline commissioned members of her grandfather's staff – electricians, stable hands, carpenters and maids – to assemble a play that Jacqueline wrote, designed costumes for and performed with her sister.
In 1955, she met Oleg Cassini, who thought she was "elegant to the point of distraction." Cassini saw her talent and asked her to design some clothes for him. She began cutting patterns on her attic floor. She hired someone from Patou and someone from Balenciaga to help. She would pack her designs into boxes, but she needed a drawing to illustrate the contents, so she hired then-unknown Valentino (Jacqueline was later a couture client of his).
A life-long rebel, Jacqueline produced ballets, films, television shows and tried her hand at journalism with a column in Marie Claire. On July 18, 1982, Jacqueline announced that she was going into business as a fashion designer. Her family and friends thought she had gone mad. On March 3, 1983, during Paris fashion week, at the de Ribes home in Paris, Jacqueline revealed her first collection.
At that time, no one had done a show in someone's house before, and designers didn't go to other designer's shows. But there they were, her designer friends sitting front row – Valentino, Ungaro, Pierre Bergé. Her clothes were elegant, with a "naughty twist." Saks Fifth Avenue immediately signed her to an exclusive three-year contract. By 1985, the business was grossing $3 million and her clothes were in more than 40 stores. Devotees included Joan Crawford (who modeled her Dynasty character on Jacqueline), Cher and Nancy Reagan.
By focusing on a woman who not only wore the clothes, but was intimately involved in their creation, Mr. Koda is able to do more than just showcase pretty swaths of fabrics. He infuses them with humanity, allowing the clothes to tell a story beyond structure and design. Mr. Koda explained, "Absent the client, clothing can die. If we didn't have the media walls, if we didn't have the magazines, all of the supporting documents, that showed the woman who inhabited the clothes, I [don't] think it would be the same [kind of show]."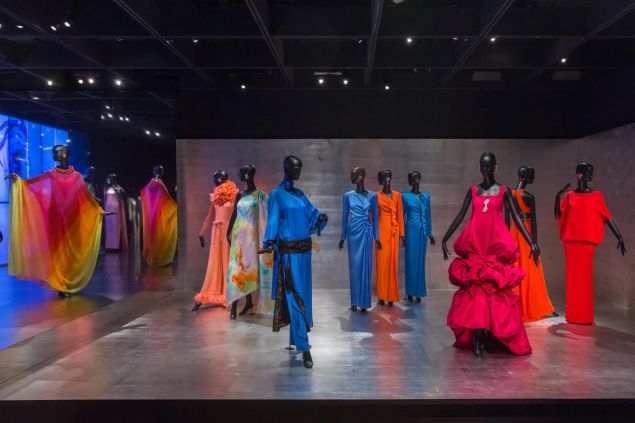 Jacqueline was always very much with the times, but she never quite followed or set the trends. "I don't think she ever aspired to set a trend," explains Mr. Koda. "As you look through this, it's fascinating to see how it isn't about the 80s, it isn't about the 90s, and it isn't about the 70s…She acknowledges the time so she never looks un-chic, but she doesn't fall into a full blown fashion trend…Her avoidance of gimmicks and trends [was her influence on fashion]."
"Jacqueline de Ribes: The Art of Style" opens at the Metropolitan Museum of Art's Costume Institute galleries on Thursday, November 12, 2015. Museum hours are 10:00 a.m – 5:30 p.m Sunday through Thursday and 10:00 a.m – 9:00 p.m. Friday and Saturday.