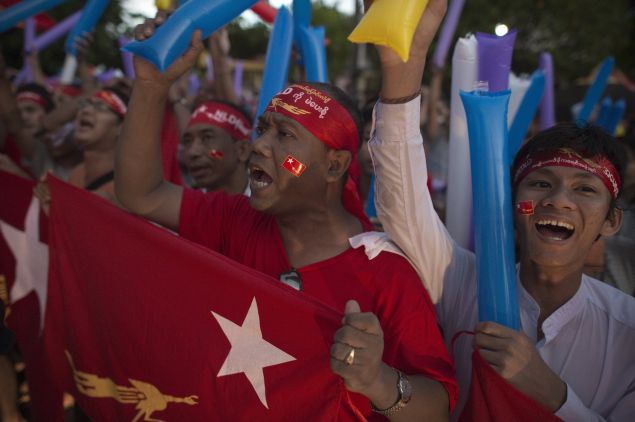 The heart of "democracy" is "demos"–the people. With the recent historic election of Aung San Suu Kyi's National League for Democracy (NLD), headlines worldwide are abuzz with news that democracy has returned to Myanmar. But the fact remains that the 67-year old nation still doesn't know who its people are. Until the country sorts out its questions of citizenship and belonging, until it decides who is and is not a member of the nation, the heartbeat of its young democracy will falter.
Myanmar has been at war since its birth. Almost immediately after its independence from British colonial rule in 1948, one after another of its ethnic minority groups took up arms against the state until the central government found itself at war with not one but 16 of its own people. In fact, the country was still at war even as it took to the polls the other day. And yet, the militant groups that have taken arms against the state are considered true and rightful citizens of Myanmar, while some groups that have not–notably but not exclusively the Rohingya–are not.
The country's controversial 1982 citizenship law divides its population into four categories: citizens (those belonging to the 135 ethnicities the British say were there before they arrived in 1823), associate citizens (those who were there before the British left on January 4, 1948), naturalized citizens (those eligible for associate citizenship but who didn't apply) and foreigners. Counted as foreigners are Eurasians, certain Chinese, Indians, Gurkha, Pakistanis and, of course, the Rohingya (known inside Myanmar as Bengalis)–many of whom have lived in Burma for generations and who have no other citizenship.
In a sense, the Myanmar national narrative reads like a family drama.
"Foreigners" were allowed to vote in the national referendum election in 2010 but not in this, the country's first full national parliamentary election. This issue came to a head when the government revoked legal "foreigner" status from 400,000 Rohingya and requiring them to apply for citizenship as illegal immigrants in squalid "registration camps," triggering an internationally scrutinized humanitarian crisis as thousands of people took to the seas in flimsy boats earlier this year.
Certainly, Myanmar is not the only country to struggle with citizenship and electoral participation. Non-citizens are not allowed to vote in most countries. The U.S., with its estimated 11 million undocumented immigrants and an estimated 9 million more legal immigrants eligible for citizenship, is one. What is troubling is that Myanmar – like the Dominican Republic and Syria before it – seem to be using statelessness as a strategy for dealing with unwanted migrant and minority populations.
A quick glance at the 1982 law reveals it to be an exceedingly tortured exercise in defining the psychic boundaries of a nation. In a sense, the Myanmar national narrative reads like a family drama. Some of the people living within its borders are family – even if they act out and rebel against the stern father-state. Some people are and always will just be guests. Although the Rohingya, the country's largest "foreign" population, have never actively rebelled against the government or pursued statehood, they are widely perceived as guests who wish to take over a family bedroom, unlike the other essentially stateless people living in Myanmar seen as content to simply sleep on the couch.
As if categories of belonging to the Burmese nation weren't complicated enough in the letter of the law, they break down further in how the law is implemented. In Myanmar, it turns out that identity is haphazard, erratic and defined largely by prejudice. While traveling around the country this summer, I struck up a conversation with a young Muslim man in Mandalay who was the child of an ethnic Shan woman and a man whose grandparents had migrated from a state in contemporary India. His identity card reads that he is Pakistani – but he was naturalized because his mother is a full citizen. Another man I met identified (and was officially identified) as Chin, but after a long chat, admitted that he actually speaks a Chin dialect linguistically similar to an Indian language, and which is not an officially recognized Myanmar language. He believes this would have designated him as an Indian, a foreigner, if he had mentioned this during his interview to receive his identity card.
Much of its border runs through the territory of armed groups, whose people have scattered into neighboring countries.
Sometimes, simple prejudice explains gaps between official and true identity. One man I met, a Christian ethnic Burman and full citizen, has "Buddhist" listed as his religion on his identity card, simply because most ethnic Burmans are assumed to be Buddhist. The process to obtain correct documents would be onerous and would involve conversations he would rather not have, he told me, so he simply accepted a factually incorrect identity cards.
All of this is even further complicated by the nature of migration and movement in this region. Although Myanmar was famously "closed" during its period of military rule, its borders were largely porous and unprotected. Much of its border runs through the territory of armed groups, whose people have scattered into neighboring countries. Long before the British invasion, Burma was a crossroads to hundreds of peoples, all of whom intermingled and intermarried. In recent years, massive undocumented immigration, particularly from China, has gone unaccounted for.
One scholar I met in Yangon last summer told me, "Democracy is about participation, not inclusion." Throughout the world, the question of inclusion and belonging infects and warps democratic participation. Myanmar is just a microcosm of a global problem.