Someone has finally stepped up to fill Carrie Bradshaw's Manolos.
Well, by Carrie Bradshaw, we mean Sex and the City author (and former Observer scribe) Candace Bushnell. (Who has, in the past, been quite insistent about her distinctness from Carrie; sorry Ms. Bushnell!)
And by Manolos, we mean her Greenwich Village co-op…but to be fair, the one-bedroom, 1.5-bath apartment is pretty much the décor equivalent of one of the signature extravagant designer shoes worn on the show, complete with crystal chandeliers, gold leaf, velvet, and so on. Our personal favorite was the bathroom wallpaper adorned with Ms. Bushnell's face, but as we sadly noted earlier this year, it appears that was too much for potential buyers.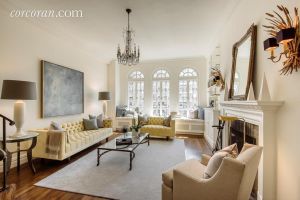 The apartment at 45 East 9th Street has been on and off the market since 2012, but alas, Ms. Bushnell found herself out of luck until earlier this month.
Rachael Powell paid $2.6 million for the prewar spread, per public record, and Ms. Bushnell did pretty well, we must say—just a hair under the $2.64 million price tag, so perhaps Ms. Bushnell can celebrate with a new pair of shoes.
The listing, shared by Corcoran brokers Chris Kann, Jennifer Ireland, and Robert Browne, promises that the abode is "Quintessential New York City." Perhaps they're referring to the fact that Chris Noth, a.k.a. Mr. Big, is a neighbor in the building, which is most definitely a real estate bonus.