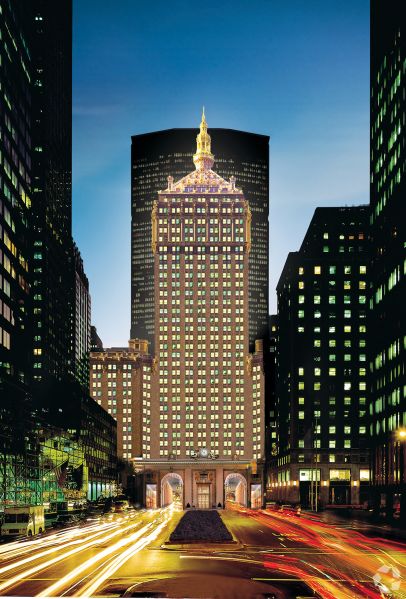 As the disparity between the haves and the have-nots widens, there is perhaps no better demonstration of that dynamic than in Manhattan's commercial real estate market. Within the last year, the priciest such sale reached $2.59 billion. "Office, multifamily and land pricing in the New York market are at peak pricing levels," said James Murphy, an executive managing director of capital markets and investment services at Colliers International. The top 10 sales, listed here, total $13.06 billion and span nearly 11 million square feet, according to data from Colliers and CoStar Group.
Buyer: SL Green Realty Corp.
Seller: Sapir Organization and CIM Group
The city's largest office landlord, SL Green Realty Corp., bought the 29-story office property between East 24th and East 25th Streets in the largest single-building real estate transaction in New York City history. Sapir Organization and its minority partner, CIM Group, made out well in the deal, having purchased it for $675 million in 2003. Sony, Yelp and Credit Suisse are three of the 1929 building's notable tenants.
Buyer: Ivanhoé Cambridge and Callahan Capital Properties
Seller: Blackstone Group
Montreal-based global real estate company Ivanhoé Cambridge and Callahan Capital Properties snapped up the former Verizon Building. The 630-foot skyscraper is home to MetLife, which leases 415,000 square feet across a number of floors.
Buyer: Anbang Insurance Group
Seller: Hilton Worldwide Holdings (owned by The Blackstone Group)
In just one example of Chinese companies investing big in New York City real estate, Anbang Insurance Group picked up the legendary and landmarked Waldorf Astoria New York. The seller, Hilton Worldwide, retained operation of the iconic hotel, which Conrad Hilton called the "Greatest of Them All."
Buyer: General Growth Properties, Jeff Sutton
Seller: Winter Organization and Spitzer Enterprises
Former New York Gov. Eliot Spitzer made headlines this year, and not for any nefarious activities, but for an all-time world record price per square foot—$4,551—for an entire commercial building, Bloomberg News reported. The property—home to luxury retailers like Piaget, Bulgari and Mikimoto—was reportedly on the market for only one day.
Buyer: RXR Realty and Blackstone Group
Seller: Monday Properties, Invesco and South Korea's National Pension Service
Long Island-based RXR Realty, which has been on a New York City real estate tear this year, partnered with Blackstone Group to buy the landmark Helmsley Building on Park Avenue between East 45th and East 46th Streets from a trio of owners. Monday Properties purchased the 1929 building, so-named by Leona Helmsley, in 2007 with other partners for $1.15 billion.
501 West 17th Street, $870M
Buyer: HFZ Capital Group
Seller: Edison Properties and partners
Starchitect Bjarke Ingels' firm is designing the two-building project (one is 400 feet tall and the other is 300 feet high), which Ziel Feldman, founder of HFZ Capital, previously told Commercial Observer, will "be the highest building allowed in all of the High Line." That's because the area allows buildings only up to 220 feet high. He received the "special permit," because the seller agreed to create a new park adjacent to the High Line as part of the multi-use development.
Buyer: Lotte Hotels & Resorts
Seller: Northwood Investors
When South Korea-based luxury hotel operator Lotte Group picked up the 909-key New York Palace Hotel at East 50th Street for $805 million, it marked "the largest single American asset purchase by a [South] Korean company," according to a news release from Hodges Ward Elliott, Lotte's broker.
Buyer: Blackstone Group
Seller: Vornado Realty Trust
One deal fed into another when Vornado Realty Trust closed its sale of the former Mutual of New York Building). Company officials spun off the approximately $483 million in tax gains from the deal by reinvesting them in a tax-deferred exchange for the $700 million acquisition of the retail condominium on the ground floor of the St. Regis hotel and an adjacent retail townhouse on Fifth Avenue.  The building's biggest tenant is the parent company of Victoria's Secret.
Buyer: Bank of China
Seller: Hines Development and J.P. Morgan Chase
Hines Development may have sold 7 Bryant Park but it's still working on transforming the tower in its role as asset and property manager. The 30-story tower's design, by Henry Cobb of Pei Cobb Freed & Partners, highlights Bryant Park across the street. The curved corner facing the park creates a panoramic view of the grassy terrain from the building's upper floors. "It feels like the park is an extension of the building," Tommy Craig, senior managing director of Hines, told Commercial Observer in July. "It really was the last open piece of the park—so we are completing the park." (The majority of the building has since been completed.)
180 Maiden Lane, $470M
Buyer: Clarion Partners on behalf of CalSTRS and MHP Real Estate Services
Seller: SL Green Realty Corp. and The Moinian Group
MHP Real Estate Services and Clarion Partners launched a $28 million renovation of the property between Front and South Streets. Goldman Sachs' departure left 800,000 square feet available for lease in the 41-story glass tower with breathtaking views of New York Harbor. The first tenant to ink a deal in the building after the new owners assumed its control was The Holborn Corporation, the country's largest privately owned reinsurance brokerage.
* The list covers single property sales that were recorded between November 1, 2014 and November 1, 2015 (which means the list could include deals closed prior to November 1, 2014 and excludes deals that have closed, but not yet appeared in property records).  
Read more from The Rich List:
GIRL POWER: THE BEST COMPENSATED WOMEN CEOs
THE FATTEST OF THE FAT CAT POLITICAL DONORS