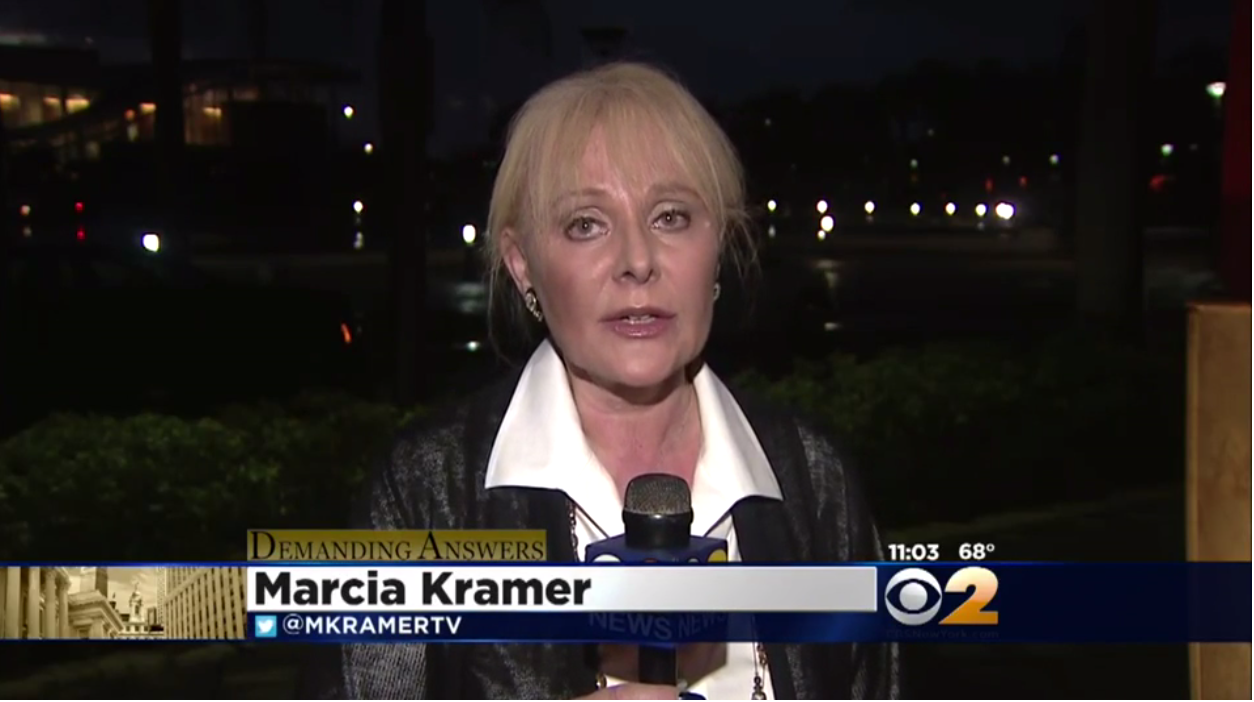 WHO HAD A GOOD WEEK?
1. Marcia Kramer: Nobody can make the entire City Hall press corps stop what they're doing at the top of the 5 o'clock news hour and stare at the television mounted on the wall in Room 9 quite like Marcia Kramer can. First, there was Speedghazi—when she tallied the points the mayor's detail driver should have gotten on his license for traffic violations. Then, there was Burgergate, when Ms. Kramer got footage of the mayor scarfing down lunch on the City Hall plaza while he kept the press waiting on his budget presentation. And now, the piece-de-resistance: Ms. Kramer's "Demanding Answers" segments from the last two days, showing her tangling with the mayor's press secretary over his refusal to take off-topic questions and then following the mayor all the way to Puerto Rico the next day—the inconvenient location of his next open media availability—just to ask him about crime and homelessness. It's a story made for television news: in print, it seems insidery, but on TV, we get the visual of the mayor blowing off a popular, long-time reporter. It's re-awakened a call from the city's Press Club to end Mr. de Blasio's insistence on sometimes taking only "on-topic" questions, and comes just as DNAinfo reports on how bad the mayor's office is at answering Freedom of Information Law requests. In the words of Ms. Kramer: "What about transparency, Mr. Mayor?" We'll find out this afternoon, when the mayor holds a press availability on any and all topics at City Hall.
2. Michael McMahon: Conventionally speaking, Mr. McMahon was the front-runner in his race for district attorney of Staten Island: more money, more help from unions, and more name recognition than his competitor, first-time candidate Joan Illuzzi. But Mr. McMahon is a Democrat in a conservative borough where the DA's seat has been held by the GOP since 2004, and going into the race, Ms. Illuzzi, an experienced prosecutor, seemed to have all the momentum. They key word there is "seemed." Mr. McMahon delivered a convincing victory, by a margin much larger than many Island insiders expected, to flip the seat into Democratic hands and keep his own political career, which likely could not have survived a second loss, alive. Sometimes, the conventional wisdom is right: the better-funded candidate whose name everybody knew won.
3. Gov. Andrew Cuomo: He takes questions far less often than the mayor—and only in scrums that can make it logistically difficult for reporters to get their questions in, though he does seem to enjoy taking them for far longer than his press aides would like—and yet Mr. Cuomo was held up as a paragon of openness this week. When Ms. Kramer asked him, in Puerto Rico of course, if he'd take off-topic questions from her, he responded with a grin. "Marcia, I'll take any questions from you that you want to ask," Cuomo said, scoring points with Ms. Kramer and another blow on Mr. de Blasio.
WHO HAD A BAD WEEK?
1. Sheldon Silver: Being on trial on federal corruption charges is pretty much the definition of having a bad week. Mr. Silver will spend the next five weeks just as he spent this one: in a fourth-floor courtroom listening to people describe what the government alleges is a bribery and kickback scheme that earned the former speaker close to $5 million. Even if Mr. Silver beats the charges, it can't be fun sitting through this, and it can't be good for him that the public is hearing all about how he made hundreds of thousands of dollars from a law firm despite doing no work for them—even if, as the defense argues, it was all legal.
2. Patrick Lynch: Patrolmen's Benevolent Association Patrick Lynch didn't like the contract deals he was being offered at the bargaining table, so he went to binding arbitration—as he's done, with success, before. But now Mr. Lynch doesn't like the deal he's being given at arbitration, and there's no where else to appeal, hence the use of that word "binding." Simply put, Mr. Lynch has been gambling on arbitration for a while now, and his luck finally ran out. He didn't get the big raises he wanted. The contract he did get is similar to other law enforcement officers—except, because he went to arbitration for it, it only last two years: meaning he's not guaranteed handsome out-year raises and in two years he has to have this fight all over again.
3. Karen Hinton: Just like you don't pick fights with people who buy ink by the barrel, you don't argue on camera with the likes of Ms. Kramer—it just won't end well, and in this case, it didn't. If you're on camera arguing with a reporter over the definition of "transparency," you are not winning the argument. The good news for Ms. Hinton is she is well-liked by many in the press corps, and unlike many people in the mayor's administration seems to genuinely enjoy dealing with reporters. Some of her problems might be solved if she could convince the mayor to enjoy dealing with reporters, too.
WHAT WAS THE WEEK'S BIGGEST STORYLINE?
While Ms. Kramer's segments were certainly the most entertaining things to happen this week, the biggest news was Mr. Silver's trial. In opening statements, government prosecutors—while U.S. Attorney Preet Bharara looked on from the back row—summed up Mr. Silver's alleged misdeeds this way: "Power. Greed. Corruption." But the way the defense attorney Steven Molo tells it, it was business as usual: there's nothing illegal about holding an outside job, after all. "It makes some people uncomfortable, but that is the system New York State has chosen, and it is not a crime," Mr. Molo said, perhaps unintentionally echoing a famous line from Godfather II about "the profession we've chosen." Mr. Molo continued: "The prosecutors are trying to make it a crime, but it's not."
Whether Mr. Silver is convicted is of course consequential, but what's more consequential is the impact his trial may have on state politics. Will lawmakers be wary of holding outside jobs? Will all this unseemly testimony about politicians getting cash for doing almost nothing give some juice to movements seeking to end outside income for Albany lawmakers? Mr. Silver is accused of steering legal business from Glenwood Management—a massive real estate company with billions of dollars in business before the state and the top donor to politicians in New York—to a friend of his,, in exchange for kickbacks disguised as referral fees. Will this scrutiny—prosecutors alleged Mr. Silver was on Glenwood's "payroll"—lead to a less cozy relationship between real estate firms and lawmakers? Will some of the money dry up? Sometimes it feels like things in Albany will never change, but then again, it used to feel like Mr. Silver could never be brought down from his speakership.
WHAT HAPPENS NEXT?
Mr. Silver's trial drags on, and halfway through it, the trial of former Senate Leader Dean Skelos begins—meaning you'll see a lot of harried court and political reports running back and forth between federal courthouses in the second half of November.
WHO WAS LAST TO THE TABLE?
The PBA's contract deal leaked on Tuesday afternoon—but it took Councilman Vincent Gentile and Assemblyman William Colton until mid-morning on Friday to react to the deal. (They don't like it.)
WHAT ARE WE HOPING HAPPENS NEXT WEEK?
In effort to prove their relationship is just fine and dandy, governor and the mayor make good on this question from a spokeswoman who was asked about a chilly encounter the two had in Puerto Rico that began with a man-hug: "The two hugged — what do you want them to do, make out?"
WHAT WILL ACTUALLY HAPPEN NEXT WEEK?
Mr. Cuomo and Mr. de Blasio will continue to dislike one another.