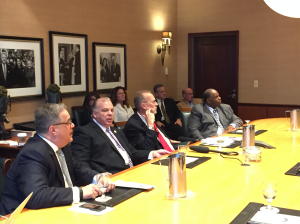 ATLANTIC CITY – As the end of this year's League of Municipalities convention approached Thursday morning, Senate President Steve Sweeney joined Senator Jim Whelan for a forum on private-public partnerships in South Jersey. Scheduled just before Atlantic City Mayor Don Guardian's appearance at the closing luncheon, the two events marked the only two times that South Jersey took center stage in a year dominated by conversations on North Jersey Democrats' allegiances heading into the 2017 gubernatorial race.
Despite rumors that he would be heading to Newark to hash out a deal on the the PILOT bill for Atlantic City casinos, that meeting failed to materialize and the PILO failed to penetrate the conversation on the ground.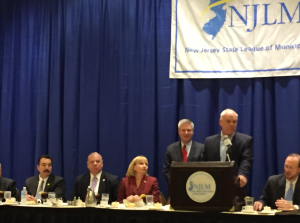 Guardian all but acknowledged the brick wall that has faced nearly all of Atlantic City's recovery efforts in his words before the luncheon, thanking attendees Sweeney, Assembly Speaker Vince Prieto (D-32) and Lieutenant Governor Kim Guadagno for their help but describing his city as flat-out "broke."
Whelan and Sweeney took the opportunity earlier that morning to emphasize partnerships between public universities like Stockton and private interests like South Jersey Gas, which they said would help the state retain the students it prepares for college in public school, and take aim at the same economic blight PILOT for casinos would.
"We're number one in the country in exporting our high school kids," said Whelan of the long-term push to bring an additional Stockton campus into the city, which he has said would serve as an economic engine to replace lost casino revenue. "And it's worse for us here in South Jersey. We don't have a private colleges, we don't have a Seton Hall or a Saint Pete's or a Drew."
Sweeney went further, saying that the state would be better served paying for everything from overall transportation infratructure to highways, roads, bridges and utilities with private-public partnerships.
Asked about the stalled PILOT bill and the rumored negotiations between Governor Christie and Atlantic City Mayor Don Guardian, Sweeney he was disappointed at the slow progress they have seen since Christie's conditional veto earlier this month.
"I'm hoping to meet with him soon" he said. "I know that there was some meeting that was in the press that said we were meeting, but it wasn't with us.
"Both budgets, the county and the municipal, were adopted in expectation of these funds. If there are no funds, then taxes are going to go up dramatically throughout Atlantic County and Atlantic City. I was very frustrated with the politics that were played with that legislation."
When press asked about South Jersey Gas' partnership with the shuttered Revel Casino, whose energy costs have been huge drag on city coffers, Sweeney was terse in his reply.
"Every deal is a different deal," he said.