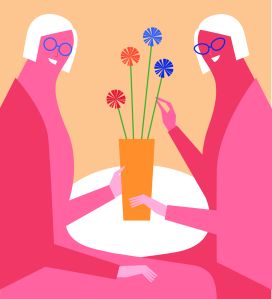 When Jerry Keller moved to New York City from the Hudson Valley, his succession of apartments wasn't much different from that of many other newcomers in search of cheap housing. He stayed at short-term rentals with roommates in the South Bronx and then on Ocean Avenue, near Brooklyn's Prospect Park. For a while he lived in a third-floor walkup on the Upper West Side, but left after bad experiences with the landlord. He is now on his fourth apartment in his first year in New York, and he's landed a good deal. He lives on the sixth floor of an elevator building on a tony and quiet residential block of Brooklyn Heights, about a five-minute walk to Brooklyn Bridge Park and a short distance from many subway lines. His roommate, Newtown Meyers, has been a longtime renter, so they pay significantly less than the neighborhood's current average—$3,027 a month for a one-bedroom apartment.
Mr. Keller's search for a cheap share however, was made more complicated because of his age. Mr. Keller is 69 and his roommate, Mr. Meyers, is 90. Affordability is crucial because they are both retired, living on a fixed income. "It's very hard finding a shared apartment as a senior," said Mr. Keller, a landscape photographer who was drawn to the city because of its energy, food and parks. "If I go on Craigslist, most people are a quarter of my age," he said. And although Mr. Meyers, an artist who taught at Brooklyn's Pratt University, has been in the apartment a long time—"I just can't remember how long, I'm bad with numbers," he said—he still needs help paying rent. To make it work, he keeps his bed in the living room, and Mr. Keller rents the formal bedroom of their modest abode.
"It's very hard finding a shared apartment as a senior," said Jerry Keller, a landscape photographer who was drawn to the city because of its energy, food and parks. "If I go on Craigslist, most people are a quarter of my age."
Mr. Keller and Mr. Meyers found each other thanks to the New York Foundation for Senior Citizens, a nonprofit established in 1968 that has expanded since to include a number of senior centers, subsidized housing, support services and free transportation for seniors.
The house-share program, designed to pair up senior roommates, is one of the foundation's most unique services and is offered to participants at no cost. It began in 1968 with "$30,000 for one social worker and a telephone," said Linda Hoffman, president of the foundation. It launched in Manhattan, then eventually received funding to expand to Brooklyn. By 2000, there was enough funding to operate the program citywide. "Now we get calls everyday from people interested," she said. (Young people call, too, as only the host or the guest needs to be age 60 or above.) As Ms. Hoffman noted, "there's not a lot of affordable housing in New York anymore."
Mayor de Blasio pushed New York's affordable housing crisis into the spotlight with an ambitious initiative to create and preserve 200,000 affordable housing units over the next 10 years, but the dire need for affordable senior housing gets less attention.
"With senior citizens, a fixed income is a fixed income," said Bobbie Sackman, the director of public policy at LiveOn NY, a senior citizen's advocacy organization. Ms. Sackman said that of the 1.5 million seniors in New York, 1 out of 5 over age 60 are living at the poverty rate. One hundred thousand seniors pay more than 50 percent of their income in rent—"and that's money being taken away from food, medications, daily needs," said Ms. Sackman. Seniors who have been living in apartments for a long time with low rent often face harassment, or little upkeep, from landlords. And seniors moving into the city face dauntingly high rents often without the income to pay it.
The home-share program isn't a permanent fix to the housing crisis, but it's highly preferable to seniors because it offers a level of security in the form of a screening process and references for all participants. Potential roommates are then matched in a database that takes into account matters like budget, pets, guests, alcohol use and borough. One guest, who is staying in a two-bedroom near Columbus Circle, said this vetting process was preferable to her prior Craigslist apartment search, where she felt like "I didn't really know what I'd be getting into."
Through home share, there is no rent or lease agreement, only a "mutually agreed upon monthly amount," as Ms. Hoffman put it, "to contribute to household expenses." If the pairing doesn't work out, the foundation works to find another room for the guest. "Nobody ends up homeless," said Ms. Hoffman.
People come to the program for a variety of reasons, not just for cost saving. Often, it's for companionship. "I don't like living alone. I don't like being in the house all night by myself," said Freda Schaeffer, an 85-year-old widow who lives in a two-story townhouse in Midwood, Brooklyn. She and her husband raised her son (who now lives in lower Manhattan) there, and now she shares two rooms in the house through the foundation, one of which is occupied by Loretta Halter, 65.
People come to the program for a variety of reasons, not just for cost saving. Often, it's for companionship.
Previous home shares in Manhattan did not work out for Ms. Halter—at one, the building's condo association didn't allow her to stay as a guest; another host had health issues that needed more attention than she could give.(Sometimes the foundation arranges for a guest to help take care of an elderly host.) But she hit it off with Ms. Schaeffer, who she said was "like family." Ms. Halter fell in love with New York 40 years ago and had long aimed to move here from Georgia after retirement. "I planned this move for 15 years," she said, eventually selling her house, car and many of her possessions in preparation for her move.
Ms. Halter, who "didn't want all the complications of my own apartment," is taking full advantage of retirement in New York. She visits art museums, attends operas and meets celebrities after movie premieres. ("I got a selfie with Tom Hanks!" she said.)
Ms. Halter is happy with house share—"I take it day by day," she said—but many other participants in the program are waiting for their own affordable apartment. Mr. Keller, in Brooklyn Heights, is on waiting lists for a number of senior housing buildings throughout New York. "There are so many people on these waiting lists," he said. "You may be 60 when you sign up and 80 when you get in." The woman staying as a guest in Columbus Circle is also on many waiting lists but said, "It's like a crapshoot."
The city is trying to address this need, designating 5,000 of the 200,000 planned affordable units for seniors. "It's a lot but it's not enough," said Jenna Breines, a deputy director of senior housing at the Housing Preservation and Development.
The HPD is also addressing the recent demise of a federal housing policy known as the 202 Supportive Housing for the Elderly Program, which funded around 200 senior buildings across the city. "I don't know why there wasn't a huge outcry when this program was defunded," said Ms. Breines. In its wake, the HPD launched a new program in which the city, not the federal government, provides capital funds to build senior housing.
Still, many of the seniors in the home-share program have warmed up to having roommates. Mr. Keller, the photographer, was quick to show off the artwork his roommate had been working on. When the woman staying in Columbus Circle recently got sick, her host brought her soup. Ms. Halter showered compliments upon her host, Ms. Schaeffer, calling her "marvelous." It's important to Ms. Schaeffer to be a good host: "I just want my guests to feel at home," she said, while explaining the age-old challenge of roommates sharing a fridge.