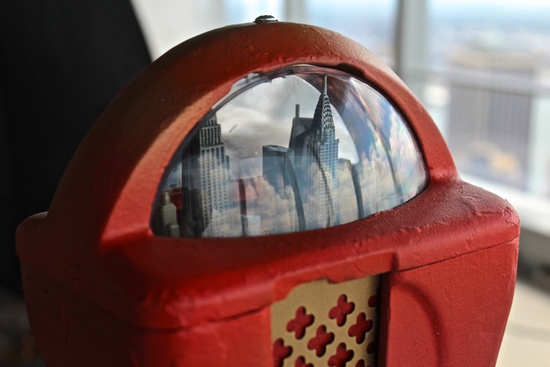 New York City's parking meters have been decommissioned for several years, but thousands of them are still out on the streets. When Queens artist Conrad Stojak noticed the multitude of empty meters in his neighborhood in 2013, he saw an opportunity for creativity.
Using chopsticks and Elmer's glue, Mr. Stojak placed groups of Army men and railroad figurines in 20 meters throughout Queens, and sculpted city landmarks like the Empire State Building and the Guggenheim Museum as backdrops.
Some meters had already had their tops removed, but that didn't stop Mr. Stojak either—he used the base of the meter as a flower pot to make another artsy display.
Sadly, the city destroyed Mr. Stojak's artful meters—though photographs of these creations were displayed at the Dougherty Gallery in Long Island City, Queens last year.
Now Mr. Stojak is bouncing back, using official channels. He purchased a batch of parking meters from the city, and he now has studio space in 4 World Trade Center, which he was granted after he donated a parking meter sculpture of the WTC to the property.
Mr. Stojak is also using tech to make his new sculptures more detailed—they have solar-powered displays so his artwork can glow in the dark. The lightbulbs are also Wi-Fi enabled—Mr. Stojak eventually wants anyone with a smartphone to be able to manipulate the parking meter scenes.
Since he can't pay for everything himself, Mr. Stojak started a crowdfunding campaign on RocketHub to raise money to buy a 3-D printer for more advanced projects. The perks for giving to the campaign range from an autographed postcard (for a $5 donation) to the chance to assist Mr. Stojak on a parking meter project (for a $4,000 donation).
So far Mr. Stojak has raised $2,410 toward his goal of $25,000. The campaign runs through November 18.
Mr. Stojak's ultimate goal is to make the parking meter project the largest urban public artwork of all time.
"I hope to make it a vast, city-wide arts project, replanting the meters everywhere in every borough," Mr. Stojak told the Observer in an email.