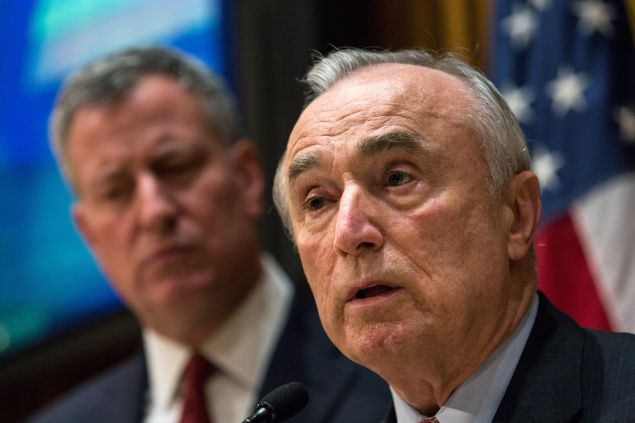 Police Commissioner Bill Bratton ripped into what he claimed was a media narrative that criminals feel at liberty to carry firearms due to his department's curtailment of the controversial stop and frisk tactic.
Mr. Bratton denied that there was any correlation between the sharp reduction in the number of citizens searched and questioned by officers and recent shooting incidents like the one that claimed a life at Penn Station this morning.
"I don't think criminals feel comfortable walking around the city armed with firearms," he said. "I think, I think the story that's being promoted that somehow or another because we have consciously reduced our activities such as stop, question and frisk, consciously reduced some of our summons activity that that is emboldening them. I don't see that."
In 2013, the Council passed the Community Safety Act, which allowed citizens to seek financial damages from officers they feel violated their civil rights, while a federal judge ruled the same year that the NYPD's disproportionate use of the technique in minority neighborhoods was unconstitutional.
Then-Mayor Michael Bloomberg immediately appealed the decision, but Mr. de Blasio dropped the appeal upon entering office the following year. Together, the law, the ruling and policy changes resulted in the number of stops and frisks falling from 191,558 in 2013 to 46,235 in 2014.
But the commissioner asserted that a less arbitrary and more targeted approach meant recovering more weapons from actual wrongdoers, while not wasting time and resources searching innocent civilians. He highlighted that gun arrests are up seven percent this year.
"We are stopping the right people," he insisted.