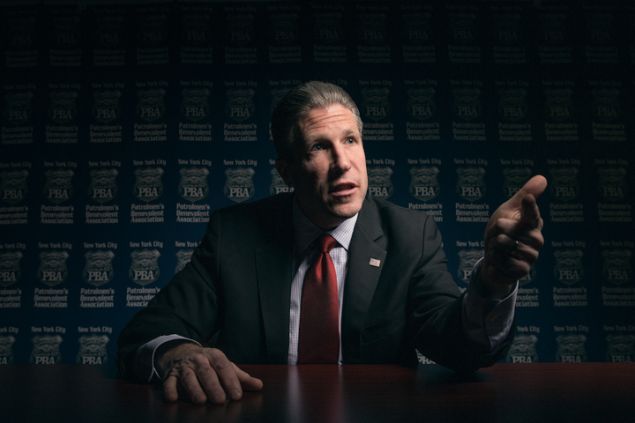 Patrolmen's Benevolent Association President Patrick Lynch tore into labor arbitrator Howard Edelman over the airwaves today for deciding to award the NYPD rank-and-file a one-percent retroactive raise in contracts covering 2010 and 2011—accusing Mr. Edelman of siding with the city in its dispute with the largest police union and selling cops short.
PBA members have swarmed Mr. Edelman's Upper East Side apartment building to attack what they saw as an unfairly low pay bump for the first two years of the half-decade they have gone without a contract with the city. Mayor Bill de Blasio's administration has resolved most of the outstanding labor disputes left open by the Bloomberg administration, but Mr. Lynch rejected the "pattern" set with other unions as insufficient and chose to bring the fight before the state's Public Employees Relations Board, which had in the past awarded the PBA bigger pay bumps than the city had proffered—but not this time.
"We find the one percent is absolutely insulting to the profession of policing," Mr. Lynch told radio host John Gambling on AM 970 The Answer, alluding to the recent on-duty deaths of Officers Randolph Holder, Brian Moore, Rafael Ramos and Wenjian Liu. "To come back and say a one percent raise for that sacrifice and more importantly and equally important the sacrifices that every police officer is willing to make? Police officers are absolutely insulted and demoralized."
Mr. Lynch's officers—whose salaries start at $44,744 a year—are among the lowest-paid big city cops in the country, and enjoy generally less generous raises, overtime and benefits packages than members of the Port Authority police, Metropolitan Transportation Authority police and cops in Nassau and Suffolk County. The union honcho argued that the city should move his members toward what he called "a market rate of pay" comparable to other police departments, but that Mr. Edelman had set them back by offering raises that didn't even keep up with inflation.
"This arbitrator moved us behind," Mr. Lynch said, accusing the arbitrator of living in a dangerous fantasy. "He may as well put 'once upon a time' before the writing and 'the end' when he's finished. Because that's what he's doing. He's killing the morale of New York City police officers."
The draft decision by Mr. Edelman and PERB is actually slightly larger than the pattern many other public employee unions have agreed to, including the Sergeants Benevolent Association, which gave a one percent retroactive raise for the first year but not the second. But Mr. Lynch asserted that his members deserve better.
"Our job is not the same as everyone else's. It's a very different job, it's the most complex policing job in the world, and it's an ever-changing job," he said. "An arbitrator just turned to the city and said 'what is it that you wanted? I'll type it up.'"
PERB-determined contracts last just two years, but the decisions are almost impossible to contest. Mr. Lynch indicated he would seek to do so anyway, alluding vaguely to what he asserted are violations of state labor law.
"What he didn't do is go by the criteria of PERB and do his job fairly," he said. "We're asking him to fairly do his job like police officers fairly do theirs."
PERB did not immediately respond to requests for comment.