"The request is that women dress elegantly," said Omar Hernandez, describing the dress code for the Halloween party at his downtown club. "A couture dress that you can't wear anywhere else, because you're embarrassed. And a mask."
Only Omar's—a private club with perhaps the most diverse and influential membership in the city—could make such an outré demand.
On Halloween night, masked models and bankers dined alongside European aristocrats as a warbling soprano wafted between tables, and a balloon artist made obscene decorations for guests to place on their heads.
He handed one to a cousin of King Felipe VI of Spain, who was amused, but declined to put it on. "I love Omar's," she said. "I was just here on Wednesday for my birthday when I had dinner with my friend, [the designer] Carolina Herrera."
George Wayne, the Vanity Fair writer and a member, was snapping pictures amid the hubbub. "I know that when I come here, I will have the most fascinating conversations," he said. "And I will meet the most interesting people who are relevant in New York City right now."
The membership at Omar's reads like Vanity Fair—crossed with the New York Social Register and the Forbes rich list—come to life. From the city's power elite: Starwood Capital CEO Barry Sternlicht, Blackstone CEO Stephen Schwarzman and Broadway producer and philanthropist Francine Lefrak. Hollywood directors Steven Soderbergh, Paul Haggis and Baz Luhrmann. Top fashion models like Naomi Campbell, Karlie Kloss and Petra Nemcova. Even bubblegum pop singer Katy Perry.
But don't expect framed celebrity pictures lining the walls, in the style of Sardi's or the vanished Elaine's. These days, it's all on Instagram: a glittering grid of star power posted on the account @OmarsNYC, often with the hashtag "WeLoveFunGodKnows." (Omar Sharif Jr.—grandson of his namesake—commented on one recent post, "Everyone in this photo has the best hair ever…It's like a shampoo commercial!")
@OmarsNYC chronicles the preternaturally photogenic Mr. Hernandez—he looks barely 30, but is older—with a stream of notable guests including the actors Julianne Moore, Ellen Page and Idris Elba. But that's just a glimpse of what actually goes on behind closed doors.
Earlier this year, Madonna and the fashion designer Valentino co-hosted a 30th birthday party for Spanish male supermodel Jon Kortajarena. Member John Buffalo Mailer (son of Norman) curates a reading series, which has featured Naomi Wolf and Gay Talese. The Sorvino acting family (Paul, Mira, et al.) recently staged a full dress rehearsal of a play written by the younger Mailer in the club for potential investors.
***
In upcoming weeks, Rolling Stone Keith Richards is expected to attend a preview screening for a new film about his life, Under the Influence. Then there's the party, thrown by Samsung, where everyone will be wearing the Oculus Rift virtual reality goggles to interact.
The everyday reality inside Omar's is like the wildest fever dream of a New York social climber—if Holly Golightly were to walk in, her head would explode in a mushroom cloud.
"Omar's la Ranita"—its full name, meaning "Omar's the Frog" in Spanish, never quite stuck—occupies the West 9th Street space that was once Marylou's, another legendary nightspot. Inside, the décor is old-school New York—dark furnishings, low light and a bar called "the library," which is notable for its lack of books. (Those are in the bathroom, stacked up as a pedestal to hold the hand towels.)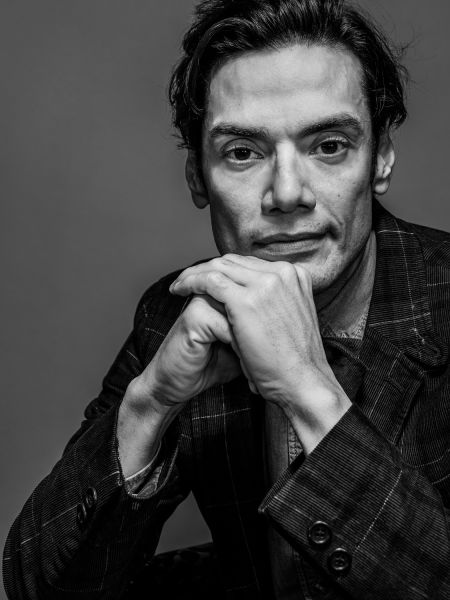 Founded in 2013, until last week Omar's accepted walk-ins to a public dining room separate from the private club space. But the success of the club side means that it is now entirely private, allowing Omar's to accept applications, which will swell its membership from around 480 to 900. (Membership rates range from free—for a lucky few starving artists—to $5,000 for a lifetime.)
"The philosophy of Omar's is to be a local private space—that's why the location of the neighborhood is very important," said Mr. Hernandez, who invited 20 prominent neighbors to be founding members. "It happened that some of them are very noticeable, and some of them very famous, and some of them very well-appointed people who live between 9th and 13th Streets, and Fifth and Sixth Avenues."
He added, "It was a balance between finance, art, music and entertainment people all together. In our membership, the connection is that people are leaders in what they're doing."
Wearing Ferragamo shoes, slender Gucci pants, a white Uniqlo shirt with a Tom Ford bow tie and his own-label "Omar" suit jacket (made by the Garment District bespoke tailors, White Chalk), Mr. Hernandez presents as a better-dressed Peter Pan. When not staying at his apartment on West 10th Street, he lives with his partner, financial analyst Guillermo Giammona, in an Art Deco apartment building in Miami Beach.
Mr. Hernandez grew up just outside Caracas, Venezuela—the son of an army general and an accountant. (The tile floor of Omar's replicates the pattern in his mother's pantry; the ridged banquettes in the dining room reference the leather upholstery of his father's 1972 Cadillac.)
Upon moving to the city in 2000, he served as a maître d' at André Balazs' Mercer Hotel, before graduating to become a floating social chair of the hotelier's empire, holding such nebulous titles as "director of spark."
Then followed a few years in Los Angeles, working with Mr. Balazs' Standard Hotel and Chateau Marmont—as well as clients like Ashton Kutcher, who opened a club called Dolce.
Mr. Hernandez also picked up a couple of film credits in that time, both as serial killers. Acting under the name Omar Alexis, he portrayed Richard Ramirez in a TV documentary called The Night Stalker, as well as "Coco," a main character in the 2003 trash-terpiece Killer Drag Queens on Dope.
Returning to New York in 2005, Mr. Hernandez decided that Mr. Balazs' newest project—the 338-room Standard that straddles the High Line—was not his style.
"I told him, 'Andre, I love you to pieces, but this is too big,'" he said. "I was always used to small, intimate events, and then the Standard became this massive concrete structure. Just the elevator was so dehumanizing for me. I was like, 'I can't.' What I do best is going to be diluted here."
So Mr. Hernandez worked with Chef John DeLucie to create The Lion—one of the hottest, most successful restaurant launches of the last decade—as well as the opening team of the Hotel Americano. When the partners of the floundering Hotel Griffou—which then occupied the West 9th Street space—came to him for advice, the idea for Omar's was born.
"I went to Miami and I was laying on the beach, drinking my mojito and I said, 'shit'—excuse me, I said, 'eureka—I have an idea of what we can do here.' "
He thought he was giving the Hotel Griffou team some free advice. But he was not expecting the partners to walk away, offering him the lease if he could raise the money to buy them out in three days. He found four backers, and Omar's was born.
The general manager at Omar's is Artan Gjoni, an industry veteran with deep experience in private clubs, including Norwood.
"I always tell the new staff, 'you are the guests here, not the customers,'" he said. "Because they live here."
He jokes that fall is the hardest time, because members are coming back from summer vacations in exotic places, and they want to order things not available in the United States.
"This one lady from Lebanon had a birthday party in Mykonos, and had a Greek liqueur called Mastic. And she wanted to have it here," Mr. Gjoni recalled. Fortunately, he found it in Astoria. But sometimes, "you have to call people in Ibiza and say 'listen, ship me a case.' "
On Halloween night, Mr. Gjoni diligently ran the staff as Mr. Hernandez, in Joker-style face paint and reptilian contact lenses, charmed his guests.
The rail-thin Mr. Hernandez is known for eating nothing and drinking little during his hosting duties. But once things die down, typically around 2 a.m., he said, "my biggest pleasure is leaving my work and either have a slice of pizza on the way home, or I do the taco truck down the street."
He added, with a grin, "That's where I'm really VIP. When I get to the taco truck, he already knows [my order and] I don't have to ask for it. Sometimes, I take my guests in their gowns. That, to me, is luxury."