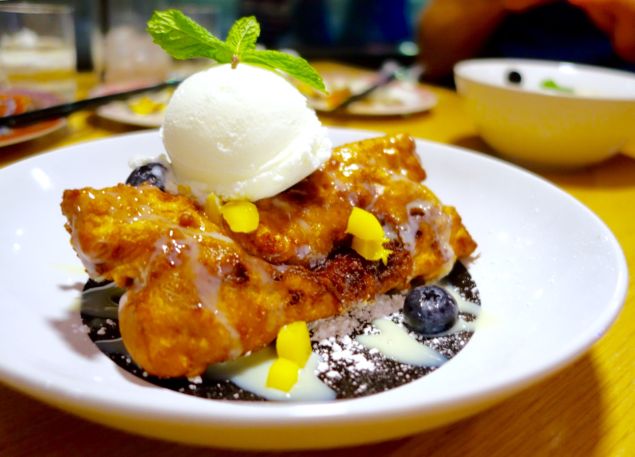 Button Mash, the buzzworthy new barcade in L.A.'s scenester-friendly Echo Park, opened on Wednesday, October 21, which just happened to be Back to the Future Day. This was perfect because Button Mash is a time-machine trip like nothing else.
It's a family-friendly wonderland where you can take the kids for double cheeseburgers and pinball before 9 p.m.
It's a vibrant lounge—sleek and colorful thanks to hipster-interior experts Design, Bitches—where you can pound craft beers between late-night rounds of classics like Rampage, NBA Jam, WWF WrestleFest, Tron, Dragon's Lair, Frogger, BurgerTime and Donkey Kong.
It's a fantastic option for a cheap date: most food items, including the garlic noodles, are $10 or less, and for $50 you can buy dinner, wine and hours of entertainment for two. Game tokens are just 25 cents, like they were in the '80s. (Warning, though: Super PunchOut!! is the really difficult version of the boxing game, not the easy one where you pummel Glass Joe.)
"We like to say we have a small restaurant with the greatest waiting room," said Nguyen Tran of Starry Kitchen, which is in charge of the food at Button Mash.
Button Mash, which served more than 4,000 visitors in its first week, is a lot more than a barcade. It's also one of the busiest new restaurants in the city, with lines out the door many nights.
"This was unexpected, we had no idea this would happen," Mr. Tran said.
Nothing about Starry Kitchen, a true indie darling of the L.A. food world, has ever been predictable. Mr. Tran, of course, is Starry Kitchen's boisterous frontman, prone to wearing banana suits and being the loudest and friendliest dude at every event he attends. His wife, "Kitchen Ninja" Thi Tran, is a master of playful pan-Asian cuisine. She's beloved for her crispy tofu balls: #ballsinyourmouf is one of the many hashtags associated with Starry Kitchen.
Starry Kitchen started as an illegal/underground apartment venue, hosted a famous marijuana-laced dinner, turned into a more aboveboard pop-up which ended with a critically acclaimed restaurant in Chinatown, shut down that restaurant after falling short of its goal of raising $500,000 on Kickstarter, and was then resurrected as an UberEats delivery sensation.
Now with a properly-equipped kitchen and a packed house every night, the Trans have gone legit in a beautifully unlikely way. Button Mash slings mouth-numbing dandan noodles (you should stir up to get the full effect of the peppercorns on the bottom), three kinds of double-fried chicken wings and late-night nachos with minced curry coconut beef. For dessert, there's almond tofu, lychee panna cotta and a tremendous "brick toast" with thick milk bread, Nutella, caramelized bananas, condensed milk and ice cream.
So while Button Mash might have the wayback machine set to awesome, this is bar food that's very much 2015 in L.A. High score!