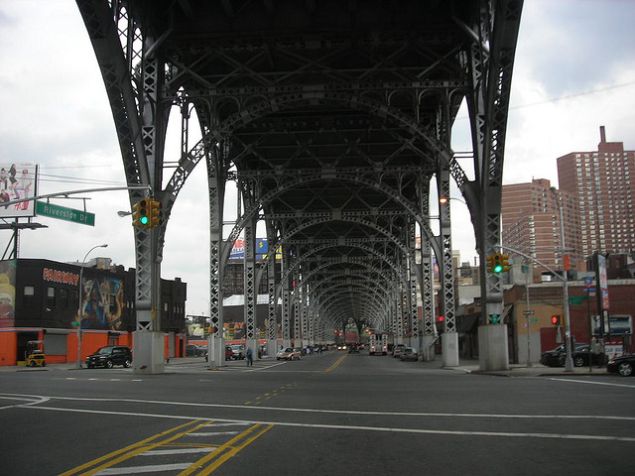 An ancient stream, one of the many that once crossed Manhattan, has trickled "off a faded 19th-century topographical map and into a modern-day dispute over a multimillion-dollar home renovation," The New York Times reports. Professional house flippers Dana and David Luttway, who say they purchased 32 W. 76th as a personal residence, want to dig down to expand their subterranean living space, a move that neighbors worry will destabilize their homes because of the squishy ground.
Can Harlem's Abyssinian Development Corp. be saved? asks Crain's. Believed to be Harlem's third-largest landlord (behind NYCHA and Columbia), Abyssinian played an integral role in Harlem's revitalization starting in the 80s, but is now mired in debt, selling off properties and hasn't filed financial statements since 2011, prompting the de Blasio administration to cut off its social service contracts with the organization. Investors claim they've been stiffed on money; homebuyers claim Abyssinian sold them shoddily renovated properties.
The Public Advocate's office has released its worst landlords list, topped by Ved Parkash, but some of the entries wildly misstate the number of units and some are mistakes, according to Crain's including one landlord who purchased a decrepit building via a state program intended to transfer poorly managed buildings to good landlords.
A small townhouse development in East New York, to be built on an undesirable plot of land that the sold to the developer for a dollar, in addition to other city subsidies, will be priced considerably above what those earning the area median income can afford, Yimby reports. They note that it "seems like an unpopular time for the city to build housing that most residents in the area can't afford."
In Queens, the second phase of Hunter's Point South, the Long Island City middle-income megaproject, broke ground yesterday, Curbed notes.
The owners of Robicelli's bakery in Bay Ridge say they're moving their business to Baltimore because the cost of operating and living in New York doesn't allow for the ebb and flow of business anymore, Gothamist reports. It's not just the rent, it's how much you have to pay employees so that they can make their increasingly impossible rents and Con-Ed and a million other fees that leave no margin for error or family life. "I've been here my entire life and I don't know what I was thinking. It won't come back in time for us and it was just time for me to be able to say, 'I probably held on for very stupid reasons.' My reasons for hanging on were that I was born here and I love this place too much," says proprietor Allison Robicelli.
The New York Times has some tips for first-time homebuyers in New York—a daunting process when Manhattan's median sales price is flirting with the million-dollar mark.
And for those looking to lose weight, a new map that shows just how many calories you burn walking between subway stops, via Gothamist, should prove helpful.