Have you ever had the thought, while endlessly scrolling through an online shop, that you could do a better job of curating the items to your liking? Perhaps you'd like to see fewer embroidered styles à la Valentino and more quiet refinery, like The Row. Or maybe you just want to peruse high-end workout gear alongside top of the line purses.
Now thanks to Orchard Mile, the opportunity to personalize a luxury e-commerce destination has arrived. This digital marketplace pulls the full offering from a number of different designer's e-commerce shops, including Oscar de la Renta, Derek Lam, Carven and Anine Bing, and then offers the customer the opportunity to customize an online shop of their own.
Called My Mile, this e-shop can be personalized by brands or down to minute details, such a crossbody bags or turtleneck sweaters from specific brands.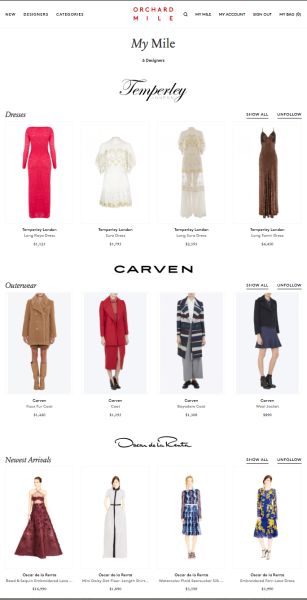 The three Orchard Mile co-founders were a bit selfish when it came to selecting the first dozen or so designers to include on the site. One member of the founding team, Jennie Baik explained: "Our first filter is not that sophisticated, but it's what me, Georgie [Benardete] or Julia [Wetherell] think is cool. It's all brands we see fit for our lifestyles, things we can see ourselves walking down the streets of New York in." She went on to maintain that their shop has an American point-of-view, with a handful of European brands sprinkled in for an eclectic mix. This resulted in goods from Yigal Azrouel, Alexis Bittar, Perrin Paris and even athleisure favorite Bandier.
All three co-founders are veterans of the retail scene, but each brings a unique point-of-view to this startup; Ms. Baik was former Head of Strategy at Burberry in America, Ms. Benardete was co-founder at Shopbeam and Ms. Wetherell was founder and CEO at MyDrobe.
While consumers are sure to embrace this concept, designers are already staunch supporters of this new business model; Orchard Mile has nearly 30 additional labels who have signed on to have their collections featured on the site. Their names will be launched as their products arrive on the site. I even got first hand proof of this desire. In the middle of my interview with Ms. Baik at the site's launch party, a member of Michael Kors' digital team stopped by to discuss business.
While this business concept might seem simple, it actually does have the foundation to be a game changer in the e-commerce realm. For one, Orchard Mile doesn't own any inventory, which is why they have no need to edit collections in the same way other retailers do. And for each sale, Orchard Mile receives approximately 25 percent of the ticket price.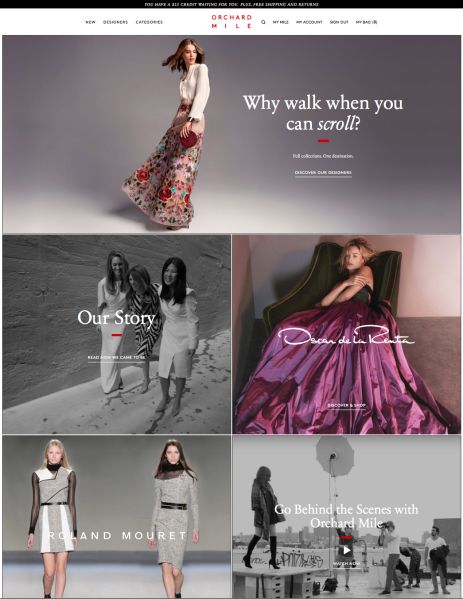 While this site is still relatively new, having launched on October 20, expect to see more features added on in the near future. Ms. Baik told the Observer that historical searches will soon be added to My Miles, allowing customers to revisit items they have searched for in the past.
"This is a site that's by women for women," Ms. Baik explained. "There are so many sites out there that are built by men and that are technology based. That's not what women shop for, that's not what they value; they value how brands fit into their lifestyles and just really getting to know the right outfit."
Which is exactly what we're all in hot pursuit of.